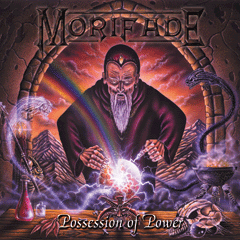 Morifade - "Possesion Of Power"
(Loud 'N' Proud Records)
At last, the long-awaited work of Morifade reached my hands, from Sweden. Their first full-length CD is a real dynamite! Powerful and melodic power metal plumed with beautiful melodies, inspiring choruses and alternations in the rhythms that will charm you. The epic element also makes some moments its presence sensible. The band is obviously influenced from Stratovarius. Some people may also say the word "extremely" influenced by them. The truth is that some parts of the CD remind strongly the great Finnish, something that does not distress me at all.
I consider necessary that all the friends of melodic power metal will obtain this CD. Personally, I comprehend it in the best ones who were released in the whole 1999! Morifade's future is assigned bright!
PS: I honestly don't have a clue wether Loud 'N' Proud Records has an official distribution in Greece. If they don't, it is really unfair! Killer bands like Morifade, Seven, Supreme Majesty, Persuader and so many others is too bad when they're not able to reach our hands. I hope this pointing out of me to sensitize any competent...
Don't hesitate to obtain it if you have the facility. For more information get in contact with: Loud 'N' Proud Records - e-mail: metal@loudnproudrecords.e.se
Website: http://www.loudnproudrecords.e.se/
e-mail: vigiletter@aol.com
website: http://members.aol.com/vigiletter/

Michael "The Wild Runner" Savoidakis®