Odium - "The Sad Realm Of The Stars"
(Nocturnal Art Productions)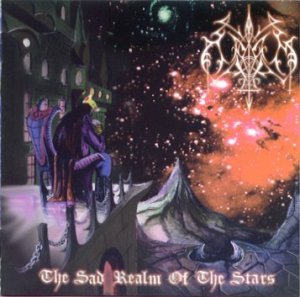 Luckily, I saw an interview of them in another magazine and that was the way I found out their name, because from the logo, you can't understand anything and, the promo, does not refer anywhere the band's name! Indeed, Odium's promo is a little bit unorganized, since it doesn't even contain lyrics, not even the track titles! Anyway, it consists of 9 dynamite-tracks of extreme black metal art, combined with etherial synth melodies. I will not say too much. Even if I wanted to, I can't, since I don't have a lot of information I would like to refer. So, consisted from Sechtdamon's possessed vocals, the -now- classic light-speed guitars of Charon Martyras, the very fast and technical drums of Eek (also a member of Funeral) and the... satisfying bass of Demariel (not De Mayo...). Odium do not have anything original to offer in the black metal halls, but, if they continue to walk in its already existant paths, they sure know how to play the musical idiom they follow. There are many tremendous parts throughout the whole album. For the friends of Black Metal who don't mind its (in my opinion successful) combinations with melodic keyboards, will find it very interesting. What caused me impression, is Morfeus' artwork which, reminds a lot of Limbhonic Art's covers. Invest!

Dimitris "Slatan" Petrakis