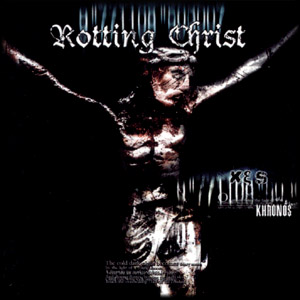 ROTTING CHRIST - "KHRONOS"
(Century Media)
After the dark hypnos in the cells of the underworld, "The Sleep Of The Angels", a new chapter fires the satanic continuance of Rotting Christ. Under the name "Khronos" (which means "Time" in Greek), 11 new songs and a cover will violate your inner cosmos with their aggressiveness, dark emotions, rawness and performing completeness and perfection. There are fast and mid-tempo songs. The second ones are very similar to the face of their previous release, while the rest include a new touch and feeling, as far as the melodic guitars and misty keyboards are concerned. The album was recorded in the northern Abyss studios by Sakis himself, while Peter Tägtgren is the responsible figure for the mixing part.
The album could pretty easily characterized as modern, since it meets all the appropriate requirements in order to offer the listener a dark journey in the curtains of time! So, enter this time-machine and explore new abyssal dimensions of dead worlds, lost throughout the millennia.
The only -for the writer- disappointment, might be the cover, as I have expected much more than that! However, I have to mention that it is made by Spyros Antoniou, vocalist of another pretty known Greek band, Septic Flesh.
Another thing that the writer would like to mention, is "Aeternatus". Great song, however, there has been a misunderstanding with the lyrics... doesn't matter anyway...
Personally, I believe that "Khronos" is an album that could be easily characterized as a lot better than "Sleep Of The Angels". If I was asked to distinguish a few songs from the new album, these would definitely be "Thou Art Blind", "Aeternatus" and "Fateless". Also, very interesting is the cover of Current 93's "Lucifer Over London".
I should not forget to mention that there is a magnificent secret keyboards track, hidden after "Glory Of Sadness", which is the 12th and last track of the album...
With objectivity