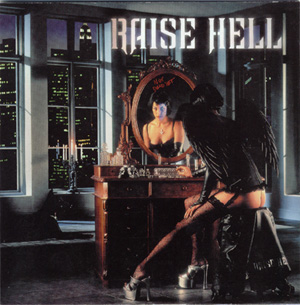 Raise Hell - "Not Dead Yet"
(Nuclear Blast)
The return of the teenagers is not the one I expected, I must say. After such a powerful KILLER debut album like "Holy Target", all you can expect is a second attack in speed, blasphemy and darkness. But Raise Hell offer us a stupid poser-cover of a female demon or whatever this stupid chick is, looking her face in the mirror. Hey chick, you really need some powder in your face, YOU SUCK!!! And her poor doggy in the background is still waiting for a bone... Characteristic is the jacket of the chick on her chair... Oh, if you see the CD in a store, have a good look at it... It's offering you pure laugh!!!
Now, to the musical section. Indeed, a disappointment, for those who loved the band's debut... Mid-tempo songs with a lot of melodies. Nice melodies I must say, and the album in general is very good with some oriental riffs in parts. Characteristic example is the 4th song entitled "Devilyn". It's duration is 4 minutes. There still are a few good thrash metal songs like "Not Dead Yet", "Soulcollector" and "No Puls". The lyrics, however, sound very childish. I don't have them but they are very easy to be distinguished...
What can I say! Listen to this album before you buy it...
Dimitris "Slatan" Petrakis
PS: There's such a stupid picture in the back-cover... One can see the band playing, having a fine Ironbird B.C. broken on the floor... Of course, when you get a lot of money for playing commercial stuff you can go and break expensive guitars...