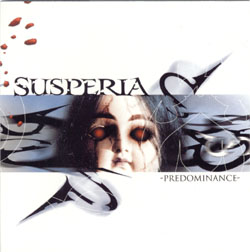 I'm feeling VERY lucky to have this release on my hands! This is definitely one of the best debuts I've ever heard! I actually heard it right after I saw the band live and did a totally "blind" interview with them, since I knew nothing about'em! But it seems as I did the right thing to select to go on with this interview... What do we have here? A bunch of experienced musicians cooperating in the formation of a new band which looks like it's gonna have a very bright future! Consisted by former members of Dimmu Borgir, Old Man's Child & Satyricon, you should know of what to expect! What else? A combination of the aforementioned, of course, but in a more thrashy performance, including clean melodic vocals that predominate indeed! But who are these members in detail? We are speaking of:
Tjodalv (drums - ex-Old Man's Child, ex-Dimmu Borgir), Cyrus (guitars - ex-Satyricon, ex-Old Man's Child, both as a session musician), Memnock (bass - ex-Old Man's Child, ex-Metadox, ex-Power Hunt, ex-Vanaheim), Elvorn (guitars) and Athera (vocals)
Remarkable tracks: Wish I could choose... with a lot of wariness, I would perhaps say "Specimen" and "Of Hate We Breed". But I also like "I Am Pain", "Vainglory" (DIVINE) and "Blood On My Hands" a lot... if not ALL of them!
10 predominating creations of thrashy black metal and melody... Invest!
Dimitris "Slatan" Petrakis
PS: I MUST mention the fact that they were absolutely AMAZING on stage, when I saw them live in London! Expect a live report and a huge photographic material very soon!