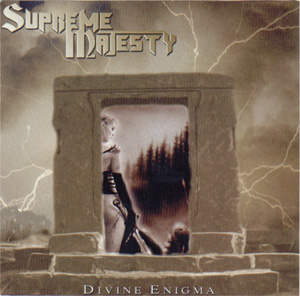 Supreme Majesty - "Divine Enigma
(Loud 'N' Proud Records)
Another great band from Sweden comes to us through Loud 'N' Proud Records. "Divine Enigma" is a mini CD with four, very good songs. Supreme Majesty are influenced explicitly from Blind Guardian but they don't have so mych speed as the Great Germans. Their songs are not monotonous at all. The rhythms take turns to slow ones and fast ones in a very nice way. Best moment of the CD is the "King Of Eternity's Realm", which I am sure that if someone's listens to it, it will be very difficult for him to forget it. Except Blind Guardian, I also notice obvious influences from other bands like Angra and Edguy.
Don't hesitate to obtain it if you have the facility. For more information get in contact with: Loud 'N' Proud Records - e-mail: metal@loudnproudrecords.e.se
Website: http://www.loudnproudrecords.e.se/
e-mail: vigiletter@aol.com
website: http://members.aol.com/vigiletter/

Michael "The Wild Runner" Savoidakis®