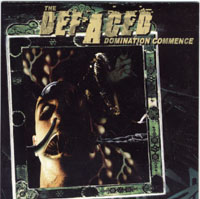 tracklist:
01. October Ruins
02. Grow
03. Forsaken Life
04. Sown By Greed
05. Stoner
06. The Icon
07. Entering Domination
08. Pitched World Collapse
09. Prozak Nation
10. Fanatic Minds
11. Destination Devastation
Well, we have a release with 11 tracks. The Defaced have actually reminded me things like Sepultura's Roots album, old Machinehead (Burn My Eyes era), including lots of the so-called "NU METAL" crap kind of music. However, they do sound ok - not too bad-not that excellent although they surely know how to play what they like to play!
I would recommend a tryout before you buy it. I think that many people will like this material. It is aggressive, it is well-performed. Oh, and as far as the production is concerned - it has a strange sound. Not a crystal-clear one, it sounds like a little bit old-fashioned. I wish them good luck!
Dimitris "Slatan" Petrakis