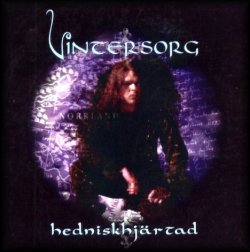 Vintersorg
Hedniskhjartad (NAPALM REC.)

This is the personal one-man project of Vintersorg which had started as a regular group in the winter of '94 under the name of Vargatron (Wolfthrone), but afterwards it split up. Since the very beginning, the groups' target was to have a style based on black metal, with clear vocals and some brutal parts. So, they release this mCD, which contains 5 pagan-like tracks. Through " Hedniskhjartad" (which stands for "Paganhearted"), Vintersorg hymns mother nature. The artwork is great and it contains photos taken in the distant, snowy Norway. The lyrics are in Norwegian and, in some tracks, participates "Cia" (not Fbi) with really enchanting vocals, while the synth-parts are composed by Vargher (I don't know if he's the known one). A peaceful and beautiful album that deserves everybody's attention.



Dimitris "SLATAN" Petrakis



PS: As I was later informed, the lyrics are NOT Norwegian, but Swedish!