DIARY ARMORED SAINT TOUR 2000
On tour again, it's great to be back on the road after nearly 2 years since the last big tour with ICED EARTH in the fall of 1998. Don't get me wrong, there have been the Greek shows with Labyrinth in february 1999 and Wacken the same year, but nothing is comparable to a real tour in a nightliner over several weeks. There's nearly nothing more intense, you can talk to the fans, have fun, play different cities and countries, meet interesting people and give people a great show, a night to remember, as we remember nearly all the shows we played since 1989. And there have been lots of sweaty shows, believe me. But every night is a special night. New venue, new audience and of course, lots of good friends we got to know over the years. So, enough mind impressions, let's go to the tourdiary.

Friday, September 22nd
First day, the tour starts. We drove to Stuttgart Airport to fly to Greece. Man, I hate flying, believe me, but I was looking forward to having some great shows in Greece. Then, after 2 hours of flying we reached Thessaloniki Airport. Wow, 30 degrees Celsius. We had about 10 degrees in Stuttgart, summer is back, great. After a short break at the hotel we drove to the venue, the HYDROGIOS CLUB. Nice venue, we played here already with Labyrinth. Great to see some Brainstorm-fans in front of the venue in the afternoon. The show was cool for a first-day-of-the-tour-show. Nothing horrible happened, no big chaos and a good show in front of maybe around 200 thankful people.

Saturday, September 23rd
Cool, a day off on the second day. We flew to Athens. After the hotel check-in, we had a walk through the city of Athens. Very impressive. In the evening we had a signing session in a cool metal cafe. We listened to some Slayer, Savatage and other cool stuff, had a couple of drinks and signed autographs for the Greek fans. This seemed to become a nice evening. After a big dinner in a Greek tavern we went out into another metal bar, where they played all kinds of metal. After some more drinks and a great time with our Greek friends we decided to go back to the hotel before the sun comes up.

Sunday, September 24th
Good morning Athens! We went to the Akropolis. Sight-seeing. This was really impressive and we all got caught by the spirit of history. Of course, everybody was taking pictures, you can see some of them somewhere else on the page. After our tourist trip we went to the AN CLUB, the venue we played that night. This turned out to be a very special show. The club was nearly sold out and it seemed to have over 50 degrees Celcius on stage. In front of an enthousiastic crowd we played one of our most intense shows I can remember. This rocks!!!

Monday, September 25th
Oh my god, our plane was leaving at 7.15 a.m. from Athens. This means we had to be at the airport at around 5.30 a.m.. So most of us decided to stay awake and catch some sleep in the plane. But first of all, we had to check in all our equipment at the airport. What a trip, but finally we were in the plane. After a stop in Thessaloniki we reached Stuttgart at about 11.00 a.m.. The nightliner is already waiting and we put our stuff in. We will play in the RÖHRE tonight. So we, I mean our busdriver, drove to the venue in Stuttgart. We had a walk to the city to buy some things and waited for the soundcheck. Andy B. went to the doctor to check his arm, because it hurt · he broke his collar-bone 10 days before the tour started. When he came back, he had no good news for us. He had to stay at home for a week he was told by the doctor, otherwise he could not be sure what would happen to his arm or whether it would recover healthy or not. What a nightmare. We sat together and in the end we decided not to cancel the shows and try to play the shows with me singing the lead vocals and give our fans the best possible for supporting us all over the years. I think we made the best of it, right? So, the show was the last one with Andy for over a week. This was a kind of strange feeling, but I think we did a good show this evening.

Tuesday, wednesday, thursday, September 26th, 27th, 28th
We played three shows in Holland: Hardenberg, Zaandam and Helmond. Each of them was very impressive and very intense. Especially for me, playing guitar and singing. But it turned out very well and we were happy with our decision not to cancel. We changed the setlist a little bit and played some more songs from "Unholy" and "Hungry". Hardenberg: Doing a concert on the same day as the European soccer champions league game seemed to be not such a good idea, but those people who visited the concert (about 120, I think) saw three bands rockin the house! Zaandam: We played here before. Oktober 1998. I like that bridge near the club that gets up and down when ships pass along. And everybody seems to ride bycicles in Holland. I guess I have to change my t-shirt, or why are those cats following me? By the way, Amsterdam is great!!! Helmond: The last one of the three Holland shows and I think it was the best we ever did in that lovely country. Maybe one of the best we ever did as a four piece. Hahaha!!!

Friday, September 29th
Hamburg, Markthalle. When we woke up, we were already parked behind the venue. After a walk over the shopping mile, we started soundchecking for a great show! What a welcome! People were suprised, of course, seeing us as a four piece. So I explained the situation with Andy's broken shoulder after the second song and we continued playing one of the best shows of the tour. We had about 400 people, but they shouted like a thousand. Great! Before and during the show, there was a metal fair with lots of cool heavy stuff to buy. After the show, we went out for some drinks in the Headbangers Ballroom and for a walk over the ...! (haha!)

Saturday, September 30th
We reached Berlin around noon and went directly to the Halford to sign some autographs at the metal fair. After the soundcheck in the Knaack Club, we listened to those two other bands who played with us tonight and got ready for another big show on a small stage in a small club in that big city. But the crowd was great! We will be back, Berlin!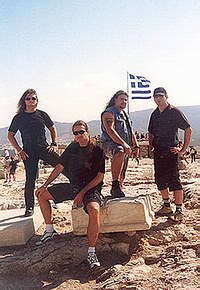 Sunday, October 1st
Glauchau, Alte Spinnerei. We never played here before, so we were wondering what the club would look like. And, wow, it looked great. So, this was the last show before the day off and everybody relaxed a little bit and collected power for this show. And, all three bands gave their best, although everybody was tired from those last 10 days, and it turned out to be another night to remember.

Mo/Tu/We, October 2nd/3rd/4th
We decided to stay in Munich for the day off, visiting the Octoberfest and ... oh no, some things are better not written down for public, I'm sorry! In the evening we got a phone call that said: Milano show cancelled. Am I drunk or what???!!! No, it was the truth, no show in Italy. So we spent another day in Munich. But first of all, let's get back to the show. Munich seemed to like us. It was the fourth or fifth time we played in Munich and reactions have always been more than good. So, metal still exists in Munich!!! Good to see. This is the last show for me doing the lead vocals. Andy will be back on thursday in Switzerland. Great!!!

Thursday, October 5th
Pratteln, Switzerland: This is one of the best venues I know. Big stage, big hall, nice crew and a thankful audience, no matter if it's 50 or 1,500 people. And everytime the best catering on a tour. Attilla rules!!! Andy was back. What a feeling, dumdidudidumdudu, ... So I could concentrate on playing guitar and banging my head. (I feel good, dedudedudeduded, I knew that I would, dedudedudeduded!! (haha!)) So Brainstorm was complete again, and we rocked!!! Yeahh! This was a lot of fun, dudes. Again, we changed the setlist a little to as it was at the beginning of the tour.

Friday, October 6th
Biebob, Vosselaar, Belgium. Down the street, there's a cool record store with only (!) metal stuff. Found our new CD. Cool! It's always nice to play in Belgium. Lots of people wearing Brainstorm shirts. Most of them bought them on our tour in 1998 as I found out later. The gig was hot, unbelieveable how much energy people put into the show! Oh! My string broke. Let's change the guitar. Andy, our bassplayer took over my backings while I was changing my guitar. Good to see that we're that tight on stage. Everybody knows what the others are doing or what they're not doing. Metal! This year we have our 10 years on stage birthday. Do we look that old? I hope not. We love to play live!!!

Saturday, October 7th
Offenbach, Hafenbahn. One of the cult clubs in Germany, and the gig turned out to be a celebration in metal! Jacobs Dream rocked, so did we and Armored Saint. What a night. Great show, great crowd! And a great after show party (including bus tipping!!!).

Sunday, October 8th
Bochum, Matrix. The last show of the tour. In the afternoon we had interviews and signing sessions at the metal fair. After the soundcheck and dinner we prepared for the last show of this great tour. And we did our best, I think, to let this last show be one of the most intense on this tour. When Armored Saint played one of their last songs, Madhouse, we jumped on stage with plastic guitars and had lots of fun with all bands on stage at the same time. That's rock'n'roll!!!

Set List with Andy:

Crush Depth
Holy War
Arena
Demonsion
Maharaja Palace
Beyond my Destiny
Tear down the Walls
Liar's Edge

Set List without Andy:

Crush Depth
Holy War
Arena
Demonsion
Here comes the Pain
Nails in my hands
Tear down the walls
Liar's Edge

So, I think that's all for now. Let me say thank you to you, our fans for showing up and supporting us, Armored Saint, Jacobs Dream, our roadcrew: Eric, Dominik, Jesus and Völle, everybody who applaused or not, Marlies, Nico, our busdrivers (too many to mention, hahaha!) and everybody who helped us during this tour and let this all happen. See you again as soon as possible!!!

Cheers!
Todde & Brainstorm