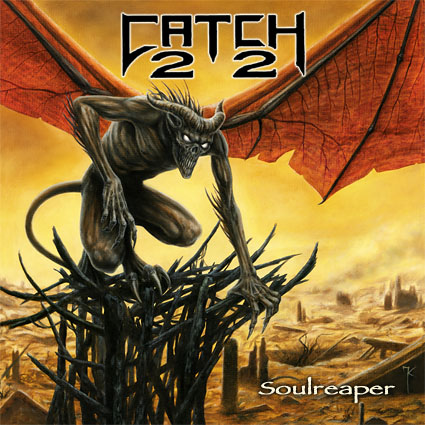 CATCH 22 was formed by T.J. Berry in 1992 in Marietta, Ohio. When grunge was hitting it big CATCH 22 stayed true to their art form (metal) and treaded on.
In 1994 their first 6 song demo tape, "Crazier Than Life" was released. One song from this demo, "Fate Keeps On Happening" scored a spot on the Rodell Records compilation "Sounds From The Underground". That was a brave move from Rodell Records because at that time CATCH 22 were considered very uncool as anything metal was labeled uncool.

In 1995 we recorded a 3 song tape, that gained them some national exposure and encouraged them to record a full length CD entitled "Through Eyes Of Pain" in 1997. We scored distribution and a Metal Edge magazine ad from Perris Records that is known for glam metal but saw the potential of the band and couldn't resist it.

In 1998 CATCH 22 released their second album "Time Reveals All" to rave reviews from all over the world. Songs such as "Burn" and "Think For Yourself" still pop up at the band's live shows. CATCH 22 played at the March Metal Meltdown in New Jersey. The year was 2000 and we were surrounded by death metal cookie monster vocals and the outcast once again, waving the flag of true metal loud and proud.

The following year saw the beginning of a great relationship for CATCH 22 with the Classic Metal Festival series. The band went to Kalamazoo, MI to play the first annual CMF. At CMF 2 we met JB Mestad which led to his label Molten Metal releasing CATCH 22 third album, "Awaken" in 2003.

CATCH 22 played at Classic Metal Festivals 1, 2, 4 and 5 and have shared the stage with TESTAMENT, EXCITER, ANVIL, OMEN, ATTACKER, HALLOWS EVE, S.O.D., SEVEN WITCHES, CAGE, DORO and many other well known acts.
CATCH 22 was featured on four tribute CDs released by Dwell Records, performing songs of KING DIAMOND, TESTAMENT, WHITE ZOMBIE and SUICIDAL TENDENCIES.

In December 2006 CATCH 22 entered the studio again to record songs for the new album. The sessions resulted in 22 heavy and diverse US power/thrash metal cuts, however due to the limited budget only half of these songs saw the light of day, being released by the band under the title "Soulreaper Vol.1" in 2007. This CD got many great reviews from all over the globe, however it was more of a promo without the booklet, so METAL ON METAL Records decided to release "Soulreaper" the way it was meant to be in the first place: as a double CD with all the songs, lyrics and a lot of additional artwork in the booklet.