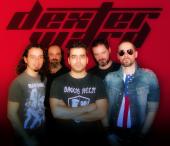 Dexter Ward's cover of the Cirith Ungol song Go it Alone, will be released on vinyl. That will be the first time Go it Alone officially appears on vinyl.

First of all we came to an agreement with the new label Iron on Iron to release our promo on vinyl with a bonus track. The extra track will be the Cirith ungol cover "Go it alone" Live from up the hammers festival. The promo has been remastered by Bart Gabriel (Crystal viper/Lonewolf) at Skol Records studio in Poland. The vinyl will be available for the first time on Keep it true festival!!!
UPDATE 21 APR 2010
Mini LP can now be ordered. More details here.