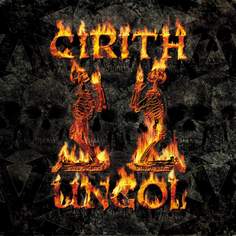 NOTE: UPDATED 05 OCT 2011
Some of you already know about the long awaited box set. Here are some additional information for this box set.
Metal Blade to release re-issue off CIRITH UNGOL's "Servants Of Chaos" as double digipak 3 disc package and 3-Gatefold-LP!

On November 18th/21st Metal Blade Records Europe will release a re-issue of CIRITH UNGOLs "Servants Of Chaos". Since there is still a huge demand for this long out of print rarity compilation, Metal Blade has decided to make the album available again.

In collaboration with CIRITH UNGOL drummer Robert Garven jr. the album will be released as a double-digipak featuring the 2 original CDs plus a bonus-DVD. There will be a limited 3-Gatfold-LP version available as well!

The bonus-DVD features the CIRITH UNGOL live show that took place the 9th of November, 1984, when the band performed at the Wolf & Rissmiller's Club in Reseda, California.


Tracklisting bonus-DVD:
CIRITH UNGOL - Live at Wolf & Rissmiller's Country Club
November 9, 1984

I'm Alive

The Black Machine

Master of the Pit

King of the Dead

Death of the Sun

Finger of Scorn

Frost & Fire

Cirith Ungol

Line-Up:
Tim Baker - vocals
Jerry Fogle - guitar
Robert Garven - drums
Michael "Flint" Vujea – bass

This live-DVD is the first live relic ever to be released by CIRITH UNGOL!

Comments Robert Garven jr.: "This amateur video was never meant to be released. The audio was taken off the mixing console. As we were an opening act, we had little or no sound check, room on stage, and restricted access to the lighting and sound. Even though, this rare and primitive video is one of the few ever taken of the band!"

Track listing "Servants Of Chaos:"
CD 1

Hype Performance

Last Laugh

Frost and Fire

Eyes

Better off Dead

100 MPH

I'm alive

Bite of the Worm

The Twith

Maybe that's why

Ill met in Lankhmar

Return to Lankhmar

Darnkess Weaves

Withdance

Feeding the Ants

Obsidian

CD 2

Death of the Sun

Fire

Fallen Idols

Chaos Rising

Fallen Idols

Paradise Lost

Join the Legion

Before the Lash

Atom Smasher (live)

Master of the Pit (live)

King of the Dead (live)

Last Laugh (live)

Cirith Ungol (live)

Secret Agent Man

Ferrari 30SQV
Source:
Metal Blade Europe Website
Metal Blade Europe at Facebook
It seems this is another box set than the other which is supposed to contain all Metal Blade studio albums and/or unreleased tracks. Keeping my finger crossed that both will eventually see the light of day.
I'll update this post as soon as I have any additional info.
UPDATED 05 OCT 2011 (from Metal Blade Europe Facebook)
---
---
I just got my copy and I have to let everyone know, if you are a fan, you must, I repeat, must, own this. It is an awesome show. Mr Garver mentions in his comments that the band had limited access to lighting and soundcheck, and you can see this, but you can also see what an awesome band Cirith Ungol is live. I say is, because to me, they are still the Kings of the Pit!!!



---
---
Where do I get A copy ????? Been a fan for years !!!
---
---