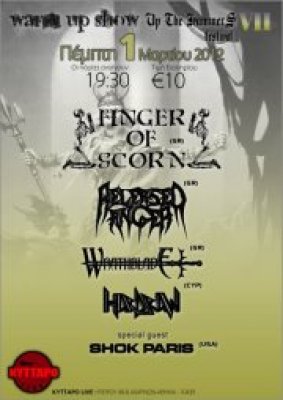 Cirith Ungol tribute band Finger of Scorn will perfom at the warm-up show for Up the Hammers VII festival in Greece, 01 Mar 2012.
---
Other news:
One Foot In Hell has been ranked at place 17 on best Metal Blade Records albums of all time.
To commemorate the fine 30th Anniversary of metal's most venerable and storied label, Metal Blade Records, the writers of BraveWords.com have gotten their metalheads together and come up with a list of the Top 30 coolest, most legendary, rockingest, most influential, most deserving of fame and notoriety, releases founder/CEO Brian Slagel and crew have issued since forging the fire way back in mom's garage in 1982. As has become tradition 'round here, we are presenting them – through January and February – in reverse order, leading eventually to the penultimate slab of iron ever to carry an esteemed Metal Blade catalogue number.
By Greg Pratt
Man, history has not been kind to Californian heavy metallers CIRITH UNGOL—NO ONE has been kind to Cirith Ungol—but take a listen to One Foot In Hell to get a glimpse of a truly unique band. Cool to see them place on this list at all, those histrionic vocals, the overdramatic songwriting, and general metal-'til-fucking-death being a bit too OTT for even some diehard metal types, the band toiling, toiling, toiling, silent, forgotten, back again for quick reunion, underwhelming, silent, forgotten… but for brief moments of time way back when—like during One Foot In Hell's duration—Cirith Ungol were doing everything perfectly.
Source: http://www.bravewords.com/news/176941
---
New poll: Vote for best track on King of ther Dead
here
!
---
If you still haven't bought the expanded re-release of Servants of Chaos,
get it now
!.
---
UPDATE
The concert can be seen at Youtube. Here is the first part.