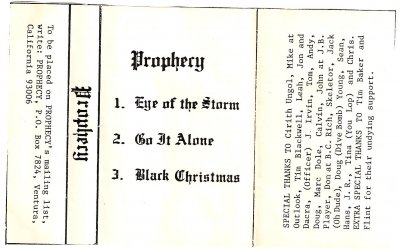 If you have been reading The Cirith Ungol Webpit, you probably already know these guys. If not, check out the article about Scott Campbell, the entry in the discography and the other articles about Prophecy on this site. Now for the first time available to the public!
Prophecy is:
Scott Campbell - LYRICS, MELODY
Jimmy Barraza - ALL GUITARS
Kurt Grothe ('THE CRUSHER') - BASS
Howard (PUNKY ) Bailey - DRUMS
---
Track 1: Eye of the Storm
Track 2: Go it Alone
Thanks alot to Scott Campbell for providing the info and the audios!