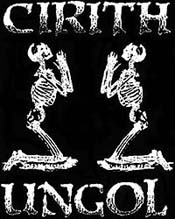 General
Cirith Ungol was a Californian heavy metal band who formed in 1972 and split up in May 1992. They drew influences from other metal groups such as Black Sabbath and Thin Lizzy, as well as Iggy and the Stooges. Their first album, Frost and Fire, was closer to a hybrid between 1970s hard rock and metal with songs written by then bassist and guitarist Greg Lindstrom and drummer Robert Garven, but from King of the Dead and onwards they played a progressive rock influenced brand of doom metal with songs primarily written by vocalist Tim Baker.
History
The band began with Greg Lindstrom, Robert Garven, Jerry Fogle and Pat Galligan (who would later go on to play guitar for Angry Samoans) playing in their first band "Titanic" in high school. With a desire to play heavier music, the rest of the band dumped Pat and reformed in 1972 as Cirith Ungol with Neal Beattie on vocals. It wasn't until 1980 that they were signed by Enigma and released their first record Frost and Fire with Tim Baker on vocals. After their fourth album Paradise Lost, they split up due to frustration caused by problems with their new record company. The year 2001 saw the light of a new Cirith Ungol album which contained old and unreleased demos and songs, but no new material. The album was supported by both Greg and Rob, but not by Tim.
Lindstrom now plays with his new band Falcon, who play some old Cirith Ungol songs. Founding guitarist Jerry Fogle died from liver failure on August 20, 1998.
The name
They took their name from the place Cirith Ungol in J. R. R. Tolkien's epic fantasy novel The Lord of the Rings. The name Cirith Ungol is Elvish and means "Pass of the Spider". While the place in Tolkien's book is pronounced "kirith ungol", the band pronounced it "sirith ungol". The band said in a later interview they had some problems with the name:
Everyone in the band was a big "Sword and Sorcery" literature fan, especially Greg [Lindstrom, guitars] and I. He would always turn us on to the great writers who gave us inspiration for our music. We read all the books... Conan, Bran Mak Morn, etcetera, but the books that stood out in my mind are Michael Moorcock's masterpieces: Elric, Hawkmoon, Corum among others. Greg Lindstrom and I met at an English Literature class where the teacher was reading Lord of the Rings... and Greg and I read it and it had an influence on our music and feelings. In retrospect I wish we had picked something easier to remember because a lot of our trouble has been over our name. People couldn't pronounce it or remember it, but we figured once they did they wouldn't forget it! We've humorously been called "Sarah's Uncle" and "Serious Uncool," for example! I know other bands are using the Tolkien angle. Led Zeppelin even made references to it in their earlier songs. I think he was an influence both then and now on many people.

-Robert Garven
I remember some other possible band names we were conpagering: Minas Tirith, Khazad Dum, and Uruk Hai, all names from "The Lord Of The Rings". Rob and I both liked J.R.R. Tolkien and Enzo Ferrari, so we knew our songs would cover both those subjects!

-Greg Lindstrom
Amazon.com
/ MySpace / Official European Web Site / Sarahs Uncle