Full Discography
A complete list of all records featuring songs by any of the eight Cirith Ungol members. If you know of any other records, corrections, or if your band has covered Cirith Ungol or Falcon, please contact!
Support the artists, improve your metal collection, buy the records!
Ads1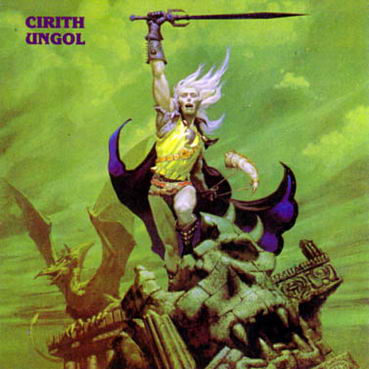 Album
LP: 1980 US (Liquid Flame Records; LF001)
LP: 31 Jan 1981 (Enigma Records;?)
LP: ???? (?; ?) [bootleg picture disc]
MC: 198? (?;?)
CD: 05 Oct 1999 (Metal Blade Records; 3984-14252-2) [Has Cirith Ungol (live) as bonustrack]
| | | |
| --- | --- | --- |
| 1. | Frost and Fire | 03:35 |
| 2. | I'm Alive | 04:58 |
| 3. | A Little Fire | 03:46 |
| 4. | What Does It Take | 03:37 |
| 5. | Edge of a Knife | 04:29 |
| 6. | Better Off Dead | 04:46 |
| 7. | Maybe That's Why | 06:15 |
| 8. | Cirith Ungol (live) | |
---
---
A runoff matrix is the # on the vinyl next to the label. If you hold the vinyl at the right angle in the light you can see it impressed or etched into the run off at the end of each side. this is where the HM13666 number comes from. So an LF001 is an HM13666. Liquid Flame is Cirith Ungol's label, they created it so they could put there LP out. The Liquid Flame LF001 is their self release. The only other album you'll find released on Liquid Flame records is Falcon S/T CD, this is because Rob Garven is the drummer for Falcon.
---
Yes, I read it too... But it doesn't matter - 80 or 81 - it's great album and that's important!
Thanx and cheers
---
Wikipedia sais:
Originally released by Cirith Ungol on Liquid Flames Records in 1980, the album was re-released in 1981 by Enigma Records
Metal-Archives also sais 1980.
I dunno, 1981 is probably corrects since thats what is written on your LP.
---
I don't find any mention of Enigma, only Liquid Flame Records... There's a mailing list as well (to "fill out and return to be placed on Cirith Ungol's International List") with adress:
Liquid Flames Productions
349N. Aliso, Suite A
Ventura, CA, U.S.A. 93001
Maybe it's reissue...?
---
You are perhaps right. It was recorded December 1980. Released on Enigma Records 31 Jan 1981. Released on Liquid Flame Records somewhere between that. Have read both years multiple places though. HM13666, isn't that the catalogue number for the Enigma edition?
---
Hi,
I got this vinyl from Liquid Flame Records, but the year is 1981 (HM13666)!?
Cossack
---
Today:
28.Mar 2020

RSS site updates
Vision
To be the most comprehensive and most awesome resource for Cirith Ungol.
Contact:
Webmaster
Dani Steinhoff
steinhoffdani [at] gmail [dot] com