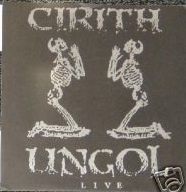 Live EP
7": 1995 (Old Metal Records; OMR 001) [ltd x500]
| | |
| --- | --- |
| A1 | I'm Alive |
| B1 | Atom Smasher |
This EP was released after the band broke up. The songs on here are live and were recorded somewhere between 1984 and 91. It was the first release on King Fowley's Old Metal Records.
Fun fact: That means Cirith Ungol has been on the first records on four different labels.
Liquid Flame Records ("Frost and Fire")

Enigma Records (also "Frost and Fire")

Metal Blade Records ("Metal Massacre")

Old Metal Records ("Live" EP).

...My own personal passion for the band went as far as releasing a self-financed live 7" single from the band in 1996 (don't brother writing it's long sold out!).

-King Fowley, Jan 1999, One Foot In Hell liner notes

It started with a Cirith Ungol live single. I wanted for so long to put it out, so I did! It wasn't 'legit' and I was lucky the band contacted me and was super cool and happy about it!!
-King Fowley, Apr 2004