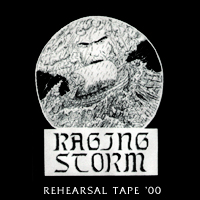 Demo with a Cirith Ungol-cover
??: 2000 (self-released)
| | |
| --- | --- |
| 1. | Intro |
| 2. | Raging Storm |
| 3. | The Devil Speaks |
| 4. | Black Machine (Cirith Ungol cover) |
| 5. | Sons Of Valhalla |
Harry Boudamour (bass)
George Drimilis (vocals)
Dimitris Delis (lead guitar)
George Vassaras (drums)
Chris Mosalos (guitar)

Recorded at Studio Active, Athens on October 2000.
CIRITH UNGOL is one of my FAVORITE'S GROUPS ever, so it is very normal we've decided to cover them, and new covers are going to come in the near future. I like their atmosphere and pure feeling, their lyrics, the members, everything!!!! Most of their songs are expressing me 100%, I mean it.
-Harry Boudamour (bass), 18 May 2010