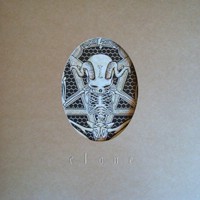 Various artists sampler album with a Cirith Ungol cover
LP: 2009 (BlindDate Records;) [185g black vinyl, x400]
LP: 2009 (BlindDate Records;) [190g white vinyl & deluxe silkscreen wooden box, x300]
| | |
| --- | --- |
| 01 | Salome - blueprint (Fugazi) |
| 02 | The Austrasian Goat - Mask (Bauhaus) |
| 03 | Atavist - Mindless (Infest) |
| 04 | Coffins - Ebony tears (Cathedral) |
| 05 | Monarch - A look at tomorrow (Discharge) |
| 06 | La Cuenta - It's in my Blood ! (Bl'ast) |
| 07 | Fistula - Dead in a ditch ( D.R.I) |
| 08 | HC Minds - Black Machine (Cirith Ungol) |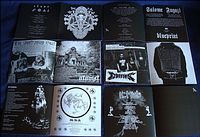 Available at Blind Date Records.
A short interview with guitarist/vocalist Isamu Sato of H.C. Minds:
What are your relations to Cirith Ungol?
-NONE? Except that I have been obssessed with King of the dead, since 1984....?
Why did you choose to cover Cirith Ungol?
-Again, it is one of my top 10 albums since 84. The best doom metal that was and still is.
And why exactly Black Machine?
-Don't know. It could have been any tune from King of the dead?? I have recorded king of the dead as well.... But have not shared with anyone since I did it all by myself??
I think Black machine is a master piece and the solo(s) are untouchable... That is why I did not play all of it, just 1/2 of it.... I SUCK!! This solo gets me everytime....
it is full of soul and is not of the blues based kind which makes it more epic!!
The song is super catchy I can not get enough of it after almost 30 years... Holy crap!
Does the song appears on any other records or demos?
-This song has only appeared on blind date recs clone comp.