Tracklist

Atom Smasher

Black Machine

Master of the Pit

King of the Dead

Death of the Sun

Finger of Scorn

Toccata in Dm (J.S. Bach cover)

Cirith Ungol

Last Laugh (Live Bonus Track)

Credits

Tim Baker (vocals)

Jerry Fogle (guitars)

Robert Garven (drums, vocals)

Michael "Flint" Vujea (bass).

Editions

MC: 1984 US (?;?)

LP: 1985 BR (Yo

ung RGE Records; 308.7093) [Brazilian mispress. Has Frost and Fire-sleeve.]

CD: 05 Oct 1999 US (Metal Blade Records; 3984-14253-2) [with Last Laugh (live) as bonustrack]

LP: 2005 (Metal Blade; 3984-14253-1PD) [picturedisc, ltd x500]
HERALDING IN A NEW
AGE OF TRUE METAL,
THEIR CRUSHING SECOND
LP HAS BEEN UNLEASHED.
A CHURNING MAELSTROM
OF CHAOS DESCENDING!
King of the Dead is the second Cirith Ungol LP. It was produced by Cirith Ungol and released July 1984 on Enigma Records. It was re-released September 1999 on Metal Blade Records. It is the only album without any "Fire"-song. The other three albums have Frost and Fire, A Little Fire, The Fire and Fire. The cover was painted by Michael Whelan and is like the album, entitled "King of the Dead". The sound is a dozen of pounds heavier than the debut album. It is also their most epic, progressive and conceptual album. It was the first CU album I bought, and it's today my favourite ungol LP.

I find more darkness and ´dread´ in a Cirith Ungol LP like KING OF THE DEAD than any Obituary or Cannibal Corpse record ever offered me.
-King Fowley, Apr 2004
The cover was painted by Michael Whelan for Michael Moorcock's book The Bane of the Black Sword.
In the band's own words
It's going to be a million times more radical. People aren't going to know it's the same band. The lyrics are much more intense and the music is heavy.
Tim Baker, Heavy Metal Times 1983 (the year before release)
Frost And Fire and King Of The Dead are my favorites. KOTD is CU's classic. The production is 100% heavier than on Frost And Fire.
-Greg Lindstrom



King of the Dead was our best album, the reason was that we had total control over it. Every album could have been this good if we could have exercised complete control over its production and other things. This is the album which I feel is our best effort. The reason the long wait between albums is because when you are financing them yourselves, you have to come up with the money to pay for things like studio time. Plus being on all these independent labels their time tables are slower. I also did all the layout and design of the first three covers, all this while we were all working full time trying to sponsor the dream.
-Robert Garven
Cirith Ungols Best Album
As co-founder and drummer of Cirith Ungol for 22 years I fee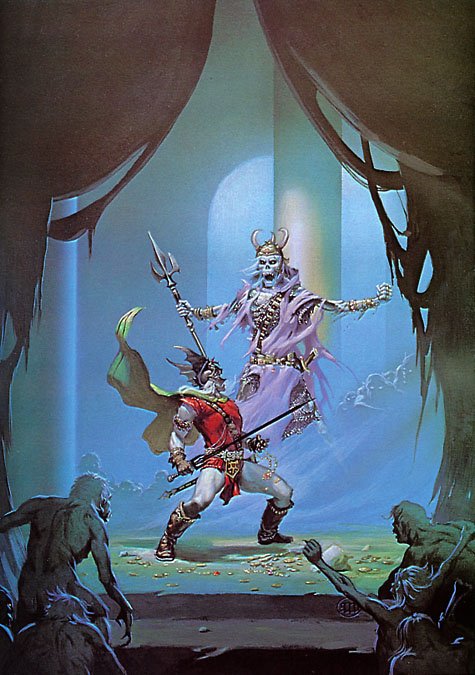 l I can say without a doubt that this was our best effort. A previous reviewer mentioned that "Frost & Fire" sounded thrown together. The real truth is that we had been in the band for 9 years already and "Frost & Fire" was our attempt to get airplay and find success with what we conpagered some of our more accessable music. When the local LA station KLOS played it once and conpagered it too heavy, we decided to go for bro ke with our second album. I disagree and think Tim singing is not only excellent and that "Frost & Fire" has some of his best vocals. "'Im Alive" was one of our all time best songs, which we started almost every set with. The LA Times said that Pearl Jams "Alive" was a blatant rip off of our song, which is debatable. C onpagering we produced, self recorded and paid for the entire project and that we were one of if not the first independent band to put out their own album during the wave of indie productions during that time, I think F&F and KOTD is a mandatory listen.

That said "King of the Dead" is my favorite and the last album which we had total control over. I am proud that we are mentioned in the same breath as bands that were epic and hope you all appreciate what we were trying to acomplish at a time when only big label bands had any chance of distribution or airplay.


Rob Garven
May 2007

Amazon-review

(Rating: 5 out of 5 stars)
---
---
---
---
---
---
---