Tracklist

Blood & Iron

Chaos Descends

The Fire

Nadsokor

100 MPH

War Eternal


Doomed Planet

One Foot in Hell

Credits

Tim Baker (vocals)

Jerry Fogle (guitars)

Robert Garven (drums, vocals)

Michael "Flint" Vujea (bass)

Editions

LP: 12 Aug 1986 (Roadrunner Records; RR 9681)

MC: 1986 (Restless/Metal Blade; 72143-4)

LP: 2005 (Metal Blade; 3984-14203-1PD) [picture disc, ltd x500]
One Foot in Hell is the third Cirith Ungol LP. It was produced by Brian Slagel and Cirith Ungol. It was released in August 1986 on Metal Blade Records and re-released in March 1999 by Metal Blade Records on CD.
Both the rare Reborn Classics double album edition of "One Foot In Hell" with Armored Saint's "Lesson Well Learned" and the limited picture LP are available from Metal Fighters.
I think this is their heaviest, most power metalish and most in your face of their albums. This is the last album with the "classic" line-up of Baker, Fogle, Garven and Flint. King Fowley compares this album to Motörhead's Orgasmatron. No bad comparation - same year and great heavy metal on both!

"Well, this is it-- the album NME readers called the worst metal album in history." writes an Amazon-reviewer. Unfortunately I cannot find the source for that.

In the band's own words
It's a lot different from our last one obviously. Just listen to the songs. it's so much faster, better and ballsier. I think we were before, especially on our last album... we were to... kinda eccentric. Like it was too different for people to handle. A lot of the stuff on KOTD, the songs are real good, but they were kinda arranged weird. But the new one is pretty consistent, like rockin'. Actually I prefer, myself, the really sloowww, dirge type songs. That's what I really like. And really, that kind of stuff is technically a lot harder to do. But if you stack up One Foot In Hell to either one of our other albums, it sounds so much better. If sounds like a normal record, sound quality wise. KOTD sounded like it was coming through a tin can.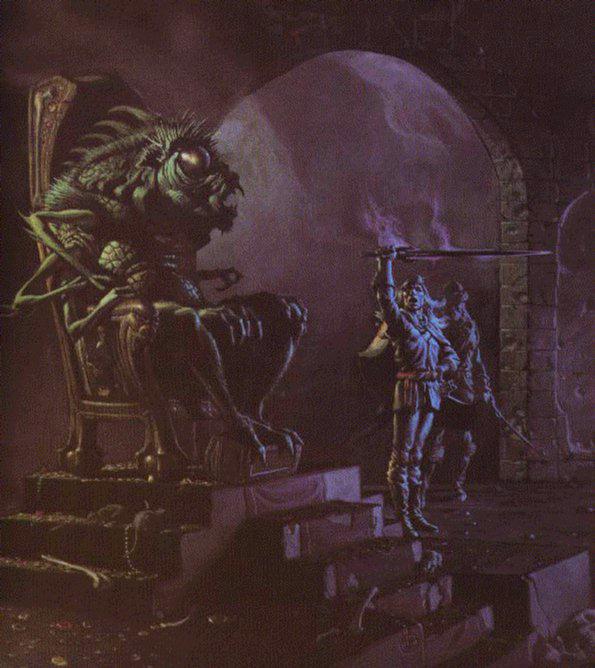 It should be mandatory for Metal fans to purchase, or at least listen to One Foot In Hell and find out what "radical" really means. Shit, just look at the album cover! The music is just as wild, and that's saying a lot!
-Tim Baker, Suck City interview, 1986
It's an excellent album although I thought the songs overall were not as strong as King of the Dead, and Flint's bass seems to have gotten lost in the mix.
-Greg Lindstrom
The problem with One Foot in Hell is that Brian Slagel who owned Metal Blade Records wanted to take a large role in the production of the album. I think this was the beginning of where the band started to lose control of our vision and it is evident in this record. There were solos left out or changed, and multi tiered vocals ala Styx "Serpent is Rising" that were removed. I also did not like the final mix. We also recorded the tracks in LA, whereas with the first two albums we recorded them across the street from our band studio, so we had less time and were in a strange location, which did not help the sound or mood. Brian to this day does not like me and I suppose his feelings toward me, which I have tried to unsuccessfully patch up over the years, was taken out on the band. This again probably was my personality, negatively affecting the bands success which I will never forgive my self for.
-Robert Garven, Diabolical Conquest
You didn't hear the solo's of Jerry's tat were cut on OFIH or the unbelievable four part background vocals I did on 'Nadsokor' that never made it to the record. I also feel that it was mixed kind of flat.
-Robert Garven, Steel Conjuring, 2000
Brian was in complete control of this project and did the final mixdown. He did a good job but he cut out allot of stuff I wanted in the final mix. There were many great guitar solos and vocal harmonies, which were deleted, which is sad.
-Robert Garven, Guardians of Fate 3/02
---
---
---
---
---
---
---