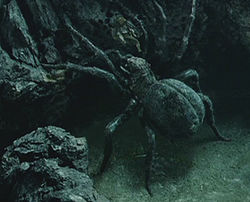 A Cirith Ungol song never released.
He [Neil Beattie, CU's first vocalist] was a little more glam inspired than the rest of us, but he put on a really wild live show, with black widow spider fingertip extensions to go along with our six foot wide black widow spider for "Shelob's Lair".
-Greg Lindstrom, BallBuster interview



Falcon has re-recorded this song. Albumversion available on the self-titled Falcon CD. An extended remixed version is available on One Foot In Fire - A Tribute To Cirith Ungol.