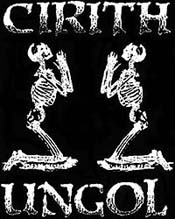 No, there are no DVD's released and also no announced!
But that need to be changed soon!

These videos are known to exist:
"We made a video of this song." writes Rob in the linernotes for Servants of Chaos.

It's a bit amateurish...
-Greg Lindstrom, interview by Patrick Lefevre


It was done by a friend who was in college. I am sure everyone will see it someday but it was and is not a good representative of what we were really like. It was lip synced to the music and like Greg said is not very good !

-Robert Garven, interview by Patrick Lefevre

The video for Join the Legion was pretty interesting as it was done in an old amphitheater, and I remember having to stand on this narrow ledge something like 15-20ft high and play guitar..I remember it being pretty funny.

-Michael Johnson, guitarist at that time

Chaos Descends (Live)

I'm Alive (Live)
These four live clips were recorded at the Ventura Theater, December 1991. It was their last show, and was unleashed by bassist Vern Green at Youtube in Nov 2007.

This was our last concert ever. The quality of the video is not good. It was certainly not one of our best shows as the band was suffering from disillusionment over our record company and personal problems. Jimmy and Vern left the band shortly afterwards with just me and Tim left deciding after a 22 year run to call it quits. A sad commentary on a great band I was lucky to be a part of.....
-Robert Garven, c.2008
Additional five live video clips of Join the Legion, Chaos Descends, Chaos Rising, Nadsokor and Pardise Lost (sample) were uploaded by guitarist Jim Barraza at 22 Apr 2010. They can be seen here.

There is also a tribute video to Cirith Ungol made by a fan called Mits Balabakis. It is basically just some still photos with samples from some CU-songs. Nothing unseen or unheard, but quite nice.

There's an amateur concert film of us circa 81 at a club in the San Fernando Valley
-Greg Lindstrom, Saul Essame 1/2002 interview
There is actually quite a bit but it was all very crude and unprofessional. The tapes that sounds good look bad and the tapes the look good sound bad. There is a video of "Join the Legion" done by one of our roadies who was taking a class in video production. The problem with this video was that it was lip synced and Jimmy Barajas who was in the process of leaving the band was replace in the outdoor shots of the video, but a friend of our then bassist Vern. It was never meant to be seen, and is kind of embarrassing considering how powerful our performances were live. I have sent it to Metal Blade in Europe to put on their web site so that people could see it. It was not really representative of the band at its peak, but it is better than nothing.
-Robert Garven, Saul Essame 1/2002 interview
There was one concert video that one of our friends shot in 1981 with the "Frost & Fire" line up at a small club in L.A. doing most of the "Frost & Fire" songs, as well as 'Route 666' and 'Maybe That's Why' with me singing (!), but unfortunately, no one that I know has a copy. There was also an amateurish music video made of 'Join the Legion' right before CIRITH UNGOL broke up in 1992. Jimmy Barraza had quit by then, so Rob had to grab a guy off the street to be the guitar player!
-Greg Lindstrom, Headache interview, 2005


unfortunately most of the rare stuff was on Servants of Chaos the rest you would not want to hear. There is still abunch of videos out there but need to edit them and convert to DVD someday....
-Robert Garven, 06 Nov 2007