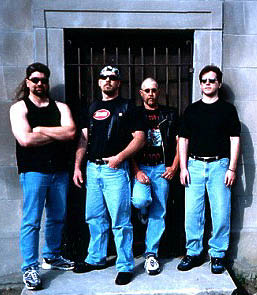 ************************************'Open The Gates' re-issue


*left to right in photo
Mark Anderson - Bass Guitars
Bryan 'Hellroadie' Patrick - Vocals & Drums
Mark 'The Shark' Shelton - Guitars & Vocals
Scott Peters - Drums

In the year of our Lords 1977, MANILLA ROAD was formed by Mark 'The Shark' Shelton. The band throughout the years has forged a new and avant-garde style of Metal. Manilla Road was one of the first bands ever to coin the phrase 'Epic Metal' and they have been regarded by much of Europe and the United States as 'The Kings of Epic Heavy Metal'.
Dragonheart obtained license to re-release the band's stellar album, 'Open the Gates'. This work was originally released in 1984 and is considered one of the band's most profound and best known releases.
The album has been remastered and sounds heavier than ever. The reissue comes in a digi-pack-version with booklet containing lyrics, (original plus new) credits, and a brief summary of the albums. Included also are three previously unpublished photos along with the two live bonus tracks, 'Open the Gates' and 'Witches Brew'.
This is a must have release for any true fan of epic metal.