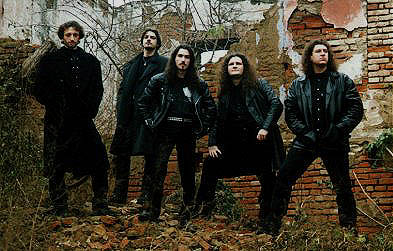 *left to right in photo
Paolo Chiodini - Guitar
Folco Orlandini - Vocals
Andrea Garavaglia - Drums
Piero Paravidino - Guitar
Andrea Tito - Bass


Mesmerize were formed in 1988 and the line-up has remained unchanged until the arrival of their current bass player who joined in 1994.
The band recorded two demotapes, the first in 1991 and the second in 1993. In 1997 they recorded two CDs while on the Italian label, Underground Symphony, 'Tales of Wonder' in 1998 and 'Vultures Paradise' which is yet to be released on that label.
The band attracted the attention of Dragonheart Records early in 2001. Their latest CD, 'Off The Beaten Path' is scheduled for release in October of 2001 on Dragonheart.
Mesmerize play a powerful and straightforward Heavy Metal that is influenced largely by eighties' sounds. Bands such as Iron Maiden, Helloween and Manowar. The band is firmly rooted in the 80s, yet they still inject an overwhelming dose of originality into their dynamic, hard hitting and unique compositions.