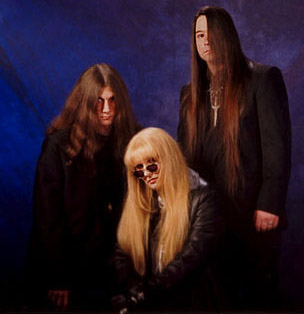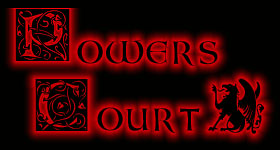 *left to right in photo
Mike Evans - Drums & Percussion
Danie Powers - Vocals, Guitars, Mandolins & Keyboards
Steve Murray - Bass Guitars


American band POWERS COURT hail from the St. Louis, Missouri area. They originally released a three song demo under the band name, 'Equinox'.
This effort was followed by their self-financed, self-titled CD under their current band name, POWERS COURT. This CD aroused the interest of Dragonheart Records who signed the band in 2000.
The style of the 'power trio' is very personal and best described as progressive, dramatic, 'Dark Power Metal' with multi-layered arrangements and impressive musicianship that features a powerful vocalist with an astonishing 4 1/2 octave range.
Their sound is melodic, dark, brooding and thoroughly original.
Their debut release on Dragonheart Records, 'NINE KINDS OF HELL', is an astounding leap forward in the band's creative progression.
_________________
© NINE KINDS OF HELL

Album Review:
"The new CD, 'NINE KINDS OF HELL', is GREAT! Excellent songwriting as only POWERS COURT can create! An album that is surely the year's most original offering to date! What I was hoping for and more! Amazing packaging as well! Congratulations on a superb album!

Denis Gulbey
Sentinel Steel

'Nine Kinds of Hell' - 2001 Dragonheart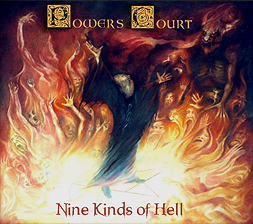 <