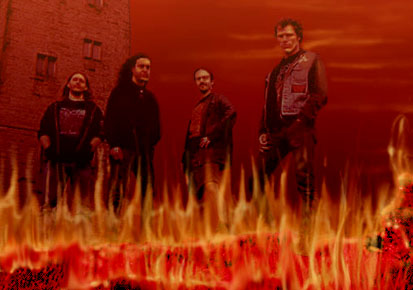 'The Lord Weird Slough Feg', whose name is derived from a character in ancient Irish mythology, originates from Central Pennsylvania. The band relocated to San Francisco, California in 1990 in hopes of resurrecting the ailing 'true metal' scene in the United States. The band quickly gained a reputation as, 'The band San Francisco loved to hate' by taking a stand against the trends and incorporating stage savagery with strong visual imagery.
Three demos were produced by the band in the early to mid nineties. These were followed up by a self produced self titled debut CD.
Scoring points for originality in the European underground, they aroused the interest of Dragonheart in 1998 and 'Twilight of the Idols' was released in 1999 on Dragonheart Records. This was followed by, 'Down Among the Deadmen' which was released in the year 2000.
Their style is an eclectic mix of Celtic Folk and Traditional Metal peppered with lots of energy and lyrical depth.
Slough Feg is currently in the process of recording their fourth album, a Sci-Fi thriller entitled simply, 'Traveller'.