If you like a good mix of melody and strength, catchy refrains and Heavy rhythms, BACKSLASH is your band. Heike, the singer, talks to you.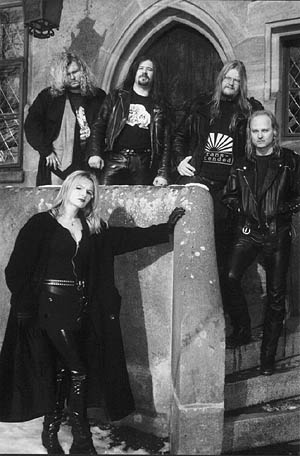 - Do you think that the band is having a good promotion? (For example, here in Spain you´re almost unknown). Is it going to change with your new album?
Promotion has much to do with money... for a newcomer-band like us at a smaller lable like Black-Arrow it is never easy. They are doing their best and whatever they can to support us. It is always also a question of money to become popular in other countries, beside Germany. We are surely trying to become more popular with the new album, we are all hard working on it.
- Now that bands like Sinergy are having a big success, Is going to be easier to you to become more popular?
We don`t really care about bands like Sinergy and we don`t think that their success influences our popularity. The only thing that could be is that people may start getting attentive to new singing women in Metal. Until today Metal was still more a man`s job, but I think women as musicians are slowly spreading and bands like Sinergy demonstrate it.

- (Heike) In your homepage you have left many blank spaces in your file, so we would like to know which are your favorite bands, singers and things like that...
Well, my favorite singer is Celine Dion. For me she is the best singer and most impressive musician-lady on the world. It always depends on my mood what I am currently listening to...I don`t have a lot of favourite bands (maybe White Lion , Helloween) but a lot of favourite songs from many many bands...so I listen to Aerosmith, Moonspell, Therion, Symphony X, Alanis Morrisette, Savatage, Queensryche and many more...
- If you would have to choose a word to define Backslash (the group), Which would it be?
Refreshing Melodic Power-Metal...
- Can you talk a bit about the process of elaboration and recording of "Insanity" (how much time have you spent, where have you recorded it...)?
We started recording in December 99 in TTS Media-Music in Osterholz-Scharmbeck (Bremen), in January I became pretty ill, so I couldn`t sing. So the whole production had to be postponed. But we made it, mix was ready in April/May and now in September we are happy to have our new CD in our hands.
- We would like you to tell us the principal differences between your first cd and "Insanity", and the things they have in common.
Well the principal difference for us is that we think the second album is more sophisticated than our debut. The sound, the songwriting, everything was somehow more important than on our debut and I think you can hear that, too. I mean we didn`t change our style, we only took the best things (Refrains, melodies, choir, good texts a.s.o.) from our first CD and tried to make them compact in our new songs on the second CD.
- I imagine you have a great hope in your new album, Do you think it will fulfil all your expectations?
Sure, you always hope that many people will like your music, your CD. Our "Intention" was the first step into an unknown world, not knowing what would happen. Now we are doing the second step, hoping to make it better, further. Your expectations mustn`t be too high because then you risk to loose too much, your courage, your trust in yourself. We have to wait...we are prepared for everything.
- I know you have received very good reviews from magazines until now, but How has been the response of the audience? Do you have lots of fans?
We have the best... how many fans are lots of fans? We are very happy about every fan-letter I get and I am trying hard to answer them by myself. Many people, not only german ones, but from Spain, Italy, Holland,..., write us that they like our CD, want to know when we play in their country and things like that. I love singing on stage when fans singing my texts better than me, it`s a wonderful feeling when people like your music. Fans are very important. They are giving sense to what you do.
- Germany has became the last years a source of good Heavy Metal bands, Which do you think that is the motive?
Metal has always been, primary in the underground. In the last years it became more popular and more and more people started to hear it. Heavy-Metal became a very wide term, including many styles. I also think that people are nowadays more interested in "hand-made-music", music that you create on your own and that expresses something. Music has always been and will always be a form of conversation.
- Do you have any hymn (a favorite song of all your fans)? And, which are your favorite themes of your cd´s?
Like on our Debut, we also have hymns on our "Insanity"...the song "Insanity" for example....people on our concerts were singing it although our CD wasn`t out yet...My favorite song...hmm I have 3: "Turn the page of time", "Angel from Hell" and "Lies".
- Which are usually the subjects of your lyrics? Who writes them? And, the music?
Most of my lyrics cover some serious subjects. I am telling stories about things that may happen to me and you, what may happen to your friend and in fact in the world outside your apartment. They have always something to do with relation-ships...between partners, parents, fortune, illnesses and especially the relations between "me" and the death. I write the lyrics and my guys write the music, and then we refine them in teamwork.
- Have you prepared an european tour to promote "Insanity"? We would like very much to see you playing live.
We would also love to see you there...we are planning on touring but do not have exact dates yet.
- Well, that´s all. Thank you very much for your time. Do you want to send a message to your fans (and specially the spanish ones)?
Hey spanish girls and guys!! For those who know us: thank you...and we hope to see you on tour! and for those who don`t : Listen to our new CD and give us the chance to win your heart!

- Interview by Gema Pérez.
---