They amazed everybody with their excellent second album "Unholy". Now, after some changes in the line up, it seems they have found stability; their new album, "Ambiguity", will be out in May. We talked about that and much more with the nice guitarist Torsten Ihlenfeld.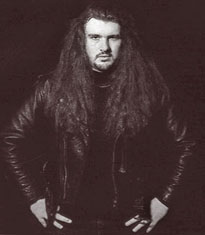 -We know "Ambiguity" will be the title name for your new album, can you advance some of the included songs and the date of the release?
Release date will be the 8th of May,2000. The songs are: Crush Depht, Tear down the walls, Beyond my destiny, Arena, Coming Closer, Darkest Silence, Maharaja Palace, Far away, Demonsion, Lost Unseen, Perception of life. There will be a limited edition including one bonus track called "Revenant", also.

- Will it follow the same hard style of your first album "Hungry" or the more elaborated of "Unholy"?
I think it is a good mixture of both albums, with even harder songs as on the first CD on one side and more epic songs as on the second CD on the other side. It`s also the first time that we put a ballad on the CD. You see, we opened our style to both sides: The harder and the elaborated side. But be sure, it is Power Metal as people know it from Brainstorm
- We are very interested in your tour dates, now that you aren`t going to come to Spain with Grave Digger all your fans here want to know when will you come and if you will be the headliners of your own show.
We will come together with Armored Saint and Jacobs Dream in September/October if all works out.
- Do you know how are going the sales of your two albums in Spain?
I heared that the albums are hard to get outside of germany, so it is very suprising that we get that much interest from all over Europe and the sales are allright, so I think there are many people that get the stuff from mailorder companies.
- Last summer you played at the Wacken Open Air Festival, one of the most important in Europe, can you tell us something about the experience?
It is a great honour to play the Wacken Open Air and it was great to see so many people and playing in front of them. We enjoied it very much and had a killer time during the whole festival.
- Andy B. Franck (ex- Ivanhoe, Symphorce) is your new singer, do you think he will be the definitive? Why did the band decide to call him?
We decided to call Andy because he has a fantastic voice, he can sing different styles from soft to hard and he is down to earth and knows what he wants and how the game is played. You know, he is none of this Wanna-beees, no alibirockstar, just a great singer and a very nice guy. That was very important for us and he comes from the same region as the rest of the band, we speak the same dialect and have the same humor.
- Talking again about "Ambiguity", have you thought about making a video-clip to promote the album?
We definitely thought about it, with thousands of pretty girls inside and a two week recording duration on the Hawaiian Isles but unfortunately our record company didn`t give us the 2 million $ we would have needed for that!(hahaha!!!)
- Which bands are actually, in your opinion, the most interesting of the Heavy Metal scene?
There are lots of interesting bands, new and old ones. I think it is very interesting for example how the new Judas Priest or the new Vicious Rumors will sound like? Will Pantera write a second "Cowboys from hell"? Will Eddie Van Halen and David Lee Roth bring back the old spirit of Van Halen or will they combine present and past? What about the new Iron Maiden-CD? Very interesting for me are also Bands like Symphony X, Sonata Arctica,Kamelot, King Diamond/Mercyful Fate, Annihilator, Testament or Riot. You see lots of bands and a lot more that are really interesting.
- Thank you very much for attending us. You can add what you want for your spanish fans.
Thanks for your unbelievable support!!! We hope to see you on tour as soon as possible.

- Interview by Gema Pérez.
---