This was a very special tour for me, being both Jacobs Dream's and Brainstorm's webmaster... it was really cool seeing all 'my' guys again! I visited four shows, but the last three were the most memorable because they were the last three shows of the tour and we spend three days 'on the road' with some of our best friends and had so much fun! Hereby my impression...
After seeing JACOBS DREAM on the Bang Your Head and Wacken festivals, I was very curious how they would be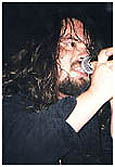 in a club. On the festivals the sound wasn't so great and unfortunately it happened here too... I'm not sure what the problem was, the equipment, soundman (actually Eric seems a really good soundman to me), short soundchecks? Anyway... in Helmond it was hard to hear David sing, in Vosselaar I didn't hear Gary and Jon play and therefore it lacked power. In Offenbach it was supposedly better (unfortunately we got there too late) and in Bochum, the last gig, it was truly great!!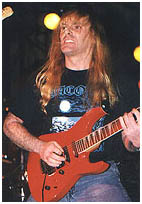 So finally I got to see Jacobs Dream as they should sound: technical with kick-ass power and beautiful, high-pitched, vocals! For most of the tour drummer Billy Queen was troubled by an old injury, he strained a tendon in his elbow months ago and hurt it again on the tour, but he hung in there and kept playing. During the first gigs the band's stage-acting was still a bit static, but further along the tour they started to move and headbang more. Well, except for David, the off-stage oh so shy singer did justice to his nick 'raging Scott' from the very beginning, running around and posing like a mad(scotts)man! All sets started with Kinescope, Funambulism and Scape Goat, usually followed by Never Surrender, The Bleeding Tree or Violent Truth and ended with that awesome new killer track Theater Of War - THRRRASHHH! In Bochum they were called back for an encore, Dark Crusade and left the stage with huge grins on their faces.

If you've ever seen BRAINSTORM live you might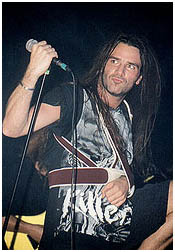 understand why they are my very favorite band… crushing riffs, brilliant guitarduels, solid rhythmsection, great songs with melody, incredible vocals and most of all… enthousiasm and energy!!! They kick major ass regardless what the settings are and they are so tight (esp. megadrummer Dieter Bernert) - the power is overwhelming. Symphorce-singer Andy B. Franck joined the band almost a year ago and they couldn't have found a better man for the job… what a guy, what a frontman, what a voice!!! Unfortunately Brainstorm singers call Spinal Tap-like events upon themselves… Two weeks before the tour Andy fell with his new mountainbike and broke his collarbone! Barely out of the hospital he joined the tour for the first three shows, but it was too much and he had to stay home again, poor guy! No reason to cancel anything, since Brainstorm is blessed with the best substitute singer a band can have (hell, numerous bands would be happy to have a singer like him at all!): guitarist Torsten Ihlenfeld! So in Helmond I saw an adjusted set with Torsten on vocals and he did a great job. After the usual begin (Crush Depth - with that crushing intro! - Holy War, Arena and Demonsion), they played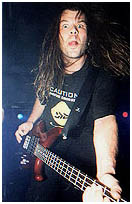 Here Comes The Pain, Nails In My Hands, Tear Down The Walls and Liar's Edge. At that time it was still uncertain whether Andy would join them again later on or not, but after ten days of rest at home he joined Brainstorm again in Switzerland and managed to stay the rest of the tour. So those last three gigs I was finally seeing Andy live and I can just say one thing… it fucking blew me away! Even with his arm fixated to his body he was jumping around, headbanging and joking around with the others, firing up the crowd (what a great and charismatic frontman!) and most importantly sang like it's nobody's business!!! Highlights in the sets with Andy were definitely the beautifully joined together Maharaja Palace and Beyond By Destiny, just awesome! Tear Down The Walls ("Who has a lighter? Ok, you can throw them away now, you won't be needing them with the next song!") and Liar's Edge concluded the sets and in Greece as well as Offenbach and Bochum they surprised everyone by playing Vicious Rumors' Don't Wait For Me as an encore! Woo!

Of course most people came for the resurrected ARMORED SAINT. The same line-up as on Symbol Of Salvation from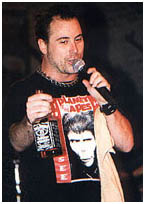 1991 and this year's CD, Revelation - it was about time they toured Europe again! On Wacken they proved to be as solid as ever and I have been looking forward to seeing them on this tour. Their metal is timeless and all songs, old and new, are great. Bassplayer Joey Vera and drummer Gonzo created a massive rhythm-foundation for guitarists Jeff Duncan and Phil Sandoval to color in and John Bush complimented it with his great voice and energetic performance - running around like crazy, constantly interacting with the audience and in Offenbach he even invited Nico on the stage to make a picture of the crowd! The setlist was a cross-section from all their albums: Can U Deliver, Long Before I Die, Reign Of Fire, Nervous Man, Pay Dirt, The Pillar, Book Of Blood, Symbol Of Salvation, Creepy Feelings, Trible Dance,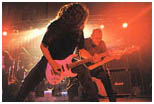 Aftermath, March Of The Saint and the encores Chemical Euphoria and Mad House. In Vosselaar and Offenbach they even added Lesson Well Learned from the 1983 EP! In Bochum, the last show, I finally got to hear my second favorite track from Revelation, After Me, The Flood, but unfortunately my favorite track Pay Dirt was replaced by Tension. The final song on this tour was Mad House and all Brainstorm and Jacobs Dream members joined them on that small stage with plastic guitars and thrashed and shouted along with the song, it looked like one ball of people, hair and guitars! Joey Vera ended up on the ground, but kept playing nonetheless, John Bush was lifted by Billy Queen who was trying to throw him in the audience, but he ended up diving in the audience for a final piece of crowdsurfing by himself. Awesome!

text: Marlies (Brainstorm & Jacobs Dream webmaster)
pics: Nico Wobben (PhotoPit)