The singer Olaf Hayer, well known for his work with Luca Turilli, has surprised everyone with a new band called Dionysus. It sounds great, as all he does, and if you want to know more about that and other themes you have to read this interview.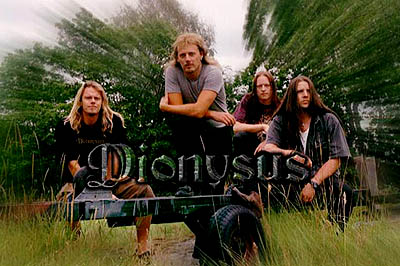 - Everybody knows you because you´re the singer of Luca Turilli´s solo project, but now you have a new band called Dionysus, What can you tell us about this band?
Dionysus is a new Power Metal band with Ronny Milianowicz (ex Sinergy) on the drums, Johnny Öhlin (ex Nation) - guitar, Magnus Noberg (ex Nation) - bass and me. We are looking for a record deal as well as for a good keybordist. There are already some offers from smaller record labels, but we will let us some time to find a real good one. But we don´t worry about finding a label, because of all the positive resonances we got on our homepage (www.dionysus.power-metal.com). I think this band has a good potential, and hopefully the first album will come out in 2001.
- Who has created all the concepts for Dionysus?
If you mean the CD-Covers, I don´t know the name of the guy who did it, but I know, that he´s a good friend of Ronny. If you mean the lyrics, most of the lyrics are written by Ronny and Johnny and also most of the songs, but in the future it will be also my job. About the name, Dionysus is the greek god of wine, and wine has something to do with having fun and pleasure. And that is exactly what we want to have and to give to the people.

- The bands where you sing in (Lord Byron, Dionysus, Luca Turilli´s) have some little differences between them, Which is the style you really like the most?
This is not easy to answer, I like all styles, because it´s all very melodic music. You know, Lord Byron is more Hardrock, Dionysus is Power-Metal, and Luca´s music is melodic Power-Metal with all kind of different influences. But for me the most important thing is, that there are some real good melodies, and very powerful music. And I´m very satisfied, to sing in all this bands with their different stiles, and not to do the same thing all the time.
- Did Luca Turilli in person call you to join his band? Have you became more popular thanks to that? Are you going to be the definitive singer for that project?
No, it was not Luca, it was Sascha Paeth who called me on the phone to join Lucas Band. This is because Sascha is also a german guy, he lives about 20 kms far from me. And we already knew each other. Of course have I become more popular thanks Luca. Before that only some people knew me because of a project I´ve done called Treasure Seeker (CD: A tribute to the past). Even this CD was the reason, why Luca chose me for his solo album. And yes, I will be the definitive singer for Luca Turilli and the second Album will also come out in 2001.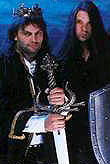 - Talking again about "King...", you made a video-clip for "Ancient Forest Of Elves", Where did you record it? Who was the director? Did you have fun making it?
This video was made in germany near a town called Kassel. There are some old castles and big woods so it was a real good place to make the video. The director is a friend of Limb, who´s name I don´t know. Limb often works with him also for photos and so on. Of course we had a lot of fun, but it also was hard work. We did the whole video in two days and we had a couple of problems with some other companies who where involved and even with the weather, so we had to make a lot of pauses and the time went on an on.
- By the way, I think Luca´s project has never played live, Why? Is this going to change in the future?
You know, that Luca, I and the other members are very busy. Luca has his main band Rhapsody who were on tour this year and made a new CD, I have my bands Lord Byron and Dionysus, and Sascha is a hard working producer. So we haven´t had the time to play live. But for sure this will change in the future. I told you that there will be the second album in the next year. After the CD is out, we will do a live-tour for sure.
- Your style and your voice are impressive, Are you taking classes or something? When did you start singing?
No, I never had lessons in singing, but I had big idols since my childhood. And I tried to become as good as they are. I started as a drummer and sang backing-vocals when I was about 15 years old. And one day I must have been good enough to be the lead singer, haha.
- What classical singers into Heavy Metal have influenced your way of singing?
My first Matal-Band I really loved was AC/DC. And I loved the scratching voice of Brian Johnson. Then I changed to more clear voices. Michael Kiske, Ralf Scheepers, Rob Halford, Tony Harnell, Bruce Dickinson and some more are some of my favorite singers.
- From what country do you think are coming the best Metal bands in the last years?
I think that every country has very good Metal bands. (Stratovarius & Hammerfall from Sweden, Rhapsody- Italy, Edguy from Germany, and so on and so on) It´s not so important from where they are, only the music is important.
- Well Olaf, I think that´s all, if you want to tell us something more...
Yes, I want to thank all of you people out there, who like this kind of music, and give us the power and the inspiration to make it. Thank you!

- Thank you very much. Hope to see you soon.

- Interview by Gema Pérez.
---