Burning Pointīs musical style is a blend of Classic Heavy and Power Metal, a very good and attractive combination. They come from Finland, home of numerous musical talents, so be prepared for a really excellent album... 'Feeding The Flames' is an awesome piece of Metal, a must for you all. Hereīs what Pete Ahonen (vocals & guitars) had to say about past, present and future of Burning Point.
- First, congratulations for your album 'Feeding The Flames', I think itīs a great record.
Thank you, we are very proud of it too. It`s so much better than the previous " Salvation..." album (Although I do like the first one too)

- How much time did you spend on the recordings? Do you feel happy about the sound, the final mix...?
There was a lot of "little" recording sessions during summer and autumn 2002 that it`s difficult to calculate the exact time but maybe 3 or 4 weeks in total?? Yes, I`m very happy about the final result. Maybe there are bits & pieces here & there that I would like to change but if you spend hours & hours in the studio listening & recording your ears turn to " deaf " to the individual sounds (at least in my case) and in the end you don`t know is that sound better than the other... But all in all I`m very happy!

- The cover artwork is very good too, has it been taken from an idea of the band or it came directly from the artist?
Yeah, I love the cover too! Jan Meininghaus did a great job! Jukka & I wanted that the new cover has to be like the " next chapter" from the " Salvation.." cover (which is fucking great too!!) We told Jan what we wanted to include on the cover and he send us the rough versions and in the end it turned out to be a great Burning Point cover. So the answer to your question is that it was a teamwork.
- I suppose a tour is something complicated and maybe you havenīt any plans for it right now but I must ask you... will you include Spain in your next tour?
Touring is always a very money consuming thing and at this point there is no plans of that. Hopefully the album sales goes "sky high" so we come to play you guys live. And you can be sure that Spain is definitively the place we want to come!! ( My wife is a Flamenco dancer and she has told me a lot from your country and I love it already!!)
- Nowadays it seems quite simple to release a first album, but there are a lot of bands that never see a second Cd out. I suppose you have released a sophomore album because the first one was a success, right?
Yes, the album sales were quite good. Although it wasn`t a "chart breaker" the response from all over the world was very couraging. So the journey continues...
- Now we talk about the sales... how are they going for 'Feeding The Flames'?
We don`t have any numbers yet because it has been out only about 2 months but I think that the sales figures are growing day by day (at least I hope so.). It hasn`t been released all over the world yet but almost every month there is a new country to qonquer (U.S.A., Japan and so on.)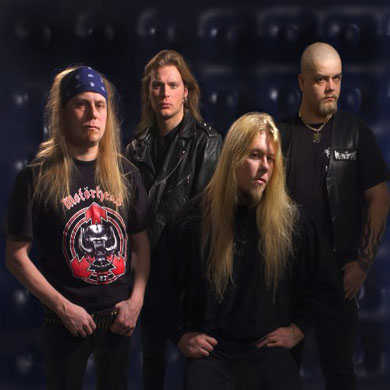 - I donīt know how it works in your country but in Spain the price for a cd is about 18 euros, so illegal copies are very usual here (the young guys cannot spend much money but there are lot of good cds to buy...) What is your opinion about this, would it be a good idea to reduce the price of the taxes and so on ...?
Really, 18 euros?? I thought that in Spain everything is lot cheaper than here in Finland (the cd prices are about the same here...) I don`t want to get too political here but of course the taxes are way too high!! In these cd prices I can understand the illegal copies but as a musician I definitively vote against them!! Because of those illegal cd`s I guess more peoples has a chance to listen the band but on the other hand the band don`t get any money of that. It all goes to those "law breakers" who make those cd`s. It`s like if people stop buying real CDs all the smaller bands like us suffer the most, if we lose 1000 album sales because of CD copying and pirate copies it really affects our possibilities to record another album!!
- About your influences I think itīs correct to say that classic heavy metal or 80īs metal are the main for you, do you agree?
Of course our roots are deep in the 80`s metal but I think that we have managed to mix "golden 80`s" and the "new millenium" and come up with the music of Burning Point. No one hasn`t accused us of plagiarism so I think at least somehow we have succeeded.
- I suppose you, as a musician, normally listen to some different bands, which ones do you prefer?
I personally like so many different bands that it`s almost impossible to list all but here`s some of them. Of course the obvious Malmsteen, Accept, Judas Priest, Helloween etc. Iīm a huge "cd junkie" so I have lots of favourite bands. At Vance (that Olaf guy... oh man, he is amazing! And the singer Mr.Hartmann... one of the best singers around), Symphony X, Royal Hunt, Dream Evil (great new band). I don`t know... it`s too hard to list only a few. Maybe it would be easier if you ask me which bands I don`t like... a much shorter list! Is there a lot of good bands in Spain? I know few, Ankhara, Easy Rider, Pyramid, right?? Maybe you can educate me and send me promo cds from Spanish bands. (note: it would be great that I could do that but Iīm afraid itīs quite expensive for me, sorry...)
- I heard something about a video clip, are you really going to shoot one? donīt you think is kinda risk and a loss of money, I mean there are just a few tv stations where we could watch it. Of course I would like to watch the video and I wish more bands could film one, but...
Yes, we have shot the video from the song 'Into the fire'. I guess that in our case the risk is much lower than the benefit because the video was really "low budget" and we think that we got our moneys worth... Basically we made it just to be shown here in Finland and we have no plans to send it worldwide. Although you can load it from our new websites in case somebody is interested ( we are planning to put our first video there too. From the song 'Fall of thy Kingdom'). But you are right that there are only a few tv programs that show metal videos. IT REALLY IS A SHAME!!!
- Have you included all the tracks you composed for 'Feeding The Flames' on the album or there are some of them for the next record?
We recorded 13 songs so there is 1 song that was left over from the sessions (it`s called 'Bad Blood'). At this point I`m not sure but maybe it`s going to be a "bonustrack" in possible Japan release of the album. It`s a great song really 80`s vibe in it.
- Ok, thanks for your time, youīre free to add a comment...
The future plans include of course writing the new songs to the Burning Point (we have about 5 new songs already) but also to my "solo" project Ghost Machinery. We`ve made a 5 song promo cd called 'Ghosts in the Castle' and basically I am trying to get the record deal for us... and hopefully succeed in that too! A gig here & gig there, we live it day by day at this point (we don`t build any castles in the sand). Of course there is a big gig in Sweden Rock Festival in the summer (among great names like Whitesnake, Twisted Sister, Yes, etc). We start recording demos from our new songs in June or July... and I hope that my "project" will enter the studio to start recording our debut album!! Jukka has started working (with Jari, our drummer) demos for his former band National Napalm Syndicate... maybe I make a special quest appearance there...?? "Jöpe" our bass player has some projects of his own too... Alright, thanx for the interview and a BIG HELLO to our fans in Spain. STAY HEAVY!!
- Interview by Rodrigo Mayayo.
- Translation by Gema Pérez.
---