- I would like to talk to you about the spanish version of Chupacabra. How did the idea come about? Who helped you with the translation to Spanish?
I thought that someone screaming Chupacabra!!! would sound cool and I think I was right. The idea came from some shows I saw and stories I have heard about the creature. Since it is a Mexican, Central and South American Phenomenon, it made great sense to sing it in Spanish. It has gone over great and it was a way to show respect and thanks to all of the Spanish speaking fans we have around the world. Roy Z helped me track the vocals and my manager helped translate the words for me. It was fun and by the way, we just filmed a music video for it.
- Do you think that you can sell more records in South America thanks to that song or only in Spain?
That remains to be seen. It comes out in Mexico and South America in September down there, so I hope it goes over good. Spain has done real well for us though.
- A last question about that... will you sing it in Spanish when you come here to play? (just curiosity)
Absolutely. Sometimes I do it half and half and in our upcoming shows in Mexico I will speak to the crowd in Spanish and sing Chupacabra like that.
- The promotion of the CD has been amazing and you also have some European dates confirmed, for example the Piorno Rock festival in Spain. Are you thinking about a complete European tour at some future time?
We are always working on that but this business has tough economics attached to it. As our popularity grows we will be able to do the Maiden like tours with 5 semi trucks full of stage effects and lighting!!!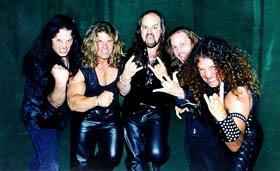 - Do you have any information about how the sales are going for 'Darker than Black'?
I have heard that Massacre was very pleased with how it did so all it takes now is a tour because we are vicious live! That is where we convert the most fans when they see us live.