- 'Heavy Metal In The Night' sounds like a metal hymn, do you feel it when you play the song in a concert?
Yes, yes, yes... It's a really great live song. We always stop and let the crowd sing along with the chorus. It's a must for a song like that.
- We could say that Dream Evil is a Power Metal band but we can hear some different influences in your music (80´s metal for example), do you think this is the reason that make you so special? I mean you don´t sound like any other band...
Our aim is to be a melodic Heavy Metal band... not a power metal band... so Maybe that's why. Our main influences are from the great Heavy Metal bands like Iron Maiden, Accept, Scorpions and Judas Priest.
- A lot of bands are releasing DVDs (live or video clips), have you thought about doing this in the future?
On the last tour we recorded the whole show in Gothenburg with 8 cameras, so it will come out a video sometime this spring. We're planning to film a lot when we go to Japan this summer and maybe we'll do a "Dream Evil goes east"-DVD after that... We'll have to see about that.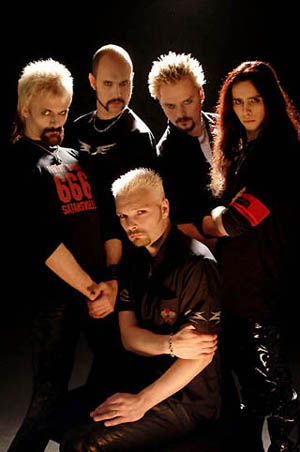 - How did you decide the name of DREAM EVIL?
We had no good name, we were thinking about "Dragon Heart", "Dragons Tail" and cheesy stuff like that... until one day when Fredrik left a compilation cd with Dio lying around on a table... One song was called "Dream Evil". Fredrik suggested this band name, and we all agreed that it was great..
- I love the ballad "Losing You", it sounds in the vein of "Still Loving You" from the Scorpions, were you looking for that kind of sound, a ballad of the 80´s?
Yes of course... Scorpions were the kings of making great ballads in the 80's.
- Did you find anything in your debut album (once it was released) that you wanted to improve in the second one?
I wanted the bass to be heard a little bit more, I think the bass sound of 'Dragon Slayer' is a little bit blury, it's hard to hear exactly what I play... It's more clear on Evilized... That's all...
- Which are your main influences when you write a song, and your motivations?
A new gadget... like a new guitar... a new distortion box, a new recording device... Or just out of the blue...sometimes the songs just falls into your head. Me and Niklas likes to work together a lot when we write music. I make the guitars and he makes the vocal lines and then we write the lyrics together... I think it works really well.
- What do you think about the new type of Metal called German, Happy, Power or whatever, made in Europe? What bands of that style do you think are the best? And from "Classic Metal" what bands do you prefer?
I don't listen to this Happy Metal, I don't find it so appealing... So I really can't say a "favourite" band of that genre... When we come to classic metal... that's more my style... Halford, AudioSlave and I listen to old stuff like Iron Maiden (before 1987) and QueensR˙che (before the album 'Promised Land') and stuff like that... Soundgarden was also a great band... Chris Cornell is the master of vocals...
- Do you have any plans for coming to Spain or it´s up to the promoters, not the band?
Mmmm.... something like that, it's hard to go on a tour just like that... A tour costs a lot of money, and either you need a band that you can support (if you can't headline yourself) or either an eager promotor which really believes in you and get you over there for a headline tour... Like the Japanese does... The first time we came to Japan we were headlining... and that worked really well. We have no plans at the moment to tour Spain, even if we want to.
- Ok, we have finished. Thanks a lot for your time and best wishes for DREAM EVIL.
Thanks, good luck to you too !!
- Interview by Gema Pérez.
---