FREEDOM CALL IS NOW ONE OF THE MOST IMPORTANT POWER METAL BANDS FROM EUROPE. THEIR ALBUMS ARE REALLY GREAT AND THEIR LIVE CONCERTS ROCK LIKE HELL SO, IF YOU WANT TO KNOW THE LATEST NEWS CONCERNING THE GUYS STOP AND READ THIS INTERVIEW. HERE´S WHAT THEIR GUITARIST CEDE DUPONT (ALSO IN SYMPHORCE) HAD TO SAY FOR YOU ALL...
- First, we would like to know something more about the departure of Sascha Gerstner and how did you become a member of Freedom Call.
Sascha decided to leave the band right after they had made the HammerFall Tour, he wanted to do something different to metal, so I've been told. Actually I got in contact with Freedom Call, when Daniel called me, and told me that they were looking for a new guitarist, and he invited me for some rehearsals. I went to meet the guys, and we had a pretty cool time since the first minute... that was in April 2001 if I'm right...

- What can you tell us about the recording of "Eternity" (how long did it take and so on)?
All in all, I took about 3 months to record, mix and master Eternity. Drums were recorded at the Hansen Studios in Hamburg, and all the other things were recorded in our FC Studios in Nürnberg. We had a pretty great and funny time in the studio, and I'm sure also, that's why Eternity sounds so fresh to our ears!
- And about the composition, have all the members contributed to it?
Actually I just got into the band, when most of the songs were already written, so I'd probably write some stuff for the next album. Chris and Dan wrote all the songs, and Ilker wrote "Flame in the Night" with Chris and Daniel.
- FC have been recently on the road together with Blind Guardian (also in Spain), What about the tour? I would like to know your opinion specially about the show in Granada (I saw you there I think it was absolutely great).
Yeah thanks!!!!!!! We really had a great time with the Guardians, and the audience was so amazing every night!!! Especially Spain rocked like hell!! Yesssss, you guys do!! And the show in Granada was also special to us, because it was the last show of the tour for us, ... and I remember the great venue! Yepp indeed, it was a blast!!!!!!
- Is the first time for you in Spain? Did you like this country?
I mean I have been down in Spain just for holidays before, ... but to play there with my band is even better! (hehe), ... We had met a lot of nice people, and in Spain you can party a lot. It is a really nice country with so many great metalmaniacs!!!
- Freedom Call will be present at some important summer festivals this year (like Sweeden Rock & Bloodstock), What do you expect of that?
Well Sweden Rock was pretty amazing!! and I'm sure the Bloodstock Festival in England will be also really great!! Actually we were also supposed to play the Wacken and Bang your Head Festivals but something didn't work... I hope we're gonna play there next year. I mean Festivals are great!! And fans get to see a lot of cool bands for little money. It is just having a great time spending the weekend at a Festival!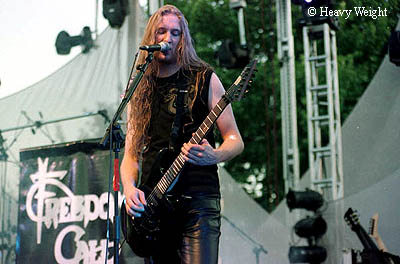 - By the way, you´ll probaly embark on your own headlining tour in September/October, Is that confirmed now? Will you visit Spain again? What will we find on the new shows (maybe fire, pyrotechnics...)?
Yeah, our headlining tour is confirmed! So far, we're gonna play shows in France, Belgium, Switzerland and Germany. I really hope that the tour will also bring us down to Spain again, we know that we have a lot of fans in Spain that want to see the headlining shows too! We are working on some special things for the tour, ... we just want to give everything possible for a good show, ... and you will see that hopefully too! (hehe) Anything else is tooooootally secret (hehe) Surprise!
- Do you have some news about Symphorce for us? I would like to see you playing here soon...
I'm really happy to say that we just signed a new deal with Metal Blade, and we will enter the House of Music Studios (Achim Köhler: Primal Fear, Symphorce, etc) again by the end of July to record our new album phorcefulAhead which will be released in mid-November! Let me tell you: the new material sounds so fucking great!!!! We will use 7-string guitars which gives you a really fat sound! Just fasten your seatbelts for the phorce!!! and hopefully there is also going to be a tour for Symphorce too!
- What are the main influences for Freedom Call?
I'd say the 80's metal bands... like Helloween for example! Freedom Call is also a lot influenced by classical music.
- Which is your favorite track of "Eternity"? (why)?
hmmmmm, hard to say, coz' I love the whole album, he he! at that time I'd say "Metal Invasion", coz it's a really fast song, and the choirs are so big on that tune!
- Ages Of Power" is a bit different to the rest of the songs on the album (with that part sounding like Cradle Of Filth...), What can you tell me about this song?
Yeah, I like it really much!! I guess about that "black metal" part it just came to our minds spontaenously, and I think it is really cool (as I love also the band Arch Enemy really much for example, hehe).
- Plans for the future?
Yeah, so we will do that headlining tour in September, and I really hope that we're gonna play in Spain too!!!! It would be so great to meet all of you metalheads out there again! and there will also be a live album released in I guess probably Spring 2003, which was recorded on the Blind Guardian tour... just keep on checking the websites www.freedom-call.net and www.symphorce.net for more news, infos and tourdates... !
- OK, I think it´s enough so far. The last words are yours and, of course, thanks for the interview.
Thanx so much for your endless support!! Heavy Weight rockzzzzz! and to your guys out there! Thanx for reading and see ya real soon!! Cheers and total metal!
- Interview by Gema Pérez.
---