- You have been working with big names of the scene (Lynch Mob, Cozy Powel, James Murphy...) and it must be an interesting experience... What can you tell us about that?
I have been lucky to work with such big-time names. It has always been my goal to be a singer and work in the music business. Of course you can't plan...
- I know this one is a very little original question but your fans would like to know which bands are you listening to nowadays?
I really like Hoobastank, Stone Sour, Queens of the Stone Age as far as new bands. Older stuff, I listen to Deep Purple, Black Sabbath after Ozzy.
- Some time ago it was probably better to live in the USA for a Hard/Heavy/Aor band but now it seems like the turn has come for Europe, Do you think this situation will remain for a long time or maybe we´ll do as the american fans and go with the flow (listening bands of Nu Metal & so on...)?
I think things change constantly, and that is a good thing. Just enjoy it now, becuase who knows what is next?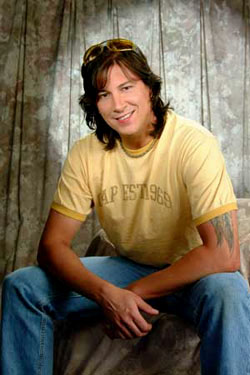 - Let´s keep on talking about USA, What do you think about classic american bands like White Lion, Winger...?
They are okay. I was never into the pop metal bands like that, so much. I prefer heavier and progressive rock and metal.
- Not much time ago there was a tour accross USA with LA Guns and old american bands from the 80´s (maybe trying to keep the spirit of the style alive...) but perhaps it would be better to take present european bans to that country, don´t you think so?
There are still a lot of fans for this music here. It is probably very expensive to get all these bands to Europe with equipment and everything.
- Coming back to Europe... we have some big Heavy/Power festivals like Wacken in Germany or Rock Machina in Spain, and there are always Hard Rock bands palying... (for example Axxis & Shakra in Rock Machina), Is it possible to you to come to this spanish festival?
Absolutely. We just need the invitation, and we will come, of course.
- Maybe you´re not going to play festivals but What about a tour? (I mean a John West tour)
It is possible. Probably Royal Hunt will tour again sometime soon.
- Lately many musicians (vocalists, guitarists & drummers) are releasing solo albums, Why? I think it would be better for a band if every member can compose songs for the group, and not just a member composing (that´s very usual). Sincerely I think there are too many albums to buy and vey little money to get them all so fans can´t listen to all the material...
Sincerely I think there are too many albums to buy and vey little money to get them all so fans can´t listen to all the material... I think it´s important to create something from your own point of view. Sometimes you can't write in a situation. My writing role is limited in Royal Hunt, so I do other things. I am very creative type of person, and I need the outlet.
- By the way, How are sales going for "Earth Maker"? I hope they´re going well...
Pretty well. We appeal to the fans of many different bands including Halford, Savatage, Royal Hunt, Artension, etc. I will say that piracy and bootlegging have hurt our sales a lot, though.
- At last, let me tell you that here in Spain people like your album very much... Thanks for your time and your album. You´re free to add anything else.
I have really enjoyed my visits to Spain. I love to play concerts there. The fans are great and energetic. The next tour should be great!!
- Interview by Rodrigo Mayayo.
- Translation by Gema Pérez.
---