come from Italy and they´ve been around since 1988, so they´re not newcomers at all. Read what bassist Andrea Tito had to say about their history, their albums, new projects... and learn more about this fantastic band.
- Could you tell our readers who still don´t know you, Who are Mesmerize?
Well, we're from Italy and we play HEAVY METAL! This term may sound not too specific to somebody, but I assure you that's the best way to describe us... We don't belong to this new wave of so-called "Symphonic Power Metal" done with keyboards or harpsichord or stuff like that... We're plain and simple no-frills HEAVY METAL, made by razor guitar riffs, fast paced rhythms, guts and sweat! And we're proud to say that we're doing this since 1988, the year when the band was formed: so we're not jumping on the current bandwagon! Another curious thing is that four guys out of five in the band are the same ones as the start: we can almost say that the line-up never changed, being myself, the bass-player, the only "new guy", joining Mesmerize in 1994... To keep it short, we did a couple of Demotapes before releasing in 1998 our debut CD "TALES OF WONDER", with the italian label Underground Symphony; we also already recorded in 2000 our 2nd CD "VULTURES PARADISE" (which is still waiting to be released) and currently we're in the studio, recording our 3rd album "OFF THE BEATEN PATH", which will be released by Dragonheart in Autumn 2001. We've got our own website http://www.mesmerize.it , if you want to hear or read more aobut us!

- Mesmerize recorded a live version of "Manowar" for a greek tribute to "The Kings Of Metal" and I must say that your cover is the best for me from the whole album... How came this all about? Why this song and why "Live"?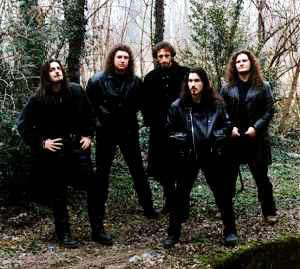 First of all, thank you for the compliments! You know, before being musicians, we're Heavy Metal fans... and we enjoy a lot playing stuff written by our favourite bands... during our concerts we always throw in the setlist a bunch of covers! In the last two years we had the chance to participate to many Tribute Albums, and we did it with pleasure because it's a good way both to promote our band and have a lot of fun at the same time! We recorded songs for Tributes to Iron Maiden, Manowar, Savatage, Metal Church, Black Sabbath, Queensryche, Warlord, Trust... as you may notice, we kept ourselves quite busy, this way! Being a lot in the studio also allowed us to get better and gain experience between the recording of our own albums...really useful, I must say! About the "Manowar" cover, that's one of our favourite Manowar songs, and we almost play it every gig that we do... We happened to have a quite good recording of this song, performed live at an Open Air concert here in Milan... When we heard about the greek Tribute CD, we offered that track to the guys doing it, and the deal was done immediately... We're very proud of the result... you know, we've grown up listening to Manowar, and we liked the idea of giving homage to our heroes!
- The band have signed a new deal with Dragonheart Records, How do you feel about this? Do you think things are going to get better for you? Are you going to have a better promotion now?
Yes, definetely, things will get really better: we were completely fed up with the behavior of our previous label Underground Symphony, which didn't support us at all. Ok, we were under a small independent label, but we think that promotion is one of the most important things about a band and its CD: it's useless to release albums when you don't tell people that they exist, and you don't let people buy them... Lack of promotion and bad distribution were the two main reasons why we left... plus the fact that we finished the recordings of our second CD "Vultures Paradise" in May 2000, and still it hasn't been released, even after a year! Very frustrating, isn't it? With Dragonheart things are gonna change: they are very professional, and we felt it from the start... You know, we're not doing anything for the money.... We're not gonna get rich or become "rockstars", we don't care about it! We play our stuff just because we enjoy it, and our main goal is just to spread our music as much as possible, let the kids around the world hear the songs we've crafted... that's what we want to achieve! And we're sure that Dragonheart will help us reaching our aim, assuring us a great promotion and distribution....We've signed a deal with them for three albums, and we're definetely sure that they will do a great job!
- You have made a cover of "Tierra Santa" from the spanish band Tierra Santa for a new double-mini CD, Do you like spanish bands? Do you know something more of our Metal scene...?
Sure, I do know and appreciate many spanish bands: you know, some years ago they were considered just as cult-bands for record collectors... Nowadays the spanish scene has become bigger and more important, and I think that's something in common with the italian one... The recent years have shown that good Heavy Metal bands are also coming from the south of Europe! Anyway, I've heard stuff from Mago De Oz, Avalanch and of course Tierra Santa and I've liked it a lot!! Some friends of mine also told me about Barón Rojo, telling me they've been playing for a long time, and they're definetely worth the effort to search for their grat stuff: I suppose I'll give them a try as soon as possible! About our Tierra Santa cover, it came as a suggestion from our former label boss: we had an empty slot in the cover tracklist of our new double-mini CD "Vultures Paradise", and seeing that another cover was a french one ("D'Ailleurs", originally by Sortilege), he told us to include a spanish one.... we thought that idea was definetely original, so we did it with pleasure, even because we really like Tierra Santa's style... no-frills classic Heavy Metal, just like us Mesmerize, I must say! We recorded two versions of the song itself, one in spanish and another one in english (I personally translated the lyrics for that). You know what would be funny? If Tierra Santa should cover a Mesmerize song in the future... How do you say "The Werewolf" in spanish? Eheheheh!
- I´m very curious about your inclusion in two american horror movies soundtracks, Did Brimstones Productions know Mesmerize before, you contacted them...?
Eheheheh...no, they didn't know anything about us, of course! I found about Brimstone just browsing through the net, I was looking for stuff about werewolves, and they happened to have a couple of movies in production regarding that subject.... the next step has been sending our own stuff to them: they eventually liked it, and asked us to use a bunch of Mesmerize songs in the soundtracks of two of their new movies... That's incredibly cool! You know, those films are not high-budget productions, but it's still exciting to contribute the way we've done...I'm definetely looking forward to see them!
- In the last years many good Metal bands are coming from Italy. We know that bands, the Gods Of Metal Festival... Can you tell us something more about italian scene?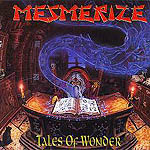 Things changed definetely in the last 5 years: before that, Italy was just importing stuff from foreign metal bands... Records from German, English and American bands were honestly a lot better than anything released in Italy, talking about both music and production; I myself, ten years ago, have never bought a single Italian metal record, preferring instead stuff from Iron Maiden and Helloween, for example... Fortunately in these recent years the trend seems to be inverting, and it's the turn of italian bands to spread their music around the globe: thanks also to the labels, which have become more and more professional, allowing the good skilled Italian bands to have a chance to produce records that can compete all over the world; the recording studios have reached a good standard level about their equipment, so even the production nowadays doesn't suck anymore! Also the specialised metal press does a good job to promote the Italian scene, giving the bands important spaces in magazines: anyway, it's not all gold, cause we shouldn't forget that Metal in general has not that huge fan support in Italy in comparison with stuff like Eros Ramazzotti or Dance and Pop music; we defenders are little in numbers but strong at heart, and that's fine for me!
- How are the relationships between italian bands?
Well, maybe a weak point in the Italian scene is the really poor collaboration between bands; instead of helping each other, it's more common to find people trying to obstruct others! As for us, we don't see the whole thing as a competition, so we're out of these nasty schemes; we just think that there's enough space for everyone, and in this way there are also more chances to hear some good music. So, we Mesmerize are in good terms with many italian bands, and we always enjoy to participate in concerts with other groups: we already happened to play with bands such as White Skull, Drakkar, Shadows Of Steel, Skylark, and many others...and we always had a good time, those guys are fantastic, and good friends to hang out with!
- Mesmerize have contributed to many Tribute CDs in the last two years (Iron Maiden, Manowar, Savatage, Black Sabbath, Queensryche...), Is that something you specially like to do? This year you´re going to be in three new ones (Warlord, Metal Church & Trust), Could you talk a bit about the elected songs, the bands...
Yes, as I told you before, we enjoy Tributes very much, even if I suppose from now on we'll concentrate more on our own music and albums... You know, even if it's cool to participate to Tributes, it takes a good amount of time both in the rehearsal room and in the studio, and we actually don't want to steal time from our own stuff! Anyway, about the three new Tributes you talked about: METAL CHURCH: "The Powers That Be" is one of the first cover we've been asked to record... we did it in October 1999, but - funnily enough - its CD still hasn't been released by the label that arranged it (Progressive Arts, USA)... we hope it will be soon; we chose that song because we wanted to play some fast stuff, and the main riff is a killer! WARLORD: "Winter Tears" has been recorded during the sessions for "Vultures Paradise", in May 2000; Underground Symphony will release the Tribute CD in the future... but don't hold your breath, of course! We're talking about our old label, the one which habitually keeps CD Masters on hold for 1 year minimum! Eheheheh! Anyway, we chose that particular song because the vocal line seems especially made to be sung by Folco... I find his interpretation very inspired... TRUST: I suppose this is the most important Tribute amongst all the ones we participated to... it's done by a great label such as the french Axekiller, very professional indeed. We've just received our first copies of the CD, and everything is really well done, from the digipack packaging to colour booklet, from the quality of the bands to the strenght of the songs! The song "Prefabriques" has been chosen because it's the best song from the "Heavy Metal" movie soundtrack: that one was the english version, so we had quite a hard time looking for the original french version, which we eventually got from a friend of ours in France (thank you Raskal, if you're listening!)
- How is going the recording of your new album "Off The Beaten Path"? Can you advance what is people going to find in it?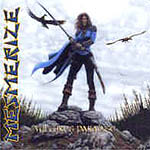 The recording is going just great: up till now we've finished the drums and bass tracks; currently our guitar players Piero and Paolo are hard at work recording their parts... We plan to finish everything in the next couple of weeks, vocals included... Then in July we'll be mixing the master at the Zenith Studios in Lucca: we're pretty familiar with that studio and its owner, Frank Andiver, and we know that we'll have a great sounding result! About the contents of "Off The Beaten Path", you already know what you'll find in it: our style hasn't changed at all, we're still MESMERIZE, playing our own traditional Heavy Metal, so don't expect any symphonic stuff or orchestral stuff or shit like that... If I had to tell a main difference between this record and our first two, maybe it would be in the speed of the songs, which are slightly faster than we usually did (I hope you'll like this!)... and maybe their complexity, because we tried to arrange and articulate them better than before... I'll be waiting for your comments about it with curiosity! Then, the subjects of the lyrics are still about the things we like best, so you'll find lyrics about fantasy novels (such as "Doom Of The Darksword", which is continuing the saga after the song "Forging The Darsword" on our 1st CD), science-fiction ("Argos Died Twice", which is about the death of a space colony), comics ("King Of Terror" is about a famous italian character called Diabolik), literature ("Gates Of Mercy" takes inspiration from Shakespeare's Henry V)...these are the things we like to talk about: about that, I'm pretty sure people who liked "Tales Of Wonder" won't be disappointed at all!
- How long has taken the composition for this record?
I honestly can't say it precisely: almost every track of this 3rd CD "Off The Beaten Path" was just ready when we recorded our 2nd CD "Vultures Paradise", in May 2000... Let's say we just spent these last twelve months in arranging these songs and giving them the final touches... Anyway, if I had to identify a period of time, I'd say that the songs of this record were written right after the release of our 1st CD in 1998... even if there are a couple of exceptions, such as "Doom Of The Darksword", for example, which was already finished at the times of "Tales Of Wonder", and it wasn't included just because the other songs were enough to fill the CD! Some parts of other songs are even older, such as the instrumental section of "Where Sky Meets The Sea": as far as I remember, it already existed before I joined the band in 1994!
- The release date is set for Autumn 2001, right? Do you have any plans for a new tour to promote the CD when it´s out? Will you be playing some summer festivals this year?
Of course in Autumn, after the release of the CD, we'll start playing gigs around, just like we've always done in the past... About this summer, I don't think we'll do concerts at all, right because we'll be busy mixing the CD, and unfortunately I'm pretty sure we won't have any time to arrange gigs... (sorry!)