- What do you think about the changing style of some Metal guitarists, you know...with those extremely "personal" and strange albums...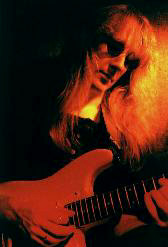 I don't know, if I got your question right, but everybody is free to play what he wants. The guilty people are the big labels and producers. They try to sell everything, no matter how good or bad it is. If you tell to a 16 year old teenie he/she is an amazing guitarist. He/she will believe it. Who is responsible?
- Now the unavoidable question... What are the main influences for you, and your favorite bands/musicians...
I was influenced by guitarists like Gary Moore, Malmsteen, Blackmore, Morse, Holdsworth. From composers I like Sting, Peter Gabriel, Beatles, Collins.
- Did you come to Spain with Vanize in the UDO tour? If yes, What is your opinion about our country?
I wish I was, but that was before my time with Vanize. But if we have the chance to go on tour in Spain, I would love to come!
- Let´s talk about instrumental albums, Don´t you think they can be quite boring for the general audience? I mean, there´s no voice, so no choruses to sing along...
Even for me it's mostly too boring to listen to an all-instrumental album. That was the reason to bring some singers on my first Lion Music release. And Lance was the one, who was the most interesting singer for the new album. He has so much warmness in his voice. Cool! That is what I needed for the Empire songs. And he did a wonderful job there. You'll see.