Sharp voice, screaming guitars, hammering rhitmics, mixing power and melody. All this stuff is White Skull !!. Tony Fontó tells you.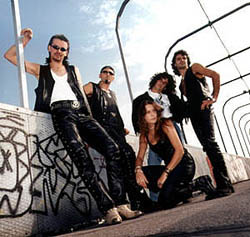 - Describe White Skull to those still haven´t heared about you.
White Skull is a heavy fuckin' metal band. we play a real class heavy metal without more classical music influence.

- We would like to know more about the history of the band...
Ok. In 1991 we recorded our first homonymous demo, and started a live promotion in order to increase our own experience. The second demo-tape, titled "Save The planet" came out in May 1992. We also contributed to two Heavy Metal compilations at the national level ("Nightpieces 4"- January´95 / "Area Sismica"- June´95). So, after good demos, two compilations and several excellent reviews we were able to convince Underground Symphony to gave us our first recording contract. The first White Skull Cd "I Won´t Burn Alone" was released in November 1995. In March 1997 the new album "Embittered" was on the market. The "Embittered" tour started soon after the distribution of the album, we played in many pubs an festivals supportting such big bands as Overkill, UDO and DORO. The EP "Asgard" and the LP "Tales From The North" were on the market in 1999. Last December we played in Tel Aviv- Israel a show like headliner, in January 2000 we´ve been in tour with Grave Digger in Germany and Switzerland and in March 2000 in Italy.


- Talking about that tour, when Grave Digger were here in Spain, we asked Uwe Lulis the reason for changing the supporters and he told us you were going to play with Metalium in Italy, Who decided not to come to Spain with Grave Digger?
Ok there is some confusion. We have played with Grave Digger in Germany and Italy. Nuclear Blast decided that we didn't come in Spain. We didn't play with Metallium, we entered in studio for recording the new album during the same time (27 March-30 April).

- Your last album "Tales From The North" sounds great, we´re just expecting the next one, Are you working on it?
Yes, we have just recorded. In the last two months I have recorded the new album, I've follow the art-work, we have made the pictures, and so many work work work. Plus some concert in Italy and Germany. The new work will be on the market at 21st of August by Breaker records. The tile is "Public glory, secret agony" and it is more harder, power and straight than Tales from the north.
- When summer comes, it brings a lot of Open Air Festivals all over Europe (Wacken, Bang your head...), are you going to play in any of them?
No, we don't play at any festivals this year, beacuse we are ugly, dirty and bad...
- The vocalist, Federica "Sister", writes the lyrics of your songs, which is her inspiration?
yes, Federica wrote all the lyrics. She studied too much the story of vikings and other stories from the people from the North. In the last album she took the inspiration from the current life.
- What do you think about these bands with female vocals: Sinergy and Dark Moor (from Spain), do you like them?
I'm afraid, but I don't know the Dark Moor. About Sinergy I can tell that is a good band, I like the first album, the second i never heard until now.