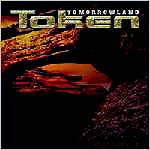 The story of Token began a summer's day in Stockholm, it was the year 1990, but that was then and this is now... When recently MTM Music, Germany heard their demo material contacted Token and a deal was set. Soon the work started to record their debut album "Tomorrowland", which was released 22 April 2002. Token is a Swedish AOR band with a catchy and heavy sound and this is their line-up: H.B Anderson (vocals), Niclas Holmkvist (bass guitar), Mikael Rosengren (keyboards), Johan Sjöberg (guitars) and Pontus Ågeryd (drums). Read it here first...
- First, let me say congratulations for the great album you've recorded, I think it´s really good. And now we´re talking about the album I would like you to tell us some details of the recordings (the production is fantastic I must say), how long did it take to finish the record?
Niclas - Thanks a lot! We started to record Tomorrowland sometime in September last year. Since it was our first recording on our own we were really curious how the result would be in the end. Lots of things were new to us, the recording process, equipment, software, and so on. What made things easier was that Johan bought a studio and we used that during our recording. So basically we worked without time pressure. Johan did a great job with the production. He was thorough and his over all perspective is very important for us. He knows how to put all the pieces together. The recordings were finished in December and great guy Pontus Norgren mixed the album in the beginning of January.

- When I listen to the record it makes me remember those american bands of the 80´s like White Lion, Dokken, LA Guns... or european ones like Bonfire or Europe, do you think that is correct to associate you with those bands and style?
H.B. - I can agree that there's a bit 80's kinda sound on Tomorrowland 'cause we grew up in that era and somewhere in our subconscious when we write songs they turn out this way. But I cannot agree on the similarity to the bands you mentioned, maybe Europe but the others????
Niclas - When we started to write songs we wanted to use our influences from the 80's and mix it with a fresh modern sound. Also add progressive elements and some harder parts. So I agree with you, many songs reminds one of the 80's and that was our intention. But as H.B I cannot agree with most of the bands you mention. Dokken and Europe sure, but not the others.
- Some years ago the look for the bands was as important as the music itself , nowadays there are only a few bands that use a specific kind of show and look on the concerts, what do you think about that?
H.B. - Well, I think people are more into the music and the lyrics these days and don't care so much about "posing" bands with fake tatoos and wigs unless they can write good music. People are more aware of what's worth the money. But, I have to be honest, there is some value in the entertainment if the artist offers some extra and something you didn't expect to see or hear. I miss that sometimes there are no bands like KISS or Motley Crue nowadays.
- I'm very curious about a thing: the style of your singer HB Anderson is very similar to Leatherwolf´s vocalist, do you know the band?
H.B. - Yeah, I've got the first two albums (Leatherwolf and Street Ready) and I used to listen to them when I was into my Queensryche, Warlord, Omen and Leatherwolf period in the middle of the 80's. That's funny, you're the first one ever mentioned that I sound like Michael Olivieri. They did a very odd and different version of Creedence Clearwater Revival's tune "Bad Moon Rising", very heavy and nasty.
- This question is a must... When are you going to tour Spain?
H.B. - Two years ago I spend 6 months in Spain, you should've had your eyes and ears open then. Naaaa, serious nothing is planned as we speak, and it depends on what our label decides, but if you wanna see us live in Madrid or Barcelona or any other location just contact Sebastian Eder at MTM and we will be anywhere anytime.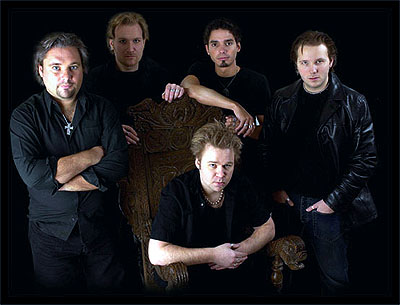 - What are the most interesting bands for you nowadays and which ones do you use to listen to?
H.B. - I am very fond of a band called Tantric from USA. I am into just that kind of music right now, bands like Incubus, Collective Soul, Matchbox Twenty and Stereophonics. Good, descent, melodic rock with great harmonies... I love it!
- MTM is a very important label, I suppose you're happy for working with them, right? How did you get in touch with them?
Niclas - Yeah, we're happy working with MTM. It has been a nice journey so far. We locked ourselves in Johans home studio and wrote some songs. In April last year we sent out some demos and we got positive feedback from MTM and some others. It gave us the positive energy to write some new songs in a fast manner and we sent them to those that were interested, MTM among others. This time MTM was the most serious and interested label, so we stuck with them. And we haven't regretted that.
- Do you think that magazines only support bands of a certain style, leaving Hard Rock & AOR in the underground?
H.B. - AOR / Melodic Hardrock has always been what I think underestimated and called "old man's music" or something… Media is a very important ingredient in the music industry, without it we couldn't find out about new artists like Token for example, but the media in general is using too much of "go with the flow" mentality with a tunnel vision, or some of them wanna be as odd as possible and write about stuff no one else like... But, there are a lot of good magazines out there. I would like to see more Melodic Rock on the television, it's not that often you see that kind of music nowadays.
- If you could choose a band to play with (any band, past or present), Which one would you prefer?
H.B. - Do you mean to tour with like a support band or to join to play in??? I wouldn't cry crocodile tears if I had been asked to tour Ozzfest or next Metallica tour... And if Eddie van Halen calls me up to ask me if I wanna be the next singer in his band I'd say... NnnnoooaaaaYeeeaahhh... Alright!
- To make video clips is something quite complicated, Have you thought about filming one? Do you think that it could be broadcasted by many tv stations?
Niclas - Actually our video is on the clipboard right now! Some time ago we recorded a video for the song "Human". A friend to Token Gabriel Jansson and his crew recorded the video and we are very exited about the result. It seems to be quite difficult to get airtime for a video. Not so many TV stations show rock videos, but we'll do our best. Hopefully you will get a chance to see it!
- And in the end, just want to tell you good luck! and I hope to see you really soon. If you want to say something else, feel free to do it.
H.B. - "Hope for the best and prepare for the worst" See ya'...
Niclas - It was a pleasure doing this interview. Visit http://www.tokendirect.com for latest information about Token.
- Interview by Rodrigo Mayayo.
---