- For your two albums so far you have worked with producer and engineer Peter Tägtgren at the Abyss studio, has it been an election of the band? What can you tell us about him and his work with Wolf?
Peter Tägtgren is a genius and it was a pleasure to work with him. After recording the first album it felt natural to go back to Abyss for the second one. It's a really relaxed feeling working with Peter and the Abyss studio. It's situated in the middle of nowhere, by this beautiful lake. All you can do is to record and chill out. Drink beer in the sunset and play some football. Peter is a cool guy that we have full confidence in. He understands what we want to do, both musically and otherwise. It's a blast to work with him really, and we are going back for sure.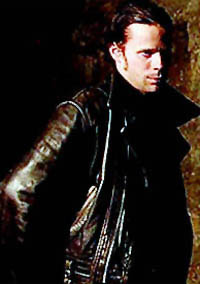 - I think that your music is very influenced by Iron Maiden and the early Heavy Metal, is that right? Is Maiden one of your favorite bands?
Iron who?? yeah I have heard about them, they have stolen everything we've done!!! No seriously, Maiden is a favourite to some of us. We grew up with the NWOBHM so all bands of the early eighties have inspired us, some more than others. We listen a lot to Judas Priest, Mercyful Fate and Accept. And why not some Baron Rojo!!!
- You recorded a video for the song "Moonlight" and I think that some TV stations from your country have launched it, how did it work? Have you thought about making another video for one of the new songs?
Well, It was shown a few times on national TV but unfortunately the single for Moonlight was delayed so there was nothing to support the video. We might do a new video. Nothing is decided yet but we are talking about it with our record company. But it's an expensive sport, video shooting, and there aren't really any channels that play metal-videos, so. We'll see what happens. Hopefully we get to do another one.
- You have recorded a cover of Mercyful Fate's "A Dangerous Meeting" for "Black Wings", Can you tell us what is your opinion about the band and this song in particular?
Mercyful Fate is old heroes to all of us and the song fitted our style really well. We all regard Mercyful Fate to be one of the most important metal bands of the early eighties. They made such an impact on, not only us, but also bands like Slayer and Metallica and a lot of other Bay Area Thrashers.
- Is there a possibility to see you live in Spain soon? By the way you're touring with Pain and you'll be busy next summer in several festivals, What can you tell us about the tour and the festivals...?
There is always a possibility! So far we have nothing planned for Europe but we are working on it as we speak. We got a few really good festival gigs coming up. One is of course Wacken-Open-Air! That's going to be absolutely mad! The Pain tour was pretty fucked up. Some gigs were just awesome whilst others sucked. But that's the way it is to be a metal band on the road. We had a great time with the Pain-boys anyway. Free beer and heavy metal can't be bad.