Jacobs Dream, the new discovery of the Metal Blade label, keeps the Heavy Metal flag high from Ohio. The guitarist Gary Holtzman presents them to the spanish audience.
-Everybody is comparing the band to Queensrÿche, What do you think about that?
That isn't the first time we've heard that we sound or are trying to be "Queensryche". We don't feel that it is an accurate description of our music.We listen to alot of different styles of music and as any musician knows influences do exist for most.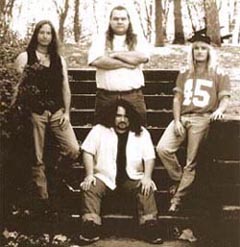 -Jacobs Dream is working since `94 and this is your first cd, Can you tell us something about the history of the band? Have you changed your style since then?
Actually the band has been in existence for approx. 10 years in one form or another.We did do a CD on our own prior to the one that is out now.

-In April/May you will be in Europe touring with Armored Saint and Brainstorm, What do you think about them? Is the first time that you´re gonna play here? We unfortunately have not heard alot of either bands music so it is hard to form an intelligent opinion. We are looking forward to touring there in Sept./Oct. and this will be our first tour in Europe.