I know that Music TV´s don´t broadcast Heavy Metal videos nowadays, but you could release a home video with live shows, interviews, video-clips...or maybe include it in your next album as a CD rom track.
We might bring out a complete video with live-stuff, interviews, backstage-shots including a Live-EP in Summer 2001. Not confirmed, yet!
- Where have you learned how to produce records?, You have done a very good job with Metalium CD´s, Are you working as a producer for other bands now?
I have not produced any other bands before . I just have a vision and my feelings are guiding me the way to my aim. There is nobody in this universe who knows exactly how Metalium should sound better than me!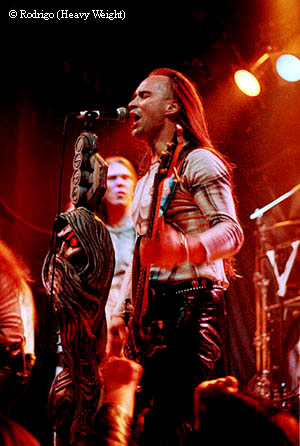 - Has the fact of losing Chris Caffery and Mike Terrana affected in any form to Metalium?
Yes, in a very positive way. Metalium became a band of five persons who have a good time together, who became friends and who became a very good live band after playing so many shows in the same formation. The motor of Metalium has always stayed the same: Me, Henning and Matthias !
- Aren´t you afraid of losing Mark Cross and Jack Frost too?
No, not at all !!!
I mean they also play in other bands so, It could happen one day...
Mark doesn't play in any other band and also for Jack has give Metalium priority before any project he is doing on the side in his time off.
- Now we´re talking about them, How did they enter the band?
Jack mailed me "Hi this is Jack Frost, I heard your debut CD and I like it very much, whenever you need a guitarist call me". The mail arrives the same day when Chris told me he couldn't go on tour with us because he has to be in the studio with Savatage the same time. Fate !
We knew Mark from Hamburg since the time when we've been in the studio to record the first album and he was our first choice to replace the first drummer. He is at the same technical level as the old drummer plus he is a team player. As Metalium is a real band we don't need anything else but band oriented thinking people.
- Is the fame as you always dreamed when you were young, or is it better or maybe worst...?
We´re old enough to handle this, and we are not that fomous as Madonna. So we still can go shopping on our own without bodyguards.