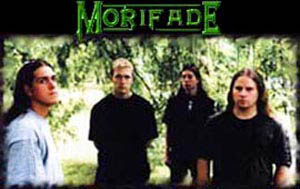 Their first cd "Possession Of Power" has gotten very good reviews all over Europe. The bassist, Henrik Weimedal, talks to us about it and other interesting things. Check it out.
-Now there are a lot of good bands coming from Sweden but, what about the Heavy Metal scene there (live concerts, magazines, and things like that), is it in the same good moment that the bands?
It's pretty good, we have a couple of yearly festivals for example "Sweden Rock Festival" and "Hultsfred festival". In our hometown it's kind of weak with gigs, specially metal gigs despite it's a pretty big city. There's thousands of metal magazines here in sweden but there's only one big and great power metal magazine – "Bright Eyes Magazine".

-If Morifade could choose a band to play with (whatever you want), which would it be and why?
Probably Helloween...But 12-13 years ago, they are of course on of our biggest influences, for myself I would say Iron Maiden since Steve Harris is the one that make me wanna play the bass guitar.
-Are you happy with the reception that´s having "Possession Of Power"?
Absolutely, It has got very good reviews and people tell us all the time how great "Possession..." is, it feels very good to hear such things, it makes it feel that you've done a good job. It's been selling very good and we've been licensed in 3 countries so far, so, yes we are very happy with the response from both fans and labels, magazines and radiostations, thanx everyone!
-You included a song in the compilation "Born To Walk Against The Wind" and now there´s gonna be another part in which you will included a song too, Do you see it like a new "Metal Massacre" (compilation) where people can discover very good young bands?, Do you think that any of the bands included can be in the future as big as Metallica for example (that was in the "Metal Massacre" compilation).
Actually we included 2 songs at "Born to Walk...", "Walk Against the Wind" and "The Signs" Yeah, that's what a compilation with various bands is about in my opinion, bands get a great chance to be heard. I don't know if a band will ever be as big as Metallica from a compilation, they got a bit extremely well-known, it takes very hard work, take us for example, Morifade have existed since 1992 and it took to 1999 to get peoples eyes opened for us and that's a very good feeling, I mean when suddenly everything comes loose and all at once.
-In your songs we notice different influences from young groups (over all) like Stratovarius... Do you only like this kind of groups or do you listen to classic bands too, like Maiden, Judas and so on?
No, no, we're listening to very mixed metal, everything from Black Sabbath and Deep Purple to Maiden, Stratovarius, Grave Digger, Symphony X, Lab˙rinth to Cradle of Filth and Children of Bodom...Everything!
-Before the release of your first album "Possession Of Power" you had a mini cd "Across The Starlit Sky", songs in compilations. You´ll made a cover for a tribute to Helloween... The band is always working...
Well, we really love what we're doing, in mid march we will record another mini CD called "Cast a Spell" it will be a 4-track MCD including "Cast a Spell" from "Possession of Power", a cover of Phenomena's "Dance With the Devil" a re-recording of "Tomorrow Knows" from "Across the Starlit Sky" and one new song. At the same time we'll record Helloween's "Judas" for a Helloween tribute released by the spanish label Arise Records. The producer for the MCD will be Andy La Rocque from King Diamond and the recording will take place at "Los Angered Studio" in Gothenburg, Sweden.
-In which countries and with which bands have you been playing to introduce "Possession..."? Do you remember any of that concerts with more affection?
We haven't been touring with any bands and the only big gig we've been doing is at "Motala Metal Festival" here in Sweden with Grave Digger and Lefay among others, that's the best gig for us so far, we haven't been playing any gigs outside Sweden yet actually but we've got a great deal of gigs this year and in June we'll go to France at tour with Lab˙rinth and Pink Cream 69 and one gig with Royal Hunt in France. We really hope to go on a world tour, that is our greatest goal.
-Your inmediate plans...
Rehearse, rehearse and rehearse and again...Rehearse, well not just that, we will start writing new song material for the next fullength album that we're to record probably in December 2000 and preparing for the gigs and everything...
-Thanks a lot. Do you want to say something special?
Thank you too, we hope to see you all on tour and thanx everyone for your support specially our fans, Keep the Flag of Metal High!!! Thanks!

- Interview by Rodrigo.