Last week Morifade started the recording of their coming album "Imaginarium" at "Los Angered Recording" with Andy LaRocque behind the mixingtable and as the producer. It will be a 60+ minute album with really great metal songs. For everyone of you who have heard their last album "Possession Of Power" be sure that the melody's still there but there are more heavy riffs than it was on "P.o.P.". The album will be released in October or November. Keep that in mind! later on they will have some downloadable sound samples ready for you at their website.
Grave Digger will be recording a live album at their show of the Wacken Open Air Festival in early August. The as-yet-untitled CD could have the following track listing: "Scotland United", "Excalibur", "The Dark of the Sun", "Headbanging Man", "The Roundtable (Forever)", "Circle of Witches", "Ballad of Mary", "Lionheart", "Witch Hunter", "Morgane Le Fay", "Knights of the Cross", "Rebellion" & "Heavy Metal Breakdown".
Black Abyss have pushed back the recording of their third album to the end of this year or beginning of the next one. The release is planned for the summer of 2002.
On the 21st of July at 9:00pm CET (3:00pm Eastern Standard Time in the U.S.) will be a chat with the whole band of Jacobs Dream on this site: http://www.jacobsdream.de. Simply click on "Contact", then the link for the chat room.
Dionysus, the Power Metal band featuring singer Olaf Hayer (the voice behind guitarist Luca Turilli's solo project) and ex-Sinergy drummer Ronny Milianowicz, have signed a multi-album deal with AFM Records. Their debut CD is tentatively scheduled for release in early 2002. No name for the album has been announced yet.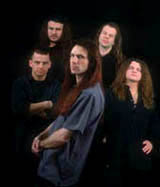 Right after playing the shows with King Diamond end of April, Brainstorm entered the House of Music Studios in Stuttgart to record their fourth album with producer Achim Köhler (Primal Fear...). Entitled "Metus Mortis", Brainstorm are about to record an album that is even heavier than its predecessor "Ambiguity" but without losing their variety and surprising moments. Songs like "Hollow Hideaway", "Strenght Of Will", "Checkmate In Red" and "Face Down", just to name a few, will not only guarantee neck-pain in a live situation. Release date will be around September, a small preview will be shown on this years festivals (Bang Your Head, Wacken Open Air) where Brainstorm will play one or two brand new songs.
In brief: Angra have finished pre-production work for their upcoming album, which is tentatively due to be released in October 2001... Blind Guardian frontman Hansi Kursch and his wife are expecting the birth of a baby boy in late August. CONGRATULATIONS!!!
Here you have some details of the upcoming album of Yngwie Malmsteen´s vocalist Mark Boals and his new project Ring Of Fire. The title will be "The Oracle" and it´s scheduled for a July 25th Japanese release. The album will include the following tracks: "Prelude For The Oracle", "Circle Of Time", "Shadow In The Dark", "Vengeance For Blood", "Samurai", "City Of The Dead", "Dreams Of Empire", "The Oracle", "Interlude", "Land Of Illusion", "Take Me Home", "Face The Fire" & a secret bonus for Japan. The line-up of musicians performing on the album is as follows: Mark Boals (Vocals), Vitalij Kuprij (Keyboards), George Bellas (Guitars), Philip Bynoe (Bass) & Virgil Donati (Drums).
Living legends Running Wild are working on their new studio album, tentatively titled "The Brotherhood" and scheduled for a January/February 2002 release. Some of the working titles are "The Brotherhood", "U-Nation" & "Welcome to Hell".
ShadowKeep announced the new line-up. The members appointed are Steve Scott on Bass and Scott Higham on Drums. They made their debut with the band at the Bloodstock festival 2 weeks ago and have straight away won their fans respect, as well as new converts. Many said it was their best gig ever... In related news, they have given a change to their official homepage, check it out!
The release party for Steel Prophet´s "Book of the Dead" is confirmed for July 8, 2001 at the Dragonfly (California). Tickets for the party are seven bucks, and doors open at 8:00 PM. Joining them will be Agent Steel (now known as Order of the Illuminati), Cage and New Eden. Members of the bands will have a covers jam at the end of the night. That should be fun! They´re also confirmed to play the Milwaukee Metal Fest the weekend of August 10-11, with a possible tour starting after that featuring three or four other top quality heavy bands.
According to the official homepage of Germany´s Ivanhoe, Chitral Somapala ("Chity", from Avalon) is the new singer for the band (!) They are now working on the pre-production of a new CD...
Because of "business-problems" and the line-up change Vanize were forced to neglect their live-activities. In the future their label Breaker-Records is going to work together with SPV and the guys hope to go on tour again as soon as possible. Meanwhile they will use the time to prepare a new album, they already started writing new songs. So keep patient because they will be back soon, better than ever.
Contrary to the rumours and according to Lars Ratz, Metalium have signed with Locomotive Music just for the release of a VHS video + CD package during Summer 2001, but they´re still with Massacre for the CD's. The video will feature concert clips, interviews and more and the CD will include 8 tracks (new and unpublished songs as well as live performances).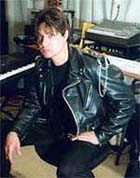 Federica "Sister" De Boni has left White Skull due to personal problems. The band now have a new singer, Gus Gabarrò. He is originally from Argentina, but he lives in Italy (Alessandria). He has recorded the new demo. Since to the first show the crowd and all the White Skull fans had good reaction and also the Management and the Record Company are very happy about the band's choice. Now they are writing the new songs for the next album. It will be recorded from 15 September to 30 October at New Sin Studio (Loria -TV). The new album will be a concept about the Inquisition Story and it will be on the market in January 2002.
The Storyteller second guitarist, Erik "Bonecrüsher" Gornostajev has decided to leave the band due to personal reasons. This will however not affect the band in any negative way. They are currently looking for a new guitarist, but until they find one the band will continue as a trio.
After six years with Crystal Eyes, drummer Kujtim Gashi has decided to leave the band to spend more time with his very ill daughter. Therefor they're now looking for a new drummer.
On July 23rd Elvenking will release their new album titled "Heathenreel". The album is mixed by Fredrik Nordstrom (In Flames, Hammerfall...) and the cover artwork has been done by Travis Smith (Nevermore, Iced Earth...). The Japenese and South American versions will contain a cover of Skyclad's "Penny Dreadful" as bonus track.
Grave Digger just started the recordings for the "Excalibur" follow-up called "The Grave Digger". They have revealed the title of another song to be included, it´s "Funeral Procession". As "special" for you the band began writing an online-diary: day by day they will post entries about what is happening during the recordings, as well as many exclusive photos. The next three confirmed dates for festivals: 09.06.01 Sweden Rock, Sölvesborg / Sweden, 29.06.01 Derrame Rock, Oviedo/ Spain & 28.07.01 Rock Machina, Valencia / Spain.
Waiting for the definitive list of bands for Rock Machina 2001, you can see the confirmed bands and other details by clicking HERE or checking out the official site of the fest www.rockmachina.com
Obús (legendary Spanish band) Official Homepage is already on line. The website is still under construction, but you can access a press note where the band explains the reasons that forced them to cancel their performance at Viñarock 2001 Festival, celebrated last May 5th in Villarrobledo (Albacete, Spain). The note is supervised by Obús themselves.
Bobby Rondinelli will play the drums on Riot´s upcoming album. The recordings started last April 7th and the release is planned for June.
Elegy is now in the middle of talking to several record companies about a new deal. Elegy singer Ian Parry will release the "Consortium II" record soon and guitarist Patrick Rondat will be doing some big stadium gigs with Jean Michel Jarre in Greece. Drummer Dirk Bruinenberg can be heard on an upcoming release from a project called Adagio with French guitarist Stefan Forte and the singer for Pink Cream 69. The bass player Martin Helmantel, is keeping himself busy with a party band, The Heavy 70's, also featuring Andrew Elt (Sleeze Beez). This band played about 250 gigs in the last five years which makes them a pretty busy tribute band.
The next show of Draconian as an opener for Judas Priest and Savatage in Murcia (Spain) is not confirmed yet. The final resolution will be announced soon.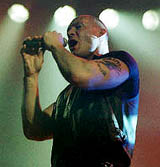 Primal Fear have started the songwriting for their new CD. The lyrics of the album tell the story of the eagles heading into the universe, searching for the Black Sun (which is an early possibility for the album title). The recordings will take place at the House Of Music studios (Germany) in December/January, with a release planned for April 29th 2002.
Denmark´s Pretty Maids are currently working on the follow-up to last year's "Carpe Diem" release, and have so far completed rough versions of 3-4 new songs. The as-yet-untitled album will be recorded at the end of the year for an early 2002 release.
Vocalist Geoff Tate (Queensrÿche) will debut his new solo/side project, with guitarist Scott Moughton, on June 1st at The Catwalk in Seattle, WA. Tate's project will also play this year's fan club-only gathering, Seattle 2001 (aka S2K1), on June 2nd at the Showbox in Seattle. Queensrÿche will also perform, and there will be a meet-and-greet with autographs and picture-taking. Furthermore, Tate will contribute vocals to a song on a Queen tribute album due this summer.
It´s been confirmed that the opening band for Yngwie Malmsteen´s concert next June 1st at Sala Industrial Copera (Granada) will be Draconian. The spanish band has signed a deal with Avispa Records and the first CD "To Outlive The War" will be issued on May 2001, furthermore they will be playing with Judas Priest & Savatage in Los Alcázares (Murcia, Spain) the 6th of July.
The second part of Tobias Sammet´s Avantasia is already recorded and will be getting its last finishing touches at the end of the year. However, as Edguy will be the highest priority for Tobi right now, "Avantasia Pt. II" won't be released before Spring/Summer 2002. Sammet will be strongly again by people such as Eric Singer (Kiss) and Bob Catley (ex-Magnum) and others.
Reverend, the reborn Seattle band featuring Metal Church vocalist David Wayne, have made their new EP, "A Gathering Of Demons", available to order through their official web site. The EP contains the following four tracks: "Massacre The Innocent", "Down", "Stealing My Mind" & "Legion".
Sonata Arctica have delayed the release of their new single "Wolf & Raven" until May 21st, due to scheduling problems related to the making of an accompanying promo video. The song comes off the band´s next CD, "Silence", which is scheduled to be published on July 15th.
Tomas Wäppling and keyboardplayer Tommie have left Freternia. It is still uncertain if the band will continue without them. Very bad news, indeed...
Former Persuader guitarist Pekka Kiviaho and Jesper Johansson (Morifade´s guitarist) have started a new project together. The song writing process has just started so the direction is still not clear, but it will surely be Metal. The sound will probably be a blend of Morifade and Persuader mixed with some heavier stuff. They´re still searching for a singer.
Adagio is a new studio project led by french guitarist Stephan Forte, whose debut album, "Sanctus Ignis", is scheduled for release on May 22nd. It features performances from singer David Readman (Pink Cream 69), drummer Dirk Bruinenberg (Elegy), Richard Anderson (Majestic) on keyboards and Franck Hermany on bass. The producer is Dennis Ward (Pink Cream 69, Vanden Plas, D.C. Cooper). The full track listing: "Second Sight", "The Inner Road", "In Nomine...", "The Stringless Violin", "The Seven Lands Of Sin", "Order Of Enlil", "Sanctus Ignis", "Panem Et Circences", "Immigrant Song" (Led Zeppelin cover) & "Niflheim"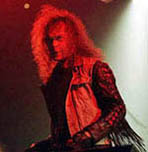 Grave Digger will begin recording their forthcoming studio album on May 4th, for a late 2001 release. It is entitled "The Grave Digger" and the following tracks are set to appear on the album: "Son Of Evil", "The Grave Digger", "Raven", "Scythe Of Time", "Spirits Of The Dead", "The House", "King Pest", "Black Cat", "Haunted Palace" & "Silence", there will be two additional, as-yet-untitled, songs on the CD.
Davide Dell'Orto and Daniele Persoglio are the new singer and bassist of Drakkar respectively. The band will start the recordings of their third album next May at Bips Studios.
Finally the "Welcome To The Other Side" tour of Rage will first start in Spain on 27th of April as scheduled.
Due to an unfortunate set of circumstances Rage will announce that the first 3 concerts of the "Welcome To The Other Side" tour will be cancelled. Peavy Wagner is suffering from a throat problem and which has affected his vocal cords and is forbidden to sing until further notice by doctor's orders. On Tuesday it will be decided whether the tour has to be displaced completely or if a part can be held. Rage hopes Peavy will recover in time so that they don't have to cancel even more concerts. Rage would like to apologies to the fans and they hope they can reschedule the first 3 concerts of the tour at a later point in time.
The new album of Azrael (from Granada, Spain) will be out in the first week of May. Its title is "Dimensión IV". The album, as the previous one, has been produced by Josué M. Martín and was recorded during January and March 2001 at Supersonic Studios in Granada. Some titles of the new songs are "En El Umbral", "Sacrificio", "Nada Que Temer", "Sentencia", "Mujer de Hielo", "La Noche Cae", "La Luz de Ishtar"...
Tom Naumann (former Sinner/Primal Fear) will be on stage with Metalium for the Festivals 2001 to get the double guitar action going on stage. Lars and Tom know each other personally for more than 13 years. The band started writing for their 3rd studio album (another concept one) to be released in September 2001 and will put out a 60 minute video European Wide at June 6th 2001. It will be a complete documentation about the first 3 years of Metalium's existance including live shots from the early shows up to new material, interviews, studio shots of the making of both chapters "Millennium Metal" and "State of Triumph" and a lot of private material from the musicians themself on tour. It's possible that this will be coming in a package with a complete 20-page comic booklet drawn by Metalium's artworker Markus Mayer. Metalium got the offered to play at Gods Of Metal in Milano Italy for June 9th, as the band is already performing at this day in Karlsham at Sweden Rock they moved the show to Gods Of Metal 2002. Metalium also got confirmed for Wacken Open Air Germany for August 4th and Graspop Festival in Dessel (Belgium) for June 22nd. It hasn´t been confirmed yet, but they could be playing at MenoRock Festival in Murcia, Spain next September 11th.
Vocalist Morgan Thorn has quit Vicious Rumors on the eve of their European tour with Rage, which is set to begin on April 18th in Ludwigsburg, Germany. Updates will be posted as available.
Helloween guitarist Roland Grapow has laid down a guest guitar solo and vocals on one track on the upcoming album from Argentina's Imperio.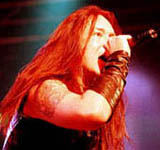 There are rumors about a Warlord reunion...It seems a new Warlord project with William J. Tsamis, Mark Zonder and Joacim Cans (HammerFall), as the new vocalist, is in the works! Hammerfall once ago made a remake of the song "Child Of The Damned" from Warlord on their debut album "Glory To The Brave" and sounded great, so it fits together.
Some release dates for you: Dragonland "The Dragonland Chronicles Part 1: The Battle Of The Ivory Plains"-April 10th, Manticora "Darkness With Tales To Tell"-April 30th, Ambeon "Faith Of A Dreamer" (based on Ayreon songs)-May, Christian Liljegren (singer from the Swedish Power Metal band Narnia) "Wisdom Call"-May 21st, Powers Court "Nine Kinds Of Hell"-June, Judas Priest "Demolition"-pushed back to July 16th (first single on May 28th), Edguy "Mandrake"-September 24th (single on August 27th).
Brazil´s Shaman, the new band of former Angra members André Matos (vocals), Luis Mariutti (bass) and Ricardo Confessori (guitar), are tentatively due to release their debut album in October through an as-yet-unspecified record label. Tracks set to appear on the CD include: "Time Will Come", "Here Will Go", "Be Free" & "Blind Shell".
Silent Force, featuring former Royal Hunt vocalist D.C. Cooper, will enter House Of Music Studios in Winterbach (Germany) in early April to record their second full-length album, tentatively titled "Infactuator". The CD should be released in November 2001. The band will also start a short US tour next May 19th in Pittsburgh at the Kings Court Theatre.
Falconer (including former Mithotyn members) finally has an official homepage at www.falconer-metal.com. Their s/t debut album is out in Europe and is due out in the US on May 8th.
WEA released the Various Artists compilation, "A Tribute To ABBA", on April 2nd. The first pressing of the CD has come in a limited edition digipack. Artists on the album include Metalium, Sinergy, At Vance, Therion and more.
Overlorde have a new EP out, presenting 5 songs of traditional Heavy/Power Metal. Overlorde is Bobby Lucas (Vocals, ex Seven Witches & currently in Exhibition), John Bunucci (Bass), Mark Edwards (Guitar) and Dave L. Wrenn (Drums).
Stratovarius guitarist Timo Tolkki will start recording his second solo album on April 16th at the Hästholmen estate in Finland, the same place where Stratovarius rehearsed and recorded pre-production demos for the "Infinite" album. Timo will produce, record and mix the album himself. The title will finally be "Hymn To Life" and it will contain a dozen of the 17 songs he has written for the album. Song titles include: "Hymn To Life", "Soul Searching", "Now I Understand", "Dear God", "Little Boy I Miss You", "Father", "Divine", "Fresh Blue Waters", "Love Conquers All", "It's XMas Morning", & "Key To The Universe". This will reportedly be a very personal album for Timo and it will include some of the most introspective lyrics he has ever written. The line-up of musicians for the album will be: Timo Tolkki (vocals, all guitars & bass), Anssi Nykänen (a famous finnish musician, on drums) and Mika Ervaskari (the original Stratovarius keyboardist). The release date for "Hymn To Life" is tentatively set for January 2002.
The forthcoming Judas Priest CD is entitled "Demolition" and has a May 28th european release date. The album will include 13 or 14 tracks, some of which have the following titles: "Machine Man", "In Between", "Lost And Found", "One On One", "Feed On Me" and "Metal Messiah". Furthermore the band has announced the dates for their spanish tour (go to "agenda" in the spanish version to see them) and it has also been confirmed that Savatage will be the opening act for the first leg of their European/UK tour.
Sinergy, featuring Alexi Laiho (Children Of Bodom mainman) and american vocalist Kimberly Goss, have announced the title for their new studio album, it will be "Suicide By My Side". They will begin recording on August 1st at Studio Fredman in Gothenburg, Sweden and they expect to end their sessions on September 10th. The album, the third for Sinergy, is tentatively scheduled to be released on January 14th 2002.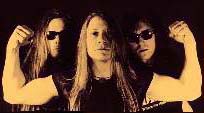 The upcoming album of Powergod, which will be a tribute to some of their favorite 80´s Metal bands, is nearing completion and is due out in early summer. The album features, among others, Stryper´s "Soldiers Under Command", Lizzy Borden´s "Redrum" and Warlock´s "Burning The Witches" (performed on tour recently). The band has approached several of the original artists about contributing liner notes and possible musical performances to the album. Former Warlock´s guitarists Niko and Peter Szigeti played all the leads on "Burning The Witches" and there are plans to take Doro Pesch to the studio as well...
Brainstorm will support King Diamond for 3 shows in Germany: 4/27 Offenbach - Hafenbahn, 4/28 Zwickau - Alarm & 4/29 Essen - Zeche Carl.
Wyvern´s new album "No Defiance Of Fate" is at last ready for release. After the not too successful debut "The wildfire", they listened to the critics and a new singer was recruited, Toni Kocmut, formerly the vocalist of swedish metallists Sins of Omission, who proved to be in possession of a most outstanding voice. The album was recorded at Studio Fredman (In Flames, Dark Tranquillity etc), and the sound, which had been so poor on the debut, proved to be another very strong side of the album. Heavy and thunderous, although clean and distinct. The music can be described as Heavy/Power Metal, a little progressive, a little symphonic, but still in a very own way a very Heavy way. The titles are: "Horizon Of Glory", "The Liquid And The Metal", "Morningstar", "Starborn", "The Last Ordeal", "Like Dogs Climbing Up The Moon", "Defiance Of fate", "Northern Union" and "The Power of Wyvern". They have now teamed up with Swedish No Fashion records. You can wait for a spring release of the album.
Kamelot´s forthcoming album "Karma" will be released next April 30th with the following tracklisting: "Regalis Apertura", "Forever", "Wings Of Despair", "The Spell", "Don´t You Cry", "Karma", "The Light I Shine On You", "Temples Of Gold", "Across The Highlands", Elizabeth Trilogy: I. "Mirror, Mirror", II. "Requiem For The Innocent", III. "Fall From Grace". "Ne Pleure Pas" will be the french bonus track and "Future King" the japanese one. The band plans special appearances at european festivals in July and will also play a special Florida gig that will include some video shooting in June.
The spanish band Vallachia will hopefully finish their first demo in April, containing four or five tracks. Furthermore they have a new member on guitar, so the new line up is as follows: Luis Molero: Vocals (ex-Posesión), Plácido: Drums, Raúl: Guitar, Valentín: Guitar and Ricardo: Bass. By now they have also confirmed some dates to introduce the band to the spanish audience, you can see them by clicking the "agenda" section in the spanish version of Heavy Weight.

Insania are back with a new full-length album, recorded at Finnvox Studios (Helsinki, Finland) and produced by Mikko Karmila (Stratovarius, Edguy etc). The new album carry the name "Hymns Of Insania-Sunrise In Riverland part II". It includes 12 songs and will be out next April 23th. Their album will also be released in Japan with the bonus track "The Right To Be Free".
The new Iced Earth album "Horror Show" is finished. It will be released on june 18th. These are the names of the tracks: "Wolf", "Damien", "Jack", "Ghost Of Freedom", "Mummy", "Jeckyl & Hyde", "Creature", "Frankenstein", "Dracula" and "The Opera Ghost". A limited edition 2 CD will feature an hour-long interview and Maiden's "Transylvania" as a bonus.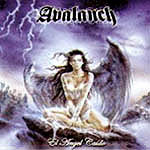 New details about Avalanch´s new album "El Ángel Caído". It has been recorded at Bunker Studios and remastered at Metropolis Studios in London by Tim Young, their guitarist Alberto Rionda has been the producer. These are some tracks that will be on the album: "Delirios de Grandeza", "Antojo de Un Dios", "Las Ruínas del Edén", "Corazón Negro", "Levántate y Anda". Vocalist Leo Jiménez from the spanish band Saratoga will appear as special guest.
Billy Queen from Jacobs Dream wrote: "This is an important announcement for all who are interested in Jacobs Dream. The search is over for another guitarist. Derek Eddleblutte has joined Billy, David, James and John as the new guitarist for Jacobs Dream. We're all very pleased and ask you all to welcome him to our family. He's a great guitarist and a great guy. We think you'll all be pleased with this new addition. Stay Hard!!!"
Dark Moor will release a new Maxi CD in May. It will contain the following tracks: "The Fall Of Melniboné" (new), "Silver Lake" (taken from their last album "The Hall Of The Olden Dreams"), "Wood Song" (new track), "Halloween" (from "The Keepers Of Jericho: A Tribute To Helloween") & "Cuentos de Ayer y de Hoy" (previously released in a tribute to Ñu). Furthermore they will play at Mijas Rock Festival next July 14th in Mijas (Spain).
On 14th of March there's a Workshop with Victor Smolski at P.P.C. Music Hannover, Alter Flughafen 7a at 16.30 o clock. If you have the chance better don´t miss it.
The second Album from the guys around John A.B.C.Smith is ready. The new songs present a new band with a different songwriting and new power. The release from Gallows Pole-"Exorcism" will be in April 2001.
The new guitarist for french Power Metal band Heavenly is Fréderic Leclercq (keyboards). He replaces Chris Savourey, who recently left the band to consecrate all his effort to Northwind.
Angra introduces new members and debuts new material. Vocalist Edu Falaschi, drummer Aquiles Priester, and bassist Felipe Andreoli have joined founding members, guitarists and main songwriters Kiko Loureiro and Rafael Bittencourt to complete the new line-up of Angra. The five-piece has just recorded a new four-track demo tape, and all of its songs will also appear on the forthcoming studio album, set to be released in the second half of 2001.
Jack Frost definitely leaves Metalium. He is the new guitarist for Savatage (as we told you before) since March the 5th. That way Jack cannot stay with Metalium any longer. Henning Basse, Lars Ratz, Matthias Lange and Mark Cross (the remaining members of Metalium) congratulates Jack for his new job and will stay friends with him.
Guitarist David T. Chastain is preparing the second album of Zanister, titled "Fear No Man". Like their first album, this one will be released by Shark Records.

Vision Divine´s new album is finished. The plans are to begin recordings in May and release the album in September. This time the cover song will be "Take On Me" from the 80´s Pop band A-HA. You can go to the VD official homepage for new tourdates.
The guys from Zonata are working on a video-clip of the new album. It´s the title track "Reality". The video will be shot in an old storage facility outside Borås, in Sweden. Also the band is going to head on a tour with Nocturnal Rites.
Mesmerize, the italian band which entered the Heavy Metal scene in 1998 with the debut-CD "Tales Of Wonder", have recently signed a new record deal with the italian label Dragonheart/Audioglobe (the same label of Domine and Drakkar, amongst others) for a total of 3 albums. The recording of "Off The Beaten Path" (the first CD for the new label) will start in late April 2001 at Mirage Recording Studios (Inverigo, Como-Italy); the Cd will be released in Autumn 2001. The tracklist includes 12 songs, and here's some titles: "Argos Died Twice", "Jail TV", "Warriors (When The Battle Calls)", "King Of Terror", "Off The Beaten Path", "Doom Of The Darksword", "Pit Of Charming Snakes", "Gates Of Mercy". During the next months they´ll release a new double-mini-CD (in deluxe digipack format with a miniposter too, just like the debut CD). This release, titled "Vultures Paradise" and recorded in May 2000, will end up the deal with the band's former label Underground Symphony. Giving some details, "Vultures Paradise" will include on Cd-1 four new Mesmerize tracks ("Vultures Paradise", "The Cube", "Screams Of A Dying World" & "Chains Of Life"). On Cd-2 there will be a bunch of cover tunes: "Sirens" by Savatage, "Die Young" by Black Sabbath, "D'Ailleurs" by Sortilege (sung in french) & "Tierra Santa" by Tierra Santa (both in spanish and english). More news coming soon...
Now it´s confirmed. Eduardo Falaschi from Symbols is Angra´s new singer. Although they have booked some gigs they have yet to announce who their bass player will be. Fabio Ribeiro, from the "Fireworks Tour", will be on keyboards. Their new drummer is, as said before, Aquiles Priester. The new Angra sound is said to be much heavier and less keyboard oriented.
Frank the Baron von Gilchriest is not on tour with Virgin Steele, but the band has not broken ways with the Baron. The schedule provided him with some conflicts which made him unable to commit to the tour for its duration...the door is, as they say, open for his return. Pounding the skins in his stead is Frank Zummo. The name may sound familiar to some of you as he has been a guest player on previous records. And on bass, they have a blistering six-string player, Josh Block.
Rolf Kasparek is in the preparation phase of the new Running Wild album (which will appear presumably at the beggining of 2002). Bodo is no longer the bassist for the band, Rolf had to make that decision because the predominant majority of the Running Wild apparatus (management, concert agency & roadcrew) is unable to see a further successful work together with Bodo. He has played over eight years with the band and, only to the next tour, another bassist will be obligated.
The working title for the next Kamelot album will be "Karma". These are the songs that are complete: "Forever", "Once And Future King", "Karma", "Across The Highlands", "Fate" & Elizabeth Trilogy: "Mirror Mirror", "Requiem For The Innocent", "Fall From Grace". There are four more songs and the cover artwork is almost finished. The band will also be playing at Rock Machina in Spain and the german festival Bang Your Head. Furthermore, they´re preparing a world tour with some great bands as support.
Zonata has completed "Reality" a few weeks ago. This album is much more direct, with killer production and with massive vocals from Johannes Nyberg. The legendary Derek Riggs is doing the cover for it. The band has a new date for release in Europe, 19th of March and they have no date in Japan yet but it´s coming. The track listing is as follows: "Reality", "Divided We Stand", "Illusion Of Madness", "Hollow Rain", "Symphony Of The Night", "Forever", "Wheel Of Life", "Dimension To Freedom", "Evil Mind", "Life?" & "Intro + Gate Of Fear" (new recorded 2000), instrumental bonus tracks will be added for the Japan release.
Guitarist Kevin Lewis has decided to leave October 31. The band will continue on as a four piece until they find a suitable replacement. Their new album will be titled "No Survivors" and is expected to see the light in summer.
Gamma Ray will release a 3 track single in March, featuring a cover of Thin Lizzy´s "Angel Of Death". They expect to release the new album in May/June 2001.
The swedish Wolf have finished touring with Edguy and they are currently writing new material for their next album. The CD will probably be released in summer 2001, with a previous single coming late February.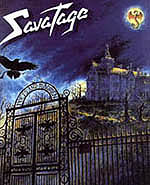 The release dates for the new single and album of Savatage have been confirmed. The three track single "Commissar" will be available on February 5th 2001. Besides the brand new songs "Commissar" & "Drive" it contains the acoustic instrumental "Voyage" (originally on the Japanese compilation "The Best And The Rest"). Their new studio album "Poets & Madmen" will finally be available in stores on March 5th 2001. There will possibly be three different formats: The normal CD, a 2 LP version with picture vinyl produced in limited form and maybe a limited edition in a special packaging with the bonus track "Stay" (this is not confirmed and this song can finally be on the normal CD). These are only european issues, no word has been said on the american release yet.
Edguy have been hard at work in their rehearsal room writing new material, and so far nearly 12 songs have been written. Very soon the band will go into the studio to begin recording, and you can expect the new full length album sometime in the fall of this year. Besides, all the old Edguy demos will be made available soon!
Destiny´s End will release their forthcoming album "Transition" on March 6th (in the U.S.). Some of the new tracks are available on their homepage. Besides, the band will be playing at several big festivals this year (ProgPower, Classic Metal...).
Gary Holtzman and Jon Noble are no longer part of Jacobs Dream. The band wish them all the luck in all their pursuits. The recording of the new CD is still going great though, it will be finished soon.
Heavenly´s entrance in studio is planned for February 2001 and the new album is likely to be released in May or June of this year, as we announced before. Seven songs are already done, in a more personal style. The band is also thinking of doing a " non-metal " famous band's cover. This new album could be produced by the band itself and mixed by Tommy Hansen.
Brainstorm have started with the pre-production of the new CD. They're working on the new songs in their own little studio. If all goes as planned it will be released in September 2001.
Powergod already started working on new material. This time they will deliver an album with 80's metal classics. Release will be in April/May 2001.
Thom Youngblood is in Germany finishing up the next album of his band Kamelot. The CD has 12 songs, including a 10 minute track broken up into three separate songs, closing the album. It is untitled yet.
"Plenty Of Power", the new album of the veteran band Anvil, will be out next January 22th. The track list is as follows: "Plenty Of Power", "Groove Science", "Ball Of Fire", "The Creep", "Computer Drone", "Beat The Law", "Pro Wrestling", "Siren Of The Sea", "Disgruntled", "Real Metal" & "Dirty Dorothy" (Bonus Track). Soon we´ll post our review (in the spanish version first).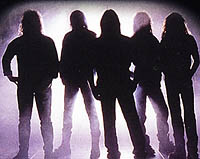 The Europe tour of Helloween has been postponed, and that means the dates in Spain too. Uli Kusch was told by the doctor to take three or four weeks off from playing as he had some trouble with his right elbow due to playing stress. However the asian tourdates will be played as scheduled. The European tour will be reschedule soon. When we get the new dates we´ll post them here.
The english folk Metal band Skyclad will not play together with Mägo de Oz (Spain) at their concerts in La Riviera (Madrid). It has been said that vocalist Martin Walkyer has left the band. We still don´t know who will be the new supporters for these shows, which are three now (see our agenda, in the spanish version). We´ll try to bring you more news about this.
John Allan from Steel Attack has told us that the band is looking forward to the release of the new album "Fall Into Madness", just the mastering left then around 23-25 this month he will get the cover paint from JP Fournier. As soon as we get the songs titles we´ll let you know...
It has been confirmed that Grave Digger will be playing at Piorno Rock Festival in Pinos Puente (Granada) next February. Chris Boltendahl´s band will be there instead of Kreator, that was announced before. You can find more info about this festival in our concerts section.
Dan has after five years together with Evergrey decided, due to personal reasons, to leave the band. A replacement has been found in Henric Danhage who will participate on the new album and will play his first gig with Evergrey on February the 8th. The guys are currently writing new material for their upcoming album which is set to be recorded in January-March 2001 and will probably see its release in April/May. The studio is as always Los Angered recordings together with mentor Andy La Rocque.
The new project of Testament´s guitarist Erik Peterson goes under the name Dragonlord. It features Steve DiGiorgio, Jon Allen, Steve Smyth and Lyle Livingston and they have got a deal with Spitfire Records.
Things are getting quite confused around Angra. Eduardo Falaschi, lead singer from Symbols, has said that he has never made any imposition or condition to any Angra member. That's all lies. He said that those informations are made from people that wants to destroy his image. He said that there isn't any Bola Jones stuff and no big label around it like it was said. It's possible for him to work with other musical projects, but his only band is Symbols, totally Heavy Metal. His brother Tito and Rodrigo Arjonas both has left Symbols, that´s true, and Eduardo is still testing with Angra. That´s all (by now...).
Jag Panzer guitarist Mark Briody has revealed the band will begin recording the follow-up to "Thane To The Throne" on February. They hope to finish the album, which won't be conceptual like "Thane..." and will be faster than it, by mid March. They're shooting for a June release, with tour plans hopefully including Wacken 2001 and a September or October run.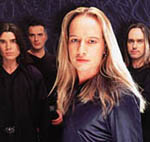 The excelent Hard Rockers Pink Cream 69 will start recording their new album in spring. This new CD will be released probably in the fall. No title has been announced yet.
Former Crimson Glory frontman Midnight is back, after nearly ten years of silence one of the best voices of Heavy Metal is preparing his comeback under the name of Midnight. But that's not all, he has recently been approached by Rhapsody's guitarist Luca Turilli in Florida to work in a possible side project. Midnight is also talking again with Crimson Glory's guitarist Jon Drenning, as they have in mind working together in a "project", still undisclosed, that will not include Crimson Glory material.
Portuguese metal legends Tarantula will have a tribute album made by portuguese metal groups like Oratory, In Solitude, The Fire and Attick Demons, that will feature this record to the oldest portuguese Heavy Metal band alive in their 20th anniversary celebration. The release date is schedule for October 2001.
Grave Digger´s new guitar player is Manni Schmidt (ex Rage). In the next few weeks they´ll get an e-mail address for Manni and then he will be able to answer all the questions from the fans of the Digger. In January they will start composing songs for the new record and the band is also confirmed for the Sweden Rock Festival in June 2001.
Sacred Steel are preparing their fourth album, which is probably going to be recorded in Summer 2001. Two songs called "Sacred Bloody Steel" and "Slaughter Prophecy" are already finished. Century Media's Uriah Heep tribute album featuring Sacred Steel's version of "Return To Fantasy" has been delayed until some time in 2001.
A new edition of the Bang Your Head Festival will be celebrated next 29 & 30 of June in Balingen (Germany). Take a look at the list of bands: Stratovarius, Brainstorm, Axel Rudi Pell, Kreator, Armored Saint, Eidolon, Kamelot, Anvil, Helstar...
The spanish band Tierra Santa will release a video tape next March, including shots of their last european tour with Skyclad as well as live performances in different festivals (Rock Machina...). They´re currently recording some new songs, which will probably be released also in March 2001.
The 2-track single "Always Will Be" by Hammerfall, previously released in Sweden last November 27th, will be out in January 2001, this time as a 3-track single, in the rest of Europe. With the "Renegade" single and album they got a lot of attention in Sweden, both on radio and TV, so they surely expect the same with the "Always Will Be" single and video clip. Don´t miss the chance of seeing the band live in their World Crusade Tour, together with Virgin Steele and Freedom Call.
Ex- Judas Priest singer Rob Halford, Iron Maiden singer Bruce Dickinson and Geoff Tate (Queensrÿche) will stick together under the name The Three Tremors; an album release is announced for next summer.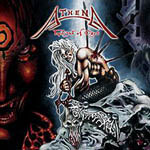 The italian band Athena will release their new album "Twilight Of Days" next January 22th 2001, now without Fabio Lione and this new line up: Francesco Neretti-Vocals, Graziano Poggetti-Guitar, Simone Pellegrini-Guitar, Fabio Doveri-Bass, Gabriele Guidi-Keyboards and Ross Lukather-Drums. The definitive track list is the following: "Twilight Of Days", "Till The End", "The Way To Heaven's Gates", "Hymn", "Your Fear", "Falling Ghosts", "The Highest Tide", "Touch My Heart", "Lord Of Evil", "Take My Life Away", "End Of A Life" and the Bonus Track "Making The History".
More rumours around Angra: It seems they have found a new drummer, Aquiles Priester (Hangar, Nomad) and probably Eduardo Falaschi and his brother Tito wouldn´t get in the new line-up, due to their new "look" and their side project, a brasilian Pop band. Besides, the replacement for André Matos could be a known european vocalist. At the moment they´re searching for a brazilian bass player. We´ll keep on informing...
October 31 will record their new album, "No Survivors", in early 2001, most likely with producer King Fowley, once again. The CD will continue in the old school metal attack tradition the band is now known for with even more energy. Some new titles are "Powerhouse", "One More Second Chance", "A Heroes Welcome", "The Temptress", and a cover of Riot's classic "Loan Shark".
Next January 2001, and to celebrate the first anniversary of Heavy Weight, we´re going to organize a big contest as an acknowledgement to all our visitors. Stay tuned ´cause soon we´ll inform you about the prizes you can get and the way to gain them.
At Vance have a new official homepage since last November 21th. It´s still under construction but, if you go there, you can download two tracks from their new album, "Dragonchaser" and "Heaven Can Wait".
Grave Digger and guitar player Uwe Lulis split up last week in a friendly way. Uwe will go his own way in the Metal scene and will form a solo project untitled in the moment. The band is looking for a new guitar player and expect to release the new record in fall 2001.

Jürgen Steinmetz, Headstone Epitaph´s bassist, has left the band to join Silent Force. Jürgen has recorded with the group their two records for Noise, "Wings Of Eternity" (´98) and "Power Games" (´99), and he´s a well known musician in the german scene.
Stormhammer are recording their second CD, which will be released hopefully in spring 2001, and maybe they play a concert in the end of December in Rockfabrik (Nurenberg). Also the official Stormhammer fanclub has been founded, if you want to join mail to fanclub@stormhammer.de.
Iced Earth are planning to release their rare "Melancholy" EP in Europe. Originally released as a five-track EP in the USA a couple of years ago, the new european version features the following seven songs: "Melancholy", "Shooting Star" (Bad Company cover), "Watching Over Me", "Electric Funeral" (Black Sabbath cover), "I Died For You", "The Ripper" (Judas Priest cover) and the live version of "Colours" that wasn´t previously released in their "Alive In Athens" live album. The band are currently working on their next studio CD, "Horror Show", expected to be out next spring.
Savatage is officially announcing the departure of Zachary Stevens as lead singer of the group. Zak has decided to pursue other career options and has also expressed his desire to spend time with his family and new daughter. As for Savatage upcoming CD "Poets and Madmen", Jon Oliva has resumed his role as the sole lead singer for this new CD. For right now there´s no replacement for Zak and the band is looking at several options. Things are expected to be O.K. before the tour starts in February.
Awesome new tribute to Scorpions, here you have the track-list: Helloween- "He´s A Woman, She´s A Man", Stratovarius- "Blackout", Sinergy- "Rock You like A Hurricane", Sonata Arctica- "Still Loving You", Steel Prophet- "Top Of The Bill", Metalium- "Another Piece Of Meat", Seven Witches- "Alien Nation", Paradox- "Dynamite", Children Of Bodom- "Don´t Stop At The Top", Agent Steel- "Dark Lady", Prolopower- "Dampflockfuhrer", Tankard- "Coming Home", Disbelief- "Coast To Coast", To/Die/For- "Passion Rules The Game", Breaker- "Pictured Life", Therion- "Polar Nights", Rough Silk- "Is There Anybody There", Custard- "Send Me An Angel" and S.O.D.- "Rock You Like A Hurricane".
Bassist Mike Dargis has quit Imagika after seven years working together. The band is currently auditioning bassists to find a good replacement.
The singer of Crimson Glory, Wade Black, has left the band to join Seven Witches and Bobby Lucas (ex-Witches vocalist) has joined Overlorde who have recently reformed.
Brainstorm will be playing at Wacken and Gods Of Metal 2001.
Blind Guardian started the recordings for their long awaited new album last October, with producer Charlie Bauerfeind (Helloween, Brainstorm...). It will surely be out on next spring.
Primal Fear started the recordings of their new album "Nuclear Fire" last July and, is expected to be released in January 2001. This is the track list: "Angel In Black", "Fire On The Horizon", "Red Rain", "Living For Metal", "Iron Hand In A Velvet Glove", "Eye Of An Eagle", "Bleed For Me", "Kiss Of Death", "Now Or Never", "Back From Hell", "Fight The Fire" and the title song "Nuclear Fire".
Dionysus is a new band from Sweden with former members of Sinergy, Nation and Luca Turilli's solo album. Currently the band is looking for a deal. We wish them good luck, they deserve it.
The new record of the spanish band Dark Moor, "The Hall Of The Olden Dreams", will be out later this year all over Europe. It has been recorded in Italy and its cover is made by the great artist Andreas Marschall who, as you know, has made very good works for bands like Hammerfall, Blind Guardian...
The australian Pegazus have found a new singer. The replacement for Danny Cecati is called Rob Thompson. His voice is rougher than Danny´s; we just want to hear the band again. Now you can be sure they will record a new album soon.
Morifade are going to start recording their new CD in February or March 2001, to be released next summer.
The new album of Freedom Call , "Crystal Empire", is expected to be released in January 2001.
The 7th of November will be the date for the release of the new Yngwie J. Malmsteen album called "War To End All Wars". It has been produced by Yngwie and features vocalist Mark Boals, keyboards player Mats Olausson and drummer John Macaluso. The definitive track list is this: "Prophet Of Doom", "Crucify", "Bad Reputation", "Catch 22", "Masquerade", "Arpeggios from Hell", "Miracle Of Life", "The Wizard", "Prelude", "Wild One", "Tarot", "InstruMental Institution", "War To End All Wars" and "Black Sheep Of The Family".
Andy B. Franck (vocalist for Symphorce and Brainstorm) broke his collar bone while he was going for a ride on his brand new mountain bike, the front brake locked and he crashed. But don´t worry, he´s O.K.. He´s not plannig to cancel the Brainstorm tour. We wish you get well soon Andy!.
Rhapsody has finished recording their new album, "Dawn of Victory". It´s scheduled for an October 30th released in Europe and probably USA. The band will released the single "Holy Thunder Force" on September 25th.
Metalium is going to do an EP, with 4 or 5 songs off "State Of Triumph", backed with an orchestra and hope to have a new studio record by October 2001.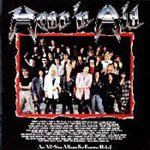 Ronnie James Dio is preparing the second "Hear´n Aid" project. The recordings will start in December, and again with many well known Metal musicians participating. One of the guests could be Mat Sinner.
Iron Savior has added a new guitarist, Joachim "Piesel" Kustner, a former Gamma Ray tech.
Imagika, Bay Area thrashers, have signed a deal with Massacre Records. Their third album, titled "...And So It Burns" will be released on September 25th.
According to John Allan, guitarist of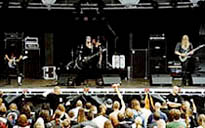 Steel Attack: "We will enter studio Fredman for the final mix the 20 November then you can expect the release soon, we hope". The band was playing last August at the Wacken Open Air, obtaining a great response from the audience. Here you have them in action.
Saxon have released a live album on 4/9/2000 called 'Live - In The Raw'. Recorded in Antwerp, Belgium in 1981 during their mammoth 'Strong Arm Of The Law' tour, it features the definitive line up of Graham Oliver, Steve Dawson, Pete Gill, Paul Quinn and Biff Byford. Some songs included: Hungry Years, Strong Arm Of The Law, Wheels Of Steel...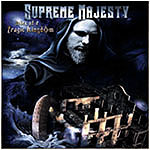 The new album of Supreme Majesty, titled "Tales Of A Tragic Kingdom", will be out next autumn. Until then, here you have its cover. Cool, right?.
The release of "Insanity" of Backslash has delayed till 4 September. Cross your fingers...
"The Dark Ride", the new Helloween album, will be released the next 30 October. The first single "If I Could Fly" will be out the 4th of September. These dates are only for Europe.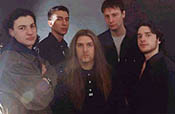 The debut CD of the italian power-prog band IVORY, titled "Prophecy of a dream", will be out in october for Underground Symphony prod. special guests Roby Bruccoleri from Projecto on vocals (on every songs) and Olaf Thorsen from Labyrinth and Vision Divine (on an istrumental track). http://ivoryattitude.supereva.it for contacts and underground.symphony@tiscalinet.it for preorder/mailorder .
The new Backslash CD, "Insanity", will be out on August. They are a german Heavy Metal band with female singer. This is their second album and till now they have gotten very good reviews from all Europe.
After some problems with Randy Rampage, Annihilator has a new singer, Joe Comeau (Liege Lord). He was playing the guitar in Overkill some years ago. We wish them good luck with this new line-up.
In the spring of 2001 will be out the first album of Michael Kiske and his new band. It will be heavier than his last records.
Jacobs Dream will start to record their new album next November. They have finished some of the songs ("Theater Of War"...).
"Avantasia", the famous rock opera of Tobias Sammet (Edguy), will be finally out in November, first as a MX.
Powergod, have already released their second album "Back to Attack-Evilution Part 2". They have a new singer (Alex Koch) that was playing with the band in WOA 99.
The recording sessions of Wolf new, yet untitled album took place during 11/6-15/7 at the Abyss studio with Peter Tagtgren as a producer. The band have recorded nine songs including a cover of Mercyful Fate's "A Dangerous Meeting". The reason for the cover was because it has been a part of their live-set for a long time and had become very special for them. The song itself also works as a great statement for the Heavy Metal genre and what the true spirit of Heavy Metal was from the beginning, in the early eighties. It also represents the direction Wolf´s music has taken from where they originally have been inspired from, when the Heavy Metal scene was still developing. Unfortunately, Wolf have still not decided all the titles for their new album, but for the moment some songs are called: "Witch Finder", "Venom", "Genocide", "I am the Devil" and "Unholy Night".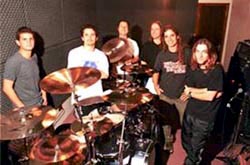 Renowned producer Dennis Ward coordinated the pre-production of the new tracks for the upcoming album of Angra in Brazil in the beginning of June. The group will record a total of 15 original tunes plus a couple of surprising covers. Angra is presently in House of Audios Studios in Karlsdorf, Germany, recording. The worldwide release of the yet untitled album is tentatively scheduled for October 20. Extensive touring and various promo activities are being confirmed at this time.
Russell Allen from Symphony X has confirmed he will be working on a side project with Helloween guitarist Roland Grapow and drummer Uli Kusch. Their plans are to finish an album before the end of the year. In related news, Symphony X will play Rock Machina festival in Spain next July 27th.
Freternia have decided to split up. Tomas Wäppling, Tommie Johansson and Stefan (which means drums, keys & guitars) have a new project. Tomas will do the lead singing until they find a good shouter. They don´t have a name for the project yet, but they have a new website at http://user.tninet.se/~cin533g. The music is said to be very technical even a little brutal like In Flames but with regular vocals.
In brief: The first single from Edguy forthcoming album "Mandrake" will be "Painting On The Wall". The five track single is due out August 27th and the album, September 24th... Mike Sachs and Pete Ryan have left Beholder. The new members are keyboards player Mark Vikar and the drummer Thyus Onil... The recordings of Edenbridge's new album, entitled "Arcana" will start in July. The mix is planned for August and the release is scheduled for November.
Lars Ratz from Metalium just came back from Madrid (Spain) where he started editing the upcoming Metalium video, did some interviews at different locations in Madrid and told some funny anecdotes from the road. It will be released end of September, including a full Live-CD with 12 or 13 tracks (recorded last tour in Strassbourg, France) and a full colour Metalium Comic done by their beloved Markus Mayer. This is the first time on this planet a band was offering such a huge package for a normal price!
Argentine´s Power Metal act Azeroth are finishing the composition and arrangements for their second album, which will be recorded during September 2001. The album will be mixed in Europe once again, and will feature a very special guest: Hansi Kürsch (Blind Guardian), who will take control of the choruses´ arrangements and will also sing on them. The band has finished the recordings of the song "Rompe el Hechizo", to be included in a tribute album to Rata Blanca and it´s being mixed in Europe by the prestigious producer Piet Sielck (Iron Savior). They are also confirmed for a new tribute to Judas Priest, which will be released through Nems Enterprises and will include some important argentine and spanish bands (Barón Rojo, Avalanch, Tierra Santa). Azeroth will do a cover of "Diamonds & Rust" (from "Sin After Sin").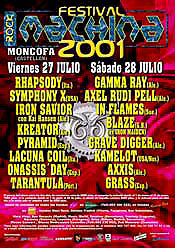 Latest news around Spain´s Rock Machina Festival 2001, these are the confirmed bands so far: Friday July 27th- TYR, Uzzhuaia, Tarantula, Grass, Lacuna Coil, Pyramid, Kreator, Iron Savior (+ Kai Hansen), Symphony X & Rhapsody. Saturday July 28th- User Ne, Dragon Lord, Onassis' Day, Axxis, Kamelot, Blaze (ex-Iron Maiden), Grave Digger, In Flames, Axel Rudi Pell & Gamma Ray. Soon we´ll give you the time table for both days. Meanwhile, you can find more information about this great event just going to the official homepage of the festival at www.rockmachina.com
Guitarist Alfred Koffler from Pink Cream 69 is suffering Carpal Tunnel Syndrome in his left hand. Although he has finished his parts on the band's forthcoming album, they have had to cancel their appearance at the August 16th Bottom Row Promotion Festival at the Live Music Hall in Cologne, Germany. Now he is considering surgery on his hand.
Bernd Aufermann, guitarist of Germany´s Angel Dust, isn't any longer a member of the band. His successor at least for the US-tour is Demons & Wizards guitar player Ritchie Wilkinson. Maybe now Bernd can dedicate more time to his project Shining...
The song titles for the new Steel Attack album are: "Fall Into Madness", "The Beast", "Guardians", "Holy Swordsmen", "Judgement Day", "Wings Of Faith", "Clearing The Mind", "Fireballs", "Defender Of The Crown" & the instrumental bonus track "Zeelion". Remember, the name of the album is "Fall Into Madness" and the release date, June 25th.
Allan Sorensen (ex-Royal Hunt/Narita) is the new drummer in Prime Time. Allan is the replacement for Flemming Olsen and is no stranger to the band, since he played the drums on the first album, "The Unknown". He also appeared on the debut album of Steen Mogensen's (Royal Hunt bassist) side project Cornerstone and he's going to finish the recordings of their new album as well. The fourth Prime Time album will be out at the end of 2001.
Drummer Ray Hartmann has left Annihilator and now he´s planning to do another speed album with the ex-Annihilator singer Aaron Randall. Besides, Randy Black will return and fill Hartmann place. Black is currently working with ex-Grave Digger guitarist Uwe Lulis in his new project.
Power/Speed band Black Abyss from Germany wil be entering House Of Music Studios with producer Achim Köhler (Primal Fear, Brainstorm...) in August to record their new album, the follow-up to their successful "Land of Darkness" release.
Finnish Power metallers Sonata Arctica have confirmed the track listing for their upcoming second album "Silence". It´s as follows: "...Of Silence", "Weballergy", "False News Travel Fast", "The End of This Chapter", "Black Sheep", "Land of the Free", "Last Drop Falls", "San Sebastián" (revisited), "Sing In Silence", "Revontulet" (instrumental), "Tallulah", "Wolf & Raven", "The Power of One". The single "Wolf & Raven" will contain an additional track entitled "Peacemaker". The album will be issued in Japan on June 21st with the bonus track "Respect the Wilderness". The band is planning on touring in Europe and Japan during the fall.
The second CD of Germany´s Stormhammer, titled "Full Moon Desert", is finally done. A sample is available on their official webpage.

Guitarist Axel Rudi Pell is currently working on ideas for the next studio album which will be recorded in late Autumn/Winter this year. It won't be out before March 2002 though. In related news, the band will be playing a short "relaxing show" after festivals at the Kulturfabrik in Krefeld, Germany on July 1st.
Onward have completed the songwriting process for their second CD, "Reawakening", and will enter the studio to start recording next fall. The band will be performing material from their debut album, "Evermoving", on Saturday, May 19th at J.D.'s Nightclub in Billings, Montana.
Gamma Ray´s upcoming studio album will be titled "No World Order", and it will be out in Europe through Metal-Is Records on Monday, September 10th.
Steel Prophet have recently finished the recording of a song for a forthcoming Saxon tribute CD, and are now planning a release party at the end of May/early June for their album "Book Of The Dead", which will be released through Nuclear Blast Records in the US on May 15th.
Squealer have already finished the songwriting for their new album and started recording the new tracks. The plan is to release this new effort on August 27th. As usual they´re going to mix great hook lines and choirs with their typical thrashy guitar riffs and the main sound ia said to be a little drier and harder than on the previous record but without changing the well known style of the german band.
Now it's official, Morifade have signed a contract with Hammerheart Records in The Netherlands. The contract is fixed to 2 years and includes the recording of at least 2 fullength albums. The guys have the material for the 1st fullength album right now and it will be titled "Imaginarium". More info about the tracks will come soon. The recording will take place in "Los Angered Recording" with Andy LaRocque as producer. The date of recording is July 16th.
Angel Dust will be reissuing their 1998 album, "Border Of Reality", on June 12th. It now includes two bonus tracks, an Uriah Heep cover and a previously unreleased song from the "Enlighten The Darkness" sessions.
Iced Earth are looking for a bassist to complete the band´s line-up, due to Steve DiGiorgio's inability to join the band on tour, which was apparently one of the stipulations for the bassist becoming a member of Iced Earth. In the months before an anticipated Fall tour the band will enter the studio to record a covers CD, including songs from AC/DC, Judas Priest, Black Sabbath, Kiss and Iron Maiden for a multi-disc box set commemorating the history of the band. The package will include Jim Morris remixes of the first three CDs, with redone artwork, liner notes and period photos, as well as the "Enter The Realm" demo pressed on CD. After the release of the new album "Horror Show" (pushed now to June 25th) their contract with Century Media runs out, so they´re actually in serious negotiations with Sanctuary Records but nothing is definite yet as they´re open to any other offers.
Jack Starr (Virgin Steele, Burning Starr) is back with a new band under the name Jack Starr And The Guardians Of The Flame. The band made their live debut last April at the Metal Meltdown festival in New Jersey.
Royal Hunt´s forthcoming studio album is tentativily entitled "The Mission" and set for an August release. It is a concept CD based entirely on Ray Bradbury's novel "The Martian Chronicles".
Former Yngwie J. Malmsteen vocalist Mark Boals has finally accepted Yngwie´s invitation to join to his upcoming japanese and european tours in the place of the recently departed Jorn Lande.
Rolf Munkes debut album "No More Obscurity" is out now by Lion Music. On the CD are guest musicians like Anders Johansson (ex-Malmsteen/Hammerfall) and Lance King (Balance of Power). Now he is working on his new CD with musicians like Lance King, Mark Boals, Anders Johansson and Neil Murray on bass. And he is also the guitarist of the metal band Vanize. You can go to his official homepage for more info.
Vocalist Stephen Fredrick, primarily known for his work on the Kenziner Cds, is in preproduction with guitarist Gus G. for a new Melodic Power Metal recording to take place over the summer. The music could be described as great vocals, great guitars and great compositions. Can´t wait for that...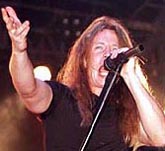 Vocalist Timo Kotipelto from Stratovarius is working on his debut solo album, which is tentatively due to be released in early 2002. As-yet-untitled, the album will feature a host of guest appearances from some of metal's top musicians, including the following: Mike Romeo (guitars, Symphony X), Roland Grapow (guitars, Helloween), Arjen Lucassen (guitars, Ayreon), Sami Virtanen (guitars, Joe Doakes), Jari Kainulainen (bass, Stratovarius), Mirka Rantanen (drums, Tunnel Vision), Gas (drums, H.I.M.), Janne Warman (keyboards, Children Of Bodom) and Mikko Harkin (keyboards, Sonata Arctica). In related news, Stratovarius have announced that they will be taking part in four European festivals this summer, the dates are: June 28-Roskilde Festival (DEN), June 30-Bang Your Head Festival (GER), July 07-Ruisrock Festival (FIN) and July 13-Tuska Metal Festival (FIN).
Chitty Somapala, frontman for Avalon has joined forces with Ivanhoe and the guitarist Lou St.Paul of Wintersbane in a new band called The Silhouette. At the moment they´re working on some songs. In a side note, Avalon are planning to do "The Best Of Avalon" album to celebrate their 10 years, and 3 new songs will be included.
All songs for the new Brainstorm album (working title "Metus Mortis") are ready and after the King Diamond shows the band will go into the studio again, so early May until the end of June. Like the last time, most of it will be recorded at the House Of Music near Stuttgart as well as in their own rehearsal room/studio. There are plans to get a studio-update online every couple of days on their official homepage. The Cd will be released within 2001 and the year after that guitarist Torsten Ihlenfeld will have time for his solo project Beyond Pain, because in 2002 Brainstorm will not release an album. Todde will do most of the instruments by himself (even vocals) and it will be heavier than Brainstorm, he already has some songs ready that were too heavy for the band. His crunchy guitar style and his powerful voice...a good combination, I think!
Original Vicious Rumors members bassist Dave Starr and drummer Larry Howe have reunited for the first time since year 1993 to compose material for the upcoming Chastain album, featuring guitarist David T. Chastain and Larry's wife Kate French on vocals.
After Loud n´Proud bankrupt Morifade are in serious negiciations with Hammerheart Records and Freternia are still looking for a label, they´ve been sending a demo and their last record to several companies and some of them have interest in the band so they are awaiting an answer in a near future...

Next metallic releases: Lions Share "Entrance"-23 April, Kamelot "Karma"-30 April, Wizard "Head Of The Deceiver"-21 May, Jacobs Dream "Theater Of War"-28 May, Jag Panzer "Mechanized Warfare"-16 June, Steel Attack "Fall Into Madness"-25 June, Supreme Majesty "Tales Of A Tragic Kingdom"-25 June, Nostradameus "Prophet Of Evil"-20 August.
Jorn Lande was involved in a dispute backstage before the show of Yngwie Malmsteen in Cleveland, Ohio, on Sunday April 8. The dispute elevated to a point which prompted security personnel to call in the local police. Being a close friend of Lande's, drummer John Macaluso felt a loyalty to Jorn and has also left the band. This sudden unexpected departure of both the singer and drummer forces Yngwie to cancel his shows from April 10 to April 16. As you may know Jorn entered the band to perform live with Yngwie after the departure of Mark Boals, who is now concentrated on his solo career. Nothing is confirmed at this time, but the top two prospects to join Yngwie on the road are Barriemore Barlow on drums and Jeff Scott Soto on vocals. If this is confirmed, it will be great for Yngwie fans as they are both members of the original Rising Force line up. Jeff Scott Soto is usually considered the number one Yngwie singer of all time and Barlow was the drummer on Yngwie's first solo album. The plan is to carry out a 4-5 day intensive rehearsal and be back on the road Tuesday, April 17 to perform at the Pageant in St Louis. More information on this when it becomes available.
Drummer Stefan Schwarzmann (Running Wild, Accept) has joined the German band Voice. AFM Records will release the band's new album, "Golden Signs", on June 18th.
Tierra Santa will enter Sonido XXI Studios in Navarra (Spain) on August 11th to start recording their new album, which title will be "Sangre de Reyes".
At the end of April The Storyteller will enter Studio Fredman to record their second album, which will be released in September. The album will probably be titled "Crossroad", and it will contain at least 12 tracks. A few gigs are also scheduled: April 20: Bryggeriet, Motala (Official warmup party before Motala Metal Festival #4), May 25: MetalFight 2001, Örnsköldsvik (with Insania & Eternia), July 20-21: DIST 2001 Festival, Forshaga (with In Flames, Primal Fear + others).
Brimstone Productions, an american independent motion picture company specialized in horror and science fiction movies, will use music from the first Mesmerize album for their two forthcoming films called "Blood Of The Werewolf" and "Bite: The Werewolf Chronicles". In particular, the song "The Werewolf" will be featured during the titles sequences of one of the movies. Besides, this year we'll see the release of other three new Tribute-CDs which will include cover tracks performed by Mesmerize (recorded in 2000): Warlord (the song is "Winter Tears"), Trust ("Préfabriqués") and Metal Church ("The Powers That Be"). Their official site The Page Of Wonder has been completely renewed.
The forthcoming album of Sonata Arctica will be entitled as "Silence". Official release date for the album is July 15th. The new single should be available (at least in Finland) next April 23rd. No title for tracks have been announced yet.
"Nostradamus", a Rock Opera about the great french prophet Michel de Nostredame, will be released on May 21st in Europe. It is composed by the guitarist & leader of Brazen Abbot, Nikolo Kotzev, and will be out as a double CD, containing more than 100 minutes of music. A 35 piece symphonic orchestra is featured along with a Hard Rock band and the following singers: Goran Edman (Glory, ex-Yngwie Malmsteen), Glenn Hughes (ex-Deep Purple/Black Sabbath), Jorn Lande (Yngwie Malmsteen, Ark, Millennium), Joe Lynn Turner (ex-Rainbow/Yngwie Malmsteen), Doogie White (ex-Rainbow), Alannah Myles & Sass Jordan. This is the tracklist: CD 1-Act I "Overture" (Instrumental), "Pieces Of A Dream", "Desecration", "Introduction", "Home Again"(Instrumental), "Henriette", "Caught Up In A Rush", "The Eagle", "Plague", "Inquisition". Act II "The King Will Die", "I Don't Believe" & "Try To Live again". CD 2 "War Of Religions", "The Inquisitor's Rage", "Chosen Man", Act III "World War II", "World War III", "Because Of You", "The End Of The World" & "I'll Remember You". The release date for Japan will be April 5th, while the American details are still being worked out.

Steel Attack´s new album, named "Fall Into Madness", will be released in May-June 2001. Besides they have a new singer in the band, his name is Dick Johnson. Steve (former singer) will still do background and play the bass.
Quick and bad news: The guitar tech of Lizzy Borden was shot after a recent show in Charlotte, North Carolina, but the tour continues, and he is currently recovering in the hospital (in related news, the band is currently touring the US opening for Yngwie Malmsteen)...Kamelot vocalist Roy Khan was involved in a serious car crash last week, but luckily he managed to escape unscathed (however his car is just "a wreck" now)...Guitarist Mario D. Parrillo II (best known for his work with Doro Pesch) has passed away. A benefit in his honour will be held on Sunday, April 8th in Philadelphia. There will be playing bands such as Animal House, Vicious Circle...
Armored Saint will issue a rarities CD through Metal Blade Records (european branch) on June 11th. The title of the CD is "Nod To The Old School" and the first edition will be a double-CD limited to 10.000 copies. When that one is sold out there will be the normal Cd version, with less tracks and video-clips. The full track listing to the european limited edition of the CD is this: New songs "Swagger" & "Unstable", "Day Of The Eagle" (Robin Trower cover), "Never Satisfied" (Judas Priest cover), "March Of The Saint" (2001 version), "Creepy Feelings" & "After Me The Flood" (live), "Tainted Past" (acoustic version), the original EP versions of "Lesson Well Learned", "False Alarm" & "On The Way", "Stricken By Fate" (from EP sessions), "Reign Of Fire" (1989 studio demo, with Dave Prichard), the songs from the 1989 demo "People", "Pirates", "Midieval Nightmares", "Nothing Between The Ears" & "Get Lost"; CD Rom files: 2 Live Videos from the Whiskey 2000, and 2 videos, "Reign Of Fire" & "Last Train Home".
Chuck Billy from Testament has been recently diagnosed with cancer. Fortunately the doctors have caught it in the earliest stages, and Chuck is very healthy and strong, so the prognosis is excellent. A special section will be set up in the message board of their official homepage where all the fans can send their get-well wishes to Chuck. The band also want to let their fans know that work on the upcoming projects will still go on as planned. Heavy Weight best wishes go to Chuck, his friends and family!
The guitarist Jesper Stromblad from the swedish band In Flames and the singer Ville Laihiala from the finnish Sentenced have formed a new band, with no name at the moment. They are right now writing the material for an album that should de recorded sometime this year and hopefully released in the beginning of 2002.
New release date for the new album of Insania, "Sunrise In Riverland", May 21, 2001 (Europe).
We have the track list for Insania´s new album, "Sunrise In Riverland", it´s as follows: "Finlandia", "The Land Of The Wintersun", "Heaven Or Hell", "Beware Of The Dragons", "Angels In The Sky", "Lost In Time", "Heading For Tomorrow", "Sunrise In Riverland", "Dangerous Mind", "Seasons Of Life", "Tears Of The Nature" and "Time Of The Prophecies". This is the line-up on the recording: David Henriksson (Lead & Backing Vocals), Henrik Juhano (Lead Guitars), Niklas Dahlin (Lead Guitars), Tomas Stolt (Bass), Patrik Västilä (Keyboards) and Mikko Korsbäck (Drums). The sound and the songs on this album were something totally different than before but still the musical style remained as true Insania Metal. With the fresh attitude and with the production help from Mikko Karmila the result was a dramatic and melodic Metal album. As we told you before it will be out on April 23th 2001.
Changes for Stratovarius new release. Finally, they will be releasing the special album "Intermission" in May 2001. The CD contains 15 tracks: The new songs "Will My Soul Ever Rest In Peace?", "Falling Into Fantasy", "The Curtains Are Falling" & "Requiem", the covers "Bloodstone" (Judas Priest), "Kill The King" (Rainbow) & "I Surrender" (Rainbow), the following songs previously released as bonus tracks: "Keep The Flame", "Why Are We Here?", "What Can I Say?", Dream With Me", "When The Night Meets The Day", "It´s A Mistery" & "Cold Winter Nights", and "Hunting High And Low" (live).

Zanister´s new album, "Fear No Man", is now available featuring these songs: "You Live For Greed", "The Shades They Color Thee", "Generation Breakdown", "The Fallen", "Lost Control", "Words Of Fate", "Hell On Earth", "Fear No Man", "Grip Of The Groove", "Got To Live My Life" & "Egyptian Nights". This is the line-up: Brian Sarvela-Lead and backing vocals (formerly of The Reign Of Terror), Brian Harris-Drums, James Martin-Bass guitar, Michael Harris-Guitar and keyboards & David T. Chastain-Guitar, keyboards and backing vocals.
The new album of The Reign Of Terror, the band around guitarist Joe Stump and vocalist Mike Vescera (old singer of Yngwie Malmsteen´s band) will be released on April 9th 2001. The title for this album will be "Sacred Ground".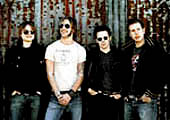 Wolf recorded a video for their song "Moonlight" that will appear on the band´s forth-coming 7" single. A release date for the video as well as the single will be announced soon. In April the band will return to the Abyss Studio and record their second, yet untitled, full-length album.
As of July 2000, drummer Jim Harris has parted from Holy Mother. He is currently pursuing other projects. Jim Harris has been replaced on the drums by John Macaluso, from Yngwie Malmsteen's band. Bassist Randy Coven is still playing with both Holy Mother and Yngwie Malmsteen. The band has just finished recording the new CD with the new band members. The new album was recorded in the newly constructed studio at singer Mike Tirelli's home. On the new album he will be playing rythm guitar as well as singing. There was some additional help from Bob Campion on the guitars for the new album. Bob also engineered the entire CD. The band will travel to Hamburg, Germany at the end of March to begin mixing this album. We'll post more details about it as soon as they´re available.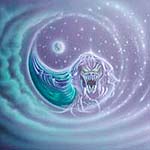 Gamma Ray will release a four-track EP prior to their new album. The title is "Heaven Or Hell" and contains the brand new tracks "Solid", "Heaven Or Hell", "Illuminates" (or alternatively Illuminati) and the Thin Lizzy cover "Angel Of Death" that will be exclusive to this single. The artwork is being made by a french artist called Hervé Monjeaud (the image you see it´s not the final concept, just a preview). The release for the new single is set for May. The band is currently working on their new full-length CD, expected to be out next August.
Chris Boltendahl and Uwe Lulis finally agreed on the future of Grave Digger, but they didn´t part in good terms. Chris will keep the name Grave Digger and Uwe has founded two new bands, which don´t have a name yet. The first band, formed by Björn Eilen: vocals (ex-Warhead), Jochen Wiek: bass, Randy Black: drums (ex-Annihilator) and Uwe on guitars, will be playing very melodic and yet clear metal. The first songs are already written and soon you will have the opportunity to download a few songs from Uwe Lulis homepage. The second band with Michael Seifert: vocals, Tomi Göttlich: bass(ex-Grave Digger), Uli Kusch: drums (Helloween) & Uwe will be, in terms of style, the successor to Grave Digger. They have decided to write another concept-album about Scotland (it's kind of a " Tunes of War II "). Drakkar Records will launch the album in February/March 2002, but a previous single will be released in fall 2001. They plan to go on tour in spring 2002. Just to have a name, they´re calling this band "Rebellion", but this may change…they haven't decided yet.
Kai Hansen (Gamma Ray) leaves Iron Savior, because of problems with his two bands. He hasn´t enough time for both, he said, but they´re still friends. Furthermore, Iron Savior have announced a special festival appearance at Rock Machina Festival in Spain on July 27th. This event will have a historical character as it will be the last show Kai Hansen is ever going to play with the band. Iron Savior definitely want to carry on working with three guitarists and will start looking for a new recruit soon.
U.D.O will record some shows from the russian tour in order to release a double live album later this year.
Savatage has returned to a six-piece with the announcement of a new singer and second guitarist. Damond Jinuya, from Florida, has joined the band as the new vocalist and Jack Frost (Ex-Metalium, Seven Witches, Speeed...) will replace Al Pitrelli as the second guitarist.
Chris Savourey has left Heavenly in order to dedicate all his time to his other band Northwind. The name of the new guitarist will be known soon. The band will start recording the new album soon with Tommy Hansen as the producer. There will be 10 new songs, but no cover and it´s expected to be released in June or September.
News about Morifade. Finally Adrian has been replaced with a new guitarist. His name is Robin Arnell and he's Kim's younger brother. He will do his first gig with Morifade the 22nd of March at Skylten - Linköping, Sweden and he will of course be the new guitarist at their next album. They are still in negotiation with some record labels and soon they will make up their minds.
The debut of Virgin Steele´s new Metal-Opera "Die Rebellen" (the rebels) will take place in the German city of Memmingen on Wednesday the 6th of June. According to director Markus Beck, there will be 20 songs used from various VS albums. This masterpiece will come along as a 3hours 3act super mega event.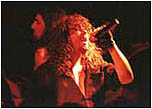 The new album of the spanish Power Metal band Avalanch will be released next March the 26th. The title will be "Ángel Caído" and Luis Royo will be the author of the cover artwork. As soon as we get more details about it they will be posted here.
Fates Warning have signed a world wide deal with Metal Blade. The band will soon enter the studio to record their next album, which would be released late 2001 or early 2002.
The title for the new Timo Tolkki solo album will be "Key To The Universe" and will be released in October. As we told you some time ago Michael Kiske will be singing on this album.
The third album of Prime Time will be out in February 26th through Frontiers. The title of the album is "Free The Dream".
Seven Witches signed a deal with Sanctuary for their next album, which will be released in Summer. They´re currently in the pre-production stage for this album.
Manticora will release their second full lenght in April or May through Scarlet. The title of the new album will be "Darkness With Tales To Tell"
Dirty Deeds are currently working in new material for their third album which will be produced by Steve Harris and engineered by Doug Hall. They should be recording in February and March at Barnyard Studios, where they recorded their previous two albums.
Eidolon, from Toronto, are finishing their new album "Hallowed Apparition", which should be completed by the end of February to be released in May.
Former members of Bay Area Speed Metal legends Death Angel are now playing in a band called Swarm, from San Francisco too. This group features DA members Mark Osegueda (Vocals), Rob Cavestany (guitars) and Andy Galeon (Drums) and are playing live around the northern CA area.

Steel Prophet´s "Book Of Dead" will be out in April 23 (Europe), no USA release date yet. The band has a new line up: Rick Mythiasin (Vocals), Jim Williams (Guitars), Vince Dennis (Bass), Karl Rosqvist (Drums) & Steve Kachinsky (Guitars). This is the definitive track list: "When Six Was Nine", "Tragic Flaws ", "Escaped", "Soleares", "Church Of Mind", "Burning Into Blackness", "The Chamber", ".Locked Out", "Ruby Dreams (Faith and Hope)", "Phobia", "Anger Seething" & "Oleander".
After their successful shows with Halford & Stratovarius, DragonHeart´s first headline show has been confirmed. They will be playing with a support band at The Peel (London) in Saturday 17th March. A great chance to get a taste of the new songs to be on the debut album. If you have the opportunity, don´t think twice & go there!
In a couple of months Azeroth, from Argentina, will enter the studio to record a song for a new tribute to Rata Blanca and then they will start recording their second album, with this line-up: Diego Valdez (Vocals), Fernando Ricciardulli (Bass), María Eugenia Ricciardulli (Drums), Juan Manuel Villagra (Guitar), Pablo Gamarra (Guitar) & Gustavo Jawanske (Keyboards). Charlie Bauerfeind will work on the mix again and Eric Philippe will paint the cover artwork. Also the band is going to record an english version of this album and they´ll release their first CD in Japan soon.
W.A.S.P.´s forthcoming album "Unholy Terror" is due out on Metal-Is next April 9th. The album was recorded in Los Angeles and produced by frontman Blackie Lawless himself. The tracklisting is as follows: "Let It Roar", "Raven Heart", "Loco Motive Man", "Charisma", "Who Slayed Baby Jane?", "Euphoria", "Hate To Love Me", "Evermore" and "Wasted White Boys".
Singer Eugenio has left the spanish band Easy Rider due to personal reasons. They´re currently looking for a new vocalist in order to complete their live concerts plan, which include some festivals in Spain like Viña Rock next May 4th. We hope things get right soon for them!
Lion´s Share new album is finally completed and scheduled for a March release through Massacre. The swedish Power Metal band is also very proud to hereby officially announce the arrival of the new singer Tony Niva (best described as a cross between Geoff Tate and Rob Halford). The keyboards on the album were performed by Mats Olausson of Yngwie Malmsteen fame.
San Francisco thrashers Testament are currently working with producer Andy Sneap on new songs and riff ideas. Also, they are re-recording some stuff off "The Legacy"" and "The New Order" with a guest appearance from Alex Skolnick! This CD will be titled "First Strike is Deadly".
In April Stratovarius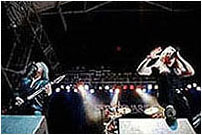 will release a special album titled "Intermission". The CD features 3 new songs ("Will My Soul Ever Rest In Peace?", "Falling Into Fantasy" & "Faster Than Lightning"), 3 cover songs ("Blood Stone" - Judas Priest, "Kill The King" - Rainbow & "Blackout" - Scorpions), 6 songs previously released as bonus tracks ("Keep The Flame", "Why Are We Here", "What Can I Say", "Dream With Me", "It´s A Mistery" & "Cold Winter Nights") and four songs recorded live in France ("Against The Wind", "Father Time", "SOS" & "Hunting High And Low"). These guys don´t stop...
Iron Maiden will probably release a rarities box and a live record sometime this year. There are also plans to release a second volume of the book "Run To The Hills".
"Full Moon Desert" is the title for the upcoming album of Stormhammer, to be released in spring. This is the track list: "The Law", "Masquerade Of Life", "Dawn", "Full Moon Desert", "Neverland", "Staying Alive", "Horsemen's Fight", "The Power Of Wisdom", "Dragon's Tears", "Doom", "Out of Time", "Sinner's Soul" & "Dancing Under The Moon".
Dragonland has just recorded the debut album "The Battle Of The Ivory Plains" in Los Angered Studios with Andy La Roque as producer. So if you like Symphonic Power Metal you can download the songs from the latest demo for free (full songs, full quality) on mp3 from their homepage as a little preview for the upcoming album which is due for release in March worldwide.
David DeFeis´ Virgin Steele have planed to release a live album this year. No details have been announced about the record, but it would be great if they include some songs recorded live in Spain, for example, taken from Rock Machina Festival last year.
Uwe Lulis has posted in his homepage that he will use the name of Grave Digger for his new band, formed by Michael Seifert (Vocalist), Tomi Goettlich (Bass), Uli Kusch (Drums, for Helloween too) and Uwe on guitars. Chris Boltendahl says that he has the right to use the name and they will have to take this affair to the court. We wish things to get right soon, the fans need it...
Janne Kivilahti (bass) has quit Sonata Arctica due to personal reasons after his last show with them in Kemi last June 30th. The new member is Marko Paasikoski, who was playing with the band before and has already recorded some songs for their new record.
The band of the "reborn" God of Metal Halford will release a double live album on the 26th of March, recorded during the european tour last year . Its title will be "Live Insurrection" and this is the track listing: "Resurrection", "Raise Some Hell", "Locked And Loaded", "Into The Pit", "Nailed To The Gun", "Stained Class", "Jawbreaker", "Running Wild", "Saviour", "Silent Screams", "Cyberworld", "Night Fall", "The Hellion/Electric Eye", "Riding On The Wind", "Genocide", "Beyond The Realms Of Death", "Metal God", "Breaking The Law", "Tyrant" and "The One You Love To Hate". As you can see many of the Judas Priest classics are there too, this can be a killer album!
The coming Europe tour of Rage will start on the 18th of April 2001. The USA band Vicious Rumors will join the tour but, during the concerts in Germany, GB Arts will be the support act. In the next weeks you will find new mp3 files from their forthcoming album "Welcome To The Other Side" in both Rage and Victor Smolski homepages.
The legendary "fathers of Metal" Iron Maiden have earned their second Grammy Award nomination for "The Wicker Man," the opening track on their last album "Brave New World" (2000), which is up for the Best Metal Performance award. Their previous nomination was in 1994 for the live version of "Fear Of The Dark" included on "A Real Live One". Good Luck Maidens!
Lots of big Festivals will take place in Europe this year. We have Wacken, Bang Your Head, Gods of Metal, 2000 Decibel and many more that will surely make all the metalheads feel the great magic of Metal and its life style once again! You can find more information (dates, bands...) in our "concerts" section or visiting their official sites. See you there!
According to management The Three Tremors project that was said to feature Bruce Dickinson, Rob Halford and Geoff Tate is just an idea and there is no album planned yet. However, there are different versions of that story running around the european press so, until things are clear, we will not bore you with these rumours anymore!
USA Metalheads Iced Earth have finished writing material for their forthcoming studio album "Horror Show", based in old terror myths like The mummy, Jack The Ripper...The album is scheduled to be released in May and the band plans to record a cover of Iron Maiden's "Transylvania" to use as a bonus track.
It's been eagerly awaited and has been announced and postponed for almost two years now but, at last, the new Savatage album "Poets And Madmen" is due out in spring 2001. It's still not quite clear how many of the fifteen recorded tracks will eventually make it onto the album. One thing, however, is certain: there will be at least eleven of them, among them "Do You See Commissar", "I Seek Power", "Drive", "Cantations", "Surrender", "Man In The Mirror" and "Got To Get Back To A Reason". The world tour is due to start only a few weeks after the album release, possibly even in Europe and as early as March 2001.
The fine Melodic Power Metal band Sonata Arctica will enter the studio within January 2001 in order to record their second studio album, scheduled for a May release.
In the last week of November Jacobs Dream started the recording of the new CD, and expected things to be finished in the beginning of January. At the moment the drum tracks, scratch guitars and vocals have been recorded. The CD will also feature new versions of "Sarah Williams" and "Wisdom" from the demo-CD.

Kai Hansen and Dirk Schlächter are mixing the Taraxacum album (Edguy's Tobias Exel, Rick Mythiasin from Steel Prophet, Ferdy Doernberg and some others). After that Gamma Ray will get back together to see if they have enough good material to start producing a new record. Kai already has four tracks written and many more ideas...There will be a conceptual background to the new album based on a book written by a fan of the band. The book will be released at the same time as the album.
Dark Moor could be playing together with Doro and the portuguese band Tarantula in Gaia (Portugal) in March next year. Not confirmed yet.
Bass player Laurent Jean has quit Heavenly. The replacement is Pierre-Emmanuel Pelisson, who is playing with Chris Savourey in the band Northwind. Besides, they will release their second album in June 2001.
The official release date for The Storyteller album in Japan is December 21, and as the unavoidable bonus track they've decided to include an old acoustic demo from their first recording session ever. The band has been on the "Import Albums" chart in Japanese Burrn Magazine for the last five months and they will enter the studio again in April to record the next album, which will probably be released in September or October 2001. For more info you can check out their website, which has been recently updated with a bunch of new stuff, including some pictures from the gig in Gävle where Joacim Cans & Oscar Dronjak from Hammerfall joined them on stage. By the way, if you live in or near Stockholm, you should come and see them at Pub Anchor on the 4th of January 2001. That will probably be the last Swedish gig for the next four or five months.
Guitar player Alex Skolnick (ex-Testament & Savatage) is on tour with the Trans-Siberian Orchestra in the United States within December.
The release date of Rage´s new record "Welcome To The Other Side" is the 26th of February 2001. Very soon in their official homepage will be an auction of rare crew t-shirts of the russian tour signed by Peavy, Victor and Mike .
The song writing for the new album of Pegazus has already begun and this time there will also be collaborations by the other band members. They plan to start recording sometime in January/February next year, so you can expect a full scale world tour in 2001.

Rising Faith from Sweden deliver powerful Melodic Metal. The new mini album "Imagination" contains five tracks. Mixed and mastered by Andy La Roque (King Diamond). Check their website for soundclips and some more information.
Iron Fire have found a new drummer, Morten Plenge (Saturnus, ex-Push). The recordings for their upcoming record, which will be titled "On The Edge", will start in December, and its release date has been set to March. The forthcoming record will contain material in the spirit of "Thunderstorm", plus some tracks more aggresive, and even some mid-tempo tracks. Well known producer Tommy Hansen, who produced their well selling debut album "Thunderstorm", will also be producing "On The Edge". Andreas Marschall has started painting the cover art for the album. Temporary track list for "On the Edge": "The End Of It All", "Prince Of Agony", "On The Edge", "Into The Abyss", "Thunder Spirit", "Lost 'n' Alone", "Wanted Man", "Here And Alive", "Forever Evil", "Miracle", "The Price Of Blood" and "The Fire Still Burns" (Twisted Sister).
Royal Hunt´s vocalist, John West, will be touring with the Trans-Siberian Orchestra(the musical project created by Paul O´Neill) in the United States.
New release of Stratovarius, it´s a limited edition box of the single "A Million Light Years Away" (from their last record "Infinite"). It contains 4 tracks, including the single version of the title track plus two live songs.
Steel Attack´s drummer, Roger, has quit the band since he is a single parent and had no time to be in a band. The new member will be the first drummer Andreas de Vera, who will move back to their hometown in December. It was his own decision and their friends of the band hope he will be back in the music scene soon, as he is a very good drummer.
Guitarist Adrian Kanebäck from Morifade has decided to leave the band due to personal issues, he will, however, do the gigs for the immidiate future together with them until a new guitarist has learned the guitar riffing. They have also come to the conclusion to leave Loud N' Proud Records, this was decided last month in conversation and assent with Loud N' Proud Records. That means that they are now looking for a new guitarist and record label.
Kamelot have 85% of the music written for their new record and they think the ideas are going to please their fans. There is no title yet. The producers will be again Sascha Paeth and Miro and recordings will take place in several locations around the world with some surprise guests.
The sensational german Melodic Metal band Freedom Call will release their new album "Crystal Empire" mid of January 2001. This is the track-list: "The King Of The Crystal Empire(intro)", "Freedom Call", "Rise Up", "Farewell", "Pharao", "Call Of Fame", "Heart Of The Rainbow", "The Quest", "Ocean", "Palace Of Fantasy" and "The Wanderer".
Stratovarius are goig to release their first video (VHS and DVD) "Infinite Visions", next November the 20th.
Chris Boltendahl, Grave Digger´s vocalist is working on his own solo project, which still doens't have a concrete date to be finished. The idea is to make a conceptual album about the Troia War. As soon as we get more details about this we´ll inform you.
The complete track-list of Avantasia, the Rock Opera of Tobias Sammet is the following: "Prelude", "Reach Out For The Light" (duet with Michael Kiske), "Serpents In Paradise", "Malleus Meleficarum", "Breaking Away", "Farewell", "The Glory Of Rome", "Nomine Patris", "Avantasia" (also with Michael Kiske), "A New Dimension", "Inside", "Sign Of The Cross" and "The Tower". The 4-track maxi CD will be finally out on November 13th and contents the track "The Final Sacrifice", on which Tobi shares the lead-vocals with Mr.David DeFeis of Virgin Steele.
The CD of Taraxacum probably will be released in March or April 2001.
Angel Dust have lost their drummer. Dirk Assmuth has decided to leave the band because it was impossible to combine his business and musical interests. For their next shows the band will play with a session drummer.
Henrik Carlsson, guitarist of Zonata, has quit the group and music in general ´cause he has lost interest in playing for the moment. The band is not going to replace him, so they´ll continue as a four piece. This new line up will enter the studio Underground in Sweden on November 13th to begin recording their new album, expected to be released early next year.
Some german bands are preparing a tribute to Savatage.One of the groups included is Angel Dust, who have done a cover of "Believe", taken from the album "Streets".
Iced Earth are working on their new record, titled "Horror Show" and dedicated to some famous terror´s myths. They have a new drummer, the ex-Death/Control Denied, Richard Christy. Thanks to the union between guitarist Jon Schaffer & Hansi Kürsch in Demons & Wizards, the album will be more expected, that´s for sure.
Highlord, a new Power Metal band from Italy, is about to release their second album called "When the Aurora falls…" which should be available World wide within December 2000.
Rumors say that Angra has a new vocalist. His name is Eduardo Falaschi, singer of the brasilian band Symbols. Eduardo and his brother Tito (bassist) are working with Kiko Loureiro and Rafael Bittencourt who have not been making any auditions to find a new singer. Ricardo Confessori and André Matos, together with brothers Luis and Hugo Mariotti (guitars), have formed a new band called Shaman, and they have already composed some songs.
The new Maxi of Piet Sielck´s band, Iron Savior, is called "I´ve Been To Hell". Besides two brand new songs "Never Say Die" and "I´ve Been To Hell" ), it includes two interesting covers of Krokus and Judas Priest, "Headhunter" and "The Hellion-Electric Eye" respectively.
Metal Church will soon enter the studio in order to record a new album. No title or released date have been announced yet. We´ll try to keep you informed.
The confirmed dates, till now, for the next tour of Virgin Steele and Hammerfall over Europe don´t include any concert in Spain. We hope that the spanish promoters bring us soon this grand tour.
The german Melodic Power Metal band Mob Rules is going to release their new record on November the 13th 2000. The continuation to their fantastic debut of 99, "Savage Land", will be titled "Temple Of Two Suns" and you can be sure this will be one of the best albums of the year.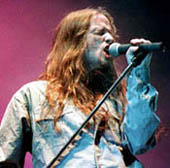 Edguy has begun working on new songs in their rehearsal room. They have planned to enter the studio in January 2001. Besides, the advance EP "Avantasia" (Sammet´s Rock Opera) will be released on October 30th. It will feature the title track plus another 3 songs (2 non-album tracks). The "Avantasia" CD will be out on January 22nd 2001.
Manowar is working on the video "Hell On Earth" Part II. The tape is going to cover the years 1997 to 2000, which means all the big festivals they headlined in 1999 (Dynamo, Gods Of Metal...). Also, the band is going to be making available all their classic concerts on CD and video from over the years (by Internet and maybe on stores too).
Blind Guardian is currently working on their new album. They will enter the studio in October, and hope to have the new CD in the shops by May 2001.
The New Jersey Power Metal band Seven Witches has parted ways with singer Bobby Lucas, due to personality conflicts.
During August Insania entered the studio to record their second album. It will probably be titled "Sunrise In Riverland". The band will work together with the well known producer Mikko Karmila (Stratovarius, Edguy...).
The finnish Melodic Metal band Sonata Arctica is going to release the follow-up EP, "Successor", to their highly-successful first album "Ecliptica". It will feature two new tracks "San Sebastian" and "Shy" as well as an edit for "Full Moon", cover versions of "Still Loving You" (Scorpions) and "I Want Out" (Helloween), and two live tracks ("Replica" and "My Land"). European release date is set for October 23rd.
Rage is in the VPS studio in Hamm to record a new album. It will be more heavy, aggressive and, particularly, faster than "Ghosts" (according to Peavy´s words). The cd will contain the bonus track "Don´t Fear The Winter" (remake).
"When Imagination And Wisdom Collide In A Time Never Come" will be the title for the new Secret Sphere´s album. The cover has been made by Travis Smith (Death. Nevermore...).
The imminent live album of Kamelot has changed its name to "The Expedition" ,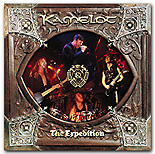 because another band (exactly Hammerfall) is going to use the other title ("The Live Legacy") for their next live album. Kamelot´s CD was recorded in their shows in Greece and Germany last April and will be released the 18th of September.
Marcus Jürgens (ex-Brainstorm singer) is working with a new band called Kashmyr. The rest of members are Davor Sertici (guitars), Markus Plattner (bass) and Andi Plattner (drums). As Marcus says their style is in the vein of Ozzy, Dokken, Loudness and the old Priest. We´re just expecting their new album.

The date of release for the new Symphony X CD ("V- The New Mythology Suite") will probably be the 9th of October, just for Europe. Take a look at its fantastic cover.
Two new projects..., Taraxacum, featuring some members of Edguy (drummer and bassist) and Steel Prophet singer. They have recorded a four songs demo ("Spirit Of Freedom"). And Silent Force with D.C. Cooper (ex-Royal Hunt) on vocals, guitarist Alex Beyrodt (Sinner, Primal Fear), Andre Hilgers (ex-Vanize, The Sygnet) on drums and Fleisch (Belladonna) on bass. Their first CD "The Empire Of Future" was released last June.
Angra has not broken up. Andre Matos (singer), Luis Mariutti (bass), and Ricardo Confessori (drums) have left the band, leaving only the two guitarists, Rafael Bittencourt and Kiko Loureiro, as the lone remaining members. They are working on a new album while looking for new members.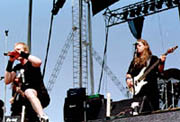 The new Morifade MCD, "Cast A Spell", will be out on September 25th/2000. It will include (among others) their new song "As Time Decide", that we heared at the Rock Machina festival in Moncofa (Spain) last July.