Olaf Thorsen, lead guitar from Lab˙rinth and Vision Divine, is one of the most loved italian musicians into Heavy Metal because of his excellent works and good humor. Now, you can know him better by reading these lines. You will enjoy, for sure...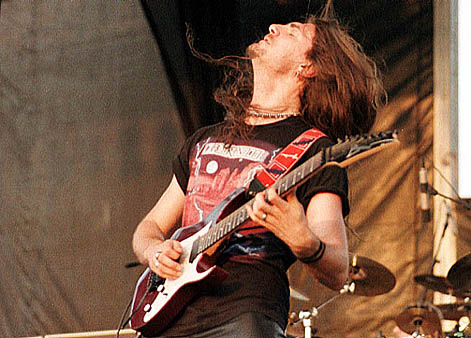 - "Sons Of Thunder", the new album of Lab˙rinth, has been delayed for a long time ´cause the band wasn´t satisfied with the result, right?, What happened exactly?
Well, I don´t want to be much aggressive with Neil, but I have to say that we had a lot of problems with the producer: his final version of the mix wasn´t good at all, so we had to remix it again, a pity.
- In the CD there´s a cover of "Ti Sento" ("I Feel You"), a song of Matia Bazar, Why this song? Who had the idea?
We choosed this song because we simply love it! We are not used to make covers of Metal bands (there are already too many bands that do that)...We all like that song so it has been very easy and quick to choose it...

- I think you know that thanks to Lab˙rinth other Metal bands from Italy are having an opportunity beyond their frontier, How do you feel about that? Are you guys of Lab˙rinth the "fathers" of Italian Metal?
Of course we are very happy of how things are going with Lab˙rinth and Vision Divine...We are considered to be the fathers of the new era of the Italian Heavy Metal, and of course it makes us feel very proud...After all, we are fighting in the pit since 1991...
- What songs from "SOT" do you like most? Which of the new songs you´re playing live are having a better response from the audience?
I like all the songs from "SOT", of course! It´s really very difficult to choose just one...anyway, sounds like people like more "Chapter One", "Kathryn", "Sons Of Thunder" and "Rage Of The King".
- Lab˙rinth have been playing in some summer festivals (for example Rock Machina here in Spain), What can you tell us about that, any anecdote?
Well, simple: After I Played with Vision Divine, I had a call at 3:00 in the night...was Rob calling me from Barcelona, telling me the van with the rest of the Lab˙rinth was broken, so they couldn´t reach the venue in time for the day after! You can imagine the panic, so we asked a help to AC, the tour manager from Running Wild (a very good friend of us since the Hammerfall tour in ´98), and he was ready to send a truck to Barcelona to pick up the guys...When a guy was ready to leave for Barcelona, I had a call from Rob...They simply forgot to put gasoline in the van...AHAHAHAH! I wanted to kill ´em...
- By the way, talking about Rock Machina, you were playing there both days of the festival, the first day with your other band Vision Divine and the second one with Lab˙rinth, How about that? With what band did you feel better on the stage?
No, no...This isn´t a good question, ahahah! Of course I like to play with both bands, I have different feelings from them...It happened that first we had an invite for Vision Divine, and after one week, I knew that also Lab˙rinth were invited, this is because we have two different managements, 'cause I want to keep the two bands well splitted, so people cannot be confused...Anyway It hasn´t been a problem: I love playing, and I hope that people has like both shows!
- Now we´re talking about VD, I would like to know the latest news about it, Are you working in new songs, still playing live...?
I almost completed the second album...I hope to record it within the end of the year, and it should be released around March 2001...This time things will be done at best, 'cause thanks to the great sales of the first one, now finally (as we always repeated during this year) VD are considered to be a real band, and not a project...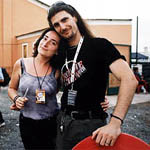 -All the concepts for VD (the lirycs, the cover...) have much to do with religion, right? Are you a very religious man? Is going the band to follow that way in the future?
Yes, we are...Of course I cannot say we are good christians, but we believe that life has a meaning, and it´s right that we try to understand this meaning...This also is a well recognizable trademark from VD, and surely we´ll follow this for the future. I can tell you that in the second, for example, we´ll talk about spirits...With spirits I mean everything concerns soul, ghosts, and whatever is connected to the afterlife...
- Besides Lab˙rinth and VD we have seen you in lots of bands and projects like Ivory or Cydonia, Are the bands who ask you for colaboration? How do you feel about being such an important person for this new bands?
Well, I like to help people that need a hand, so when it happens that they call me, if I can, I do that. I don´t know why people call me, I don´t think to be as good, but anyway every time it´s a good experience to learn something new...Unfortunately, I do not have time to do that anymore...And about Ivory, I know they´re telling to everyone I played in their album, but honestly I went to their studio just to listen to the album (I didn´t know them), and finally they asked me to play something: I improvised a 8 seconds solo, and that´s all...I think it´s not right that they use my name just to sell some copy more...It´s not honest with my fans...
- Are you involved in anything else we should know?
Not at the moment. As I told you, I'm working at the new Vision Divine...
- You have been playing in Spain some times, How is the spanish audience for you? Do you think we have much in commom with the italian ones?
I love spanish people! Yes, you are very similar to italians, but of course as any other people, you are unique...I love to play there, ´cause I also love your country, and I want to be back very soon...December, maybe...
- Some years ago Heavy Metal was like staunched and now there are lots of bands coming from every part of the world (more in Europe: Italy, Germany...), Do you think that so many bands can have a negative effect in the scene?
Yes, too many bands, and that´s all! Stop this business!!!! We are killing Heavy Metal, again...I only can hope it will end quickly, and only the strong will survive...
- Hey Olaf, a curiosity, I would like to know which is your favorite record of all times and why.
"Painkiller"...Judas Priest! They are Heavy Metal, and that´s all!
- A last question, you´re now one of the most important guitarists of the Metal scene, How did you learn to play guitar?
I learnt to play guitar very late, just 9 years ago! I just wanted to have some fun playing in the garage with my friends, so I created Lab˙rinth...(at those times the name was Vision...), and this is the only band in which I played until Vision Divine...Of course, I studied many many hours at day (from 3 to also 12 every single day), and later I also went to a guit school for a diploma...But I really don´t know how could it happens that now so many people look at me as a reference in the guitar playing...Thank you! But sometimes I think it´s really funny...
- Thanks a lot for your words Olaf, you´re really great. Do you feel like adding something else?.
No, just thanks a lot for your interest and support, and of course, thanks for the beautiful pics!!! See you very soon for a new come to Spain!


- Interview by Gema Pérez.
---