Ladies and gentlemen from the United States of America to all Europe (and the World), STEEL PROPHET. Enjoy it.
- How could be Steel Prophet defined?
It could be defined as a power metal band in the spirit of classic metal bands, while also incorporating elements of the many other musical styles that the individual members are influenced by.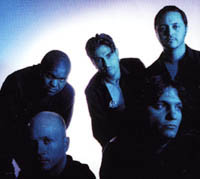 - Can you introduce the band to the spanish audience?
For those not aware of Steele Prophet we are Steve Kachinsky-guitar, Jim Williams-guitar, Kevin Cafferty-drums, Vince Dennis-bass, Rick Mathiasin-vocals.

- John Pons has left the band, Can you tell us something about that?
John Pons has left the band to concentrate on his own solo material.
- Have you thought who´s going to replace him?
Jim Williams replaces him on guitar, Jim is a killer guitarist and he will have his first show with us on Memorial day weekend in Las Vegas.
- Before "Dark Hallucinations" you released three cd´s with a little german label and they are very difficult to get here in Spain, now that the band is in a very good moment, Is going Nuclear Blast to release them again?
. Nuclear Blast is working on plans to release some of the earlier S.P. recordings but there is no schedule as of right now.
- What has meant to Steel Prophet the fact of signing with such an important company?
The support of a label such as Nuclear Blast has given us exposure to a much larger audience than before, which opens the door to opportunities to reach the fans, such as this interview.
- Are you working in new material for the next album? What kind of songs are you writting?
The new album is already being planned, the idea is to build on Messiah and bring in some new and different things as well. The change in guitarists alone will change the sound.
- Steve and Rick have new projects with members of another bands, Does it have a negative influence in Steel Prophet?
All the members of the band have side projects, the influence of those is incorporated into the band and contributes to our growth as muscians, which is always a good thing.
- BTW. Steve, Can you talk a bit about your new project with Sandra Schleret (Dreams Of Sanity)?
I really love Sandra's voice. We first met in Austria at a place called the Rockhaus, when Steel Prophet was on tour with Gamma Ray and Edguy. Sandra is a big fan of Edguy and their inspiration which is Keepers era Helloween. Anyway, we were at the Wacken Open Air last year, and we were commenting on how no girls sing straight ahead power metal, and Sandra told me how much she would like to give it a try, so I thought 'let's do it!' I have written quite a few songs for the project, but right now only two are recorded instrumentally. They will be mixed soon and sent to Sandra to put vocal parts on. A guy named Frank Yanno programmed the drum machine for the demos as well as playing some other instrumental parts. We will see how good it comes out and then decide if we want to try to find a label.
- Next autumn will appear a cd with "Inner Ascendence" (your first demo), some covers and rare material, right?
Inner Ascendence is set for August 21.
- Are you going to re-record the songs of the demo?
There will be no re-recording on the album.
- The covers of your albums have a kind of oneiric appearance, Is that something intentioned? They look very strange and enigmatic...
The album covers are a reflection on the theme of the recording, at least as far as the last 2 albums are concerned.
- Do you keep good remembrances of your shows in Spain?
The shows in Spain were great, like the Aviles show, and especially Barcelona.
- Steel Prophet is always contributing to tribute albums, Is that something you specially like to do? Who chooses the songs?
The tribute recordings are a lot of fun but, after the release of our album of covers this autumn the focus of the band will be all Steele Prophet (unless a special project come up that we cant resist).
- What gigs do you remember as the best of your career?
The best memory is the Wacken Festival last year, we had a good set ,the crowd was fantastic, the whole event was so huge! To play for so many fans and have as much fun as we had , it was unforgettable.
- Your immediate plans...
Next up is preparation for next album and tour, but first let me say thank you to HEAVY WEIGHT and all the fans , we all appreciate your support and look forward to seeing you on the tour.. CHEERS!

- Interview by Rodrigo & Gema Pérez.
---