"FireBall" is the title of their first album, STORMHAMMER their name and HEAVY METAL what they offer. The bassist Horst Tessmann answered our questions.
- Stormhammer is working since 1993, Why haven´t you released any records until now?
Be started in 1993 and started the recordings at the end of 1996 ! but there were often changes in the line up, also during the time we recorded the cd. the drummer changed twice the singer by now also twice. We spend the most time looking for a new substitute for the one who left or the one we decided to fire.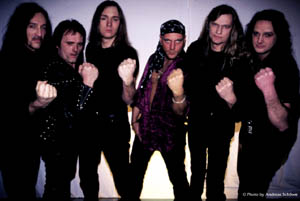 - By the way, How is that you have signed on Century Media for your first cd? (It´s a very important company)
We sent the cd to many labels, but CM was the one which wanted do release the cd. and our drummer knows a lot of people, also Carlos from CM.

- "FireBall" has been recorded in Crownhill Studios (Dusseldörf) with Rudy Kronenberger, How do you feel about that? Has it been a good experience?
Well, we recorded the cd here in Munich in several studios. Rudy did only the final mix. He is an outstanding sound man and he did a very good job. We enjoyed the work with him a lot and he is a very nice guy who set up the basic sound in a very short time.
- Listening to "FireBall" I think I´ve found some similitude with bands like Bonfire or Leatherwolf, are these groups some of your influences? Do you like that kind of music (Hard Rock in the american way)?
I think our influences are more by Iron Maiden, Judas Priest, Metallica, Queensryche etc. Well, i like also american rock bands, but i think bands like Judas are in the moment my favorite and bands like Blind Guardian.
- Where is having your cd better reviews?
We've got in the average everywhere very positive reviews, especially in Metal Hammer (7 of 7 and 6 of 7 points) and also in Rock Hard (8 of 10). In the ranking of the magazines we always could reach places around 15 to 25. and that is more than we expected.
- Can you talk a little bit about that fanstactic tour with Lefay, Angel Dust and Steel Prophet? What do you expect from that concerts?
The tour starts on saturday or friday and we're a bit excited. I hope we can get some more fans and that the people will recognize that stormhammer is here to bring them ass kicking sound.
- Can you tell us what songs are you playing now in concert? Do you play any covers?
The setlist will be:
Fireball
Prisoner
Metal heart (a song from the cd, not available in Europe, it is the japanese bonus track)
Seven Gates
Holy War
The Law ( a new song for the second cd)
Maybe High On Devotion will enter the set before or after Metal Heart, but that depends on how much time is left for us to play.
No, we´re not playing covers at all.
- What do you think about the new "reborn" of Heavy Metal in Europe?
Well, i think it is very good for us and i hoped for a very long time, that this would happen. After all that Hip Hop, Techno garbage time has come to hear some Metal again.
- Could you make a little biography of the members of Stormhammer (previous bands...)?
I like to give you the hint to our webpage (http://www.stormhammer.de) , the bios should be complete this week, me, Alex, Marcus are still missing, but this has to be done before we leave for the tour.
- Just one more question.Your singer Michael has recently left the band, Why has he decided to do it? And which is the style of Tommy (the new one), do you think he will fit well to the sound of Stormhammer?.
Well, Michael is involved in his own band project Eternal Flame for years. We recorded most of the cd in michael´s studio and as we decided to have a new singer since the one we started the recordings seems no longer to fit into the band, Michael offered himself to do the vocals. At that time he has some problems with his own project and only few things happened with Eternal Flame. Nowadays this changed a lot and he is very busy with Eternal Flame and he had to take a decision, which band or project is more important for him. Alas he picked Eternal Flame and not Stormhammer. He is a great guitar player too and within Stormhammer there is no possibility, except during recordings to play guitar and therefore it was also a main reason, why he took Eternal Flame. After all his heart is tied to Eternal Flame, because it is his own project. We felt for a longer time that this would happen, but we were surprised that he quits before the tour. We met Tommy in spring and he became a fan of Stormhammer and it was quite an accident that he joined as now at the right time. He don't like that comparison (sorry Tommy), but many people have compared him with Bruce Dickinson. Of course he isn't Bruce, because he has is own special style, but i hope you can get an impression now. He played with the swiss band Drifter for years and you can hear him on their records. He still has improved his abilities and that's because he is a vocal teacher now.
- That´s all, thanks a lot for your time and attention. Any message for the fans?
The tour was planned to last for four weeks and Spain, France and Greece were scheduled too, but the tour was shortened and now Spain is not on the tourplan. We all regret that very much, especially me, because i've got some friends in Spain. We hope that we will be able to come to Spain next time.

- Interview by Gema Pérez.
---