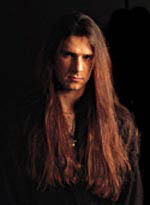 Andy B. Franck, "The voice" of

is a very busy musician that doesn´t think twice when the fans claim him. Here you have what he told us.
-First, thanks a lot for taking the time to respond our questions, it really makes us very happy.
Hey, no problem! I always take time for something like this! I waited for this situation more than ten years, so a dream comes true and here i am! So, no problem, hope you can understand my english...THANK YOU!

-When you left Ivanhoe you had a clear idea of the kind of band that you wanted to form (right?) but, was it very difficult to find the appropiate musicians for your new project Symphorce?
You know, during last five months in ivanhoe, i started a side-project with a lot o´different musicans. So after the split of the knights (ha ha ha) , i asked those guys, if they want to join a real band. No more playing in a project. They said, yeah, let´s do it, and after we practiced the first time as a new band, i knew, this is it! In ivanhoe, it never felt like a real band! Now, in SYMPHORCE we´re playing that kind o´music, we feel! That´s what i always wanted, ...and it feels good!
-We can notice some different influences in your vocal style (like Bruce Dickinson), which singers do you think that have exerted a bigger influence in you?
Ha, Bruce what??? No, no, sorry, okay, he´s great, and i still think he´s one of the best ´round the world.But i never said that i want to sound like hím. Okay, we both have a nearly same style, but i think i often use my voice a more aggressive way than he do. Anyway, I don´t care so much ´bout influences. I grew up with bands like MAIDEN, PRIEST or KISS, so i´m just influenced by metal music! Thats the whole secret. I never had any lessons, so all you can hear comes straight from the heart (ha ha ha!)
-Now you are singing in two bands (Brainstorm and Symphorce) isn´t it a very hard job? BTW have you thought about leaving one of the groups and concentrate all your effort just in one of them?
NO !!!!!! I love both bands! Always people ask me: Andy, isn´t that too hard, or do you have enough time??? So what´s the problem. Who cares, and if both bands release great music, so what else. You know, it´s always the same. Everybody loves Mel Gibson as an actor in different movies like BRAVEHEART or LETHAL WEAPON. So what´s the problem if the fans can hear me in two different bands. Soon, you´ll hear the differences between both bands. SYMPHORCE is my baby, and i have to record many albums on NOISE Records. Right know there are so many musicians playing in a lot o´different projects. The fans of SYMPHORCE and/or BRAINSTORM will always know that these are two REAL bands. I think that´s really fair, and everybody will know, that this is not just a think i´m doing for one time to earn money. BRAINSTORMS "ambiguity" and the new SYMPHORCE "sinctuary" will show everybody, that both bands are different but real metal.
-Symphorce has a new member, the guitarist Cedric "Cede" Dupont, can you tell us something about that change and about him?
Oh, yes, this is the first interview ´bout this mo#*&erf%#+er !!! ha ha ha ! You know, i was really frustrated after the "ttp" recordings. Stef, our first guitarist always wanted to play in front of tenthousand people. But he never wanted to work hard for this. So after we told him, ok, we´re going on tour with MERCYFUL FATE, he wanted to stay at home by his girlfriend. Oh, yes, that´s a real metalhead, hugh? So i had to check out only a tour-guitarist. This guy wanted to work hard but couldn´t even play, so in September 1999 we searched for a real new metalhead and found him in November. "CEDE" is just 20years old, comes from switzerland ...and plays like hell! Really, we checked him out for more than three months to be sure that he´s the one. He really kicks ass, and his kind o´playing fits totally to our style. So we´re very happy with him and he´s also a cool guy! Hope soon you´ll see....on tour!
-"Sinctuary" will be the second album of the band, we would like to know the musical direction of the new songs. Are they following the style of "Truth To Promises"?
Yes, but more in a tradition as songs like "drifted"..... I think the new shit is harder and we have more faster songs on the album! Two are really fast and it´s more SYMPHORCE than ever. I wrote a lot o´songs for this album and i think this time you can feel that everything sounds really relaxed. Last time we had a lot o´problems at the same time (ivanhoe split and lawyers...). "sinctuary" sounds very, very cool! We love it, and we can´t wait to let ya hear....
- When and where are you going to record the new album and with which producer?
Hopefully we can enter the studio in May, so we can realease the "songs of sin"...(ha ha ha!) in August/ September. Achim Köhler (SINNER / PRIMAL FEAR) will produce it. I know him since years, and i think we can work really good together. He loves our sound, so why not...maybe he´s like the sixth member of the ´Phorce?!?!? You wanna know something special??? Yeah, we´ll release a "european bonus track" wich is only avaiable on the european version. I don´t like it, if always the japanese get special songs, so we´ll record one only for the fans here! Ha, ha!
-Dou you think that Noise Records has done a good work with the promotion of "Truth To Promises", and what are they gonna do to promote "Sinctuary"?
Yeah, i´ve been on a promotion tour in germany and had mor than one hundred interviews for ttp. I think that was absolutely okay! I hope with "sinctuary" i also go on a european promo trip, to meet you for a few beers, hugh??? But, anyway, yes, i think NOISE did a good job.
-What do you think about new technologies (Internet) that allow a closer contact with the fans; do you received many e-mails from your Official Homepage?
Oh yes, we can´t believe that!!! Every day, we have more than 30 e-mails from all over the world, a lot o´guestbook entries, and many viewers. It´s great, and so we can really get in touch with the fans. It´s great. On http://www.symphorce.com all the fans get really get the newes and hottest news, round the band. Dennis, our bass guitarist creats that and all viewers said that the page is great. What do you think???(Yes, I think it´s really great) So i love new technologies, especially computergames like "half-life" and so on.....
-People want to see the band playing live in Spain, have you got any plans for the new tour?
Right now i´m checking out a few booking agancies for a great tour in September/October 2000. The "sincTOURary 2000" will hopefully bring us down to spain. We really can´t wait to see you and have a great time together. So please wait, we´ll soon come, to see you too !!!!
-Thanx very much.We hope to see you here soon, if you want to say something more...
Thank you again!!! It´s always a pleasure. To all you readers out there.....take care and metal up your ass! Check out "sinctuary" soon! And............may the ´phorce be with you!!! All the best Cheers Andy B. Franck -SYMPHORCE- ......and BRAINSTORM ( ha ha ha!)

- Interview by Gema Pérez.
---