The Metal brothers, Jonne and Johannes Nyberg, from the swedish band ZONATA took some of their time to answer to our questions and keep all their fans informed. You can find some interesting stories in this interview. Read it!.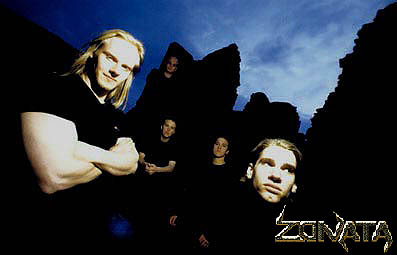 - Your style seems very influenced by old Gamma Ray stuff, Is that an intentioned thing or is something that comes directly from your heart and you canīt avoid it?
There are plenty of riffs turning up when were practicing our instrument, and some ideas you really canīt stop thinking because theyīre so fucking great, and if it seems right to the both of us we decide to work a bit on them and see what it will become. Itīs a way to express feelings, you know. Almost like having sex, but it will last forever.
- Which is your favorite band of all times?
Yngwie Malmsteen (Jonne), Iron Maiden (Johannes).

- All the members in Zonata are very young, Where did you meet and how did you decide to form a band?
The most of us has grown up together in the same village, but it all started when the second guitarist (Henke) had sign us up to play on a festival just me (Jonne) and him, he havenīt even ask to me, and one day he just came to me and told me that we were going to intend this festival, and I got really piss off the moment but then it seemed like a really fun thing to do. So we had about two weeks for rehearsal and we had never played a tone together, and we sat down and practice for a while and it almost sounded good so we decided to drag a drum playing friend out of bed one morning just to see how it would sound, so i told Johannes that we were going to practice together the next day, so he decided to just come along to listen to us but when we got there, there was an electric piano standing so he could also join in, so we made two songs in two weeks and entered the festival,and after that we have been busy every day.
- In your cd we see that all the songs are written by Zonata, How do you compose the themes, everyone makes a part and then you put them together or how?
We do always make the music first me (Johannes) and my brother ( Jonne) because thatīs the easy part. Then there is the lyrics, Iīm no fucking author, so i never know what i should write about. But Iīm learning more and more about writing and singing every day and everything is all about practicing.
- You have been playing with big bands like Stratovarius or Therion, What has it meant for you? How has been the audience response?
The audience response has been totally awesome. You know there is a little Heavy Metal man living inside of everyone, but it takes the devil and lot of hard work to bring him out! and about playing with Stratovarius, Heavens Gate and Therion, it were more like a dream than a gig for the moment. You know, if you have seen the weatherman thru your TV your whole life and then he suddenly stands in front of you, your own fucking weatherman!. But the guys are really great you know!, they have ment a lot for the true eruropean Heavy Metal scene.
- How did you enter the world of Heavy Metal? Which bands did you hear when you started?
We think it began when our big brother (Jonathan Nyberg from the band Crystal Eyes) he had bought a record with Dokken, in the mid 80īs that he was playing all day long every day. And you know how it is to hear something that really get stuck in your head, something you really like. You can listen to it for days just to find all those small fills that you donīt normally can hear if you just listen to it once. We really got carried away whit this type of music that were for us whole new thing to explore. We have always been listening to the bands of the 80īs bands like Yngwie, Accept, Judas Priest, Winger, Black Sabbath, Ozzy, Iron Maiden, Helloween, Dio, Dokken and many more, but theyīre still as good as they were for ten years ago, so we will probably listen to it for the rest of our lifes always knowing that they have the Black belt in metal!
- What is doing every member of Zonata apart of the band, working, studying...?
We all have full time jobs. But the band is the thing that comes in first place. You know you can always get a better job. But itīs more difficult to find a band that fits you like a condom.
- Your new cd is suppose to be released later this year, Have you finished the recordings? Can you tell us anything about it (songs titles, style...)?
We are going to record the second album in november this fall. In studio Underground, here in Sweden. It will sound more like a mix of Yngwie Malmsteen, Blind Guardian, Bach and Iron Maiden. Everyone that has come to our rehearsals, they wont fucking leave us alone after they have heard our newest songs. We can promise all the people that has bought our first record and really have enjoyed it that the second one will, " Bring you down to Hell"
- Thatīs all, now you can say anything you want to your fans.
Thanx!! to all you people that makes it possible for us to do what we love doing the most, (Itīs a good investment to buy a great record rather than to buy a radio full of shit)!! Cheers!!

- Interview by Gema Pérez.
---